Bloomberg's campaign spending, by the numbers
A closer look at the former New York City mayor's unprecedented campaign spending.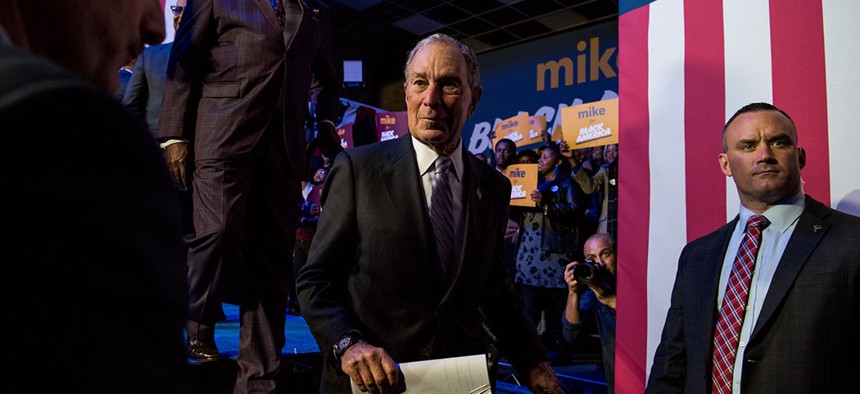 Former New York City Mayor Michael Bloomberg has spent a whopping $463 million of his own money on his presidential campaign thus far, more than any other candidate, according to Federal Election Committee filings released on Thursday. But why not dip into your own funds when you're worth $63.7 billion and the eighth richest person on the planet?
Bloomberg's extraordinary ability to outspend his political opponents using his personal fortune is one of his trademark tactics. While running for mayor in 2001, Bloomberg spent $74 million on his own cash on his campaign. And while seeking reelection in 2005 he self-funded to the tune of $85 million, and in 2009 he contributed $102 million to his campaign to win his third term.
Here's how Bloomberg's presidential campaign has spent its money so far, by the numbers. 
$7 million: The estimated amount of money that Bloomberg spent per day on his presidential campaign in January. That's about $5,000 per minute and $82 per second. 
$72,000: The annual salary of entry-level field organizers working for Bloomberg's campaign – roughly double what other campaigns would pay an employee in this position.
$354.3 million: How much the campaign has spent on television and radio advertising, since Bloomberg launched his presidential bid in November 2019.
$69 million: The amount of money that has gone toward digital advertising.
$41,645,800: The total cost of the campaign's 37,947 Google advertisements. 
$10 million: The funding provided to at least four of the mayors who endorsed Bloomberg for president.
$16,000: The amount of money spent at a sushi restaurant in December to nourish employees at Bloomberg's New York City headquarters. 
$48 million: The campaign's estimated debts and obligations. We're pretty confident that they'll be able to pay them off.