2020
Bloomberg's past is slammed during Democratic debate
During his first presidential debate, former New York City Mayor Michael Bloomberg was attacked on stop and frisk, his wealth and sexual harassment lawsuits.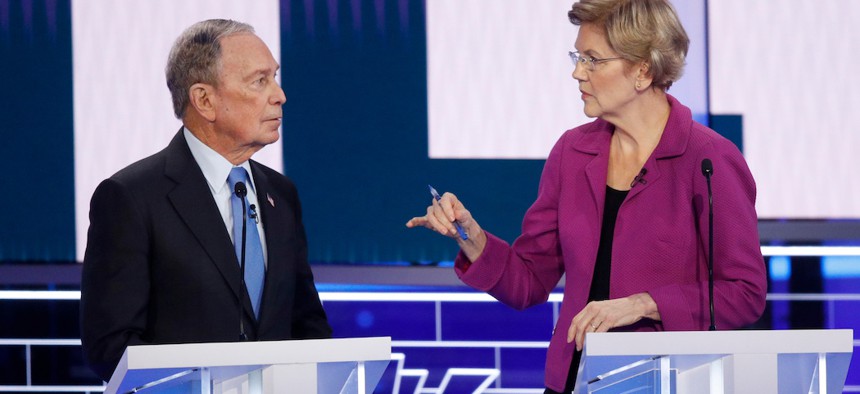 Former New York City Mayor Michael Bloomberg made his first appearance on the national debate stage – and what a debut it was.
Within the first few minutes of the ninth Democratic presidential debate on Wednesday, Bloomberg's billionaire status, past misogynistic comments and controversial mayoral record were brought up by his political opponents. And as the debate continued, so did the attacks on Bloomberg. The former mayor managed to mostly keep his cool under pressure, but he certainly didn't emerge as the victor of the debate.
Here were the biggest criticisms lodged against Bloomberg.
Stop and frisk
U.S. Sens. Bernie Sanders and Elizabeth Warren, along with former Vice President Joe Biden, attacked Bloomberg's use of the controversial stop-and-frisk policing, which disproportionately targeted minorities. Bloomberg apologized for relying on the tactics in November 2019, not long before he launched his campaign, but it has become a central criticism of him ever since. 
The former mayor was also questioned about his newly resurfaced comments from 2015 regarding stop and frisk and what they say about how he views minorities. Bloomberg was recorded saying that 95% of "murders and murderers and murder victims" are male minorities between the ages of 16 and 25, which he has apologized for.
Bloomberg apologized once again Wednesday night, saying he was sorry for how out of control stop and frisk got but that crime ultimately went down significantly while he was mayor. Throughout his mayoral tenure the city's overall crime rate was reduced by 32%. 
Warren, however, argued that Bloomberg's apologies have not accounted for the the use of the tactic to begin with. And Biden said that the city only changed course after President Barack Obama sent monitors to the city to halt the practice. In 2013, a federal judge deemed the city's use of the tactic illegal and stated that it violated the constitutional rights of minorities, but she did not order an end to the practice. 
Bloomberg's billions
"We're sick and tired of seeing billionaires like Bloomberg," Sanders said during the debate. Sanders wasn't the only candidate to take issue with Bloomberg's vast wealth. Other candidates also chastised the former mayor for amassing billions of dollars, and have previously accused him of attempting to buy the election. 
Sanders has been a particularly outspoken critic of Bloomberg's unprecedented campaign spending and wealth, which he brought up throughout the debate. Bloomberg called Sanders out for being a millionaire himself while also identifying as a socialist – which may have won the debate crowd over momentarily, but it wasn't enough to slow down the barrage of attacks from the other candidates.
Nondisclosure agreements
Warren pressed Bloomberg repeatedly on the number of sexual harassment and gender discrimination lawsuits at the former mayor's company, Bloomberg LP. The Massachusetts senator questioned why the former mayor was unwilling to release the women who entered into nondisclosure agreements tied to their lawsuits.
Forty employment lawsuits were filed by at least 65 individuals at Bloomberg LP over the course of 20 years, with one claim filed as recently as 2016. Most of the suits pertained to discrimination issues within the company, while others included accusations of sexual assault, rating women's looks, retaliation for lodging sexual harrassment complaints and suggestions that saleswomen should have sex with their clients.
While Bloomberg said his company has zero tolerance for any misconduct, he said he has no intention to release anyone from their nondisclosure agreements and claimed that everyone entered into them consensually.