Donald Trump
Confusion across NY as DHS blocks residents from Trusted Traveler programs
Here's what you need to know about the Department of Homeland Security's suspension of these programs.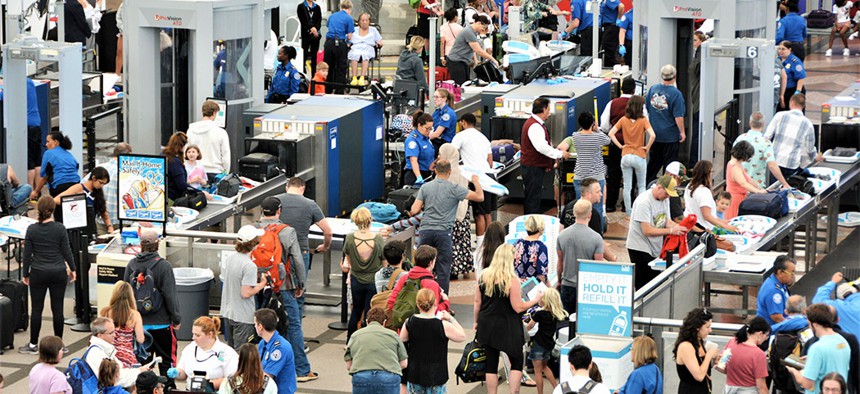 On Wednesday evening, the Department of Homeland Security announced that New York residents would no longer be eligible to apply to Trusted Traveler programs. The department explained that the state's passage of the Green Light Bill – which allows undocumented immigrants to get driver's licenses – is why they decided to suspend New Yorkers from applying to the programs.
Now, New Yorkers who have applied to these programs, are currently enrolled in them or were thinking of applying in the future are wondering how this will affect them. Here are answers to some of the most pressing questions regarding DHS' new rule.
What are the Trusted Traveler programs?
Trusted Traveler programs – which include Global Entry, Nexus, TSA PreCheck, Sentri and FAST – allow travelers to use expedited security lanes at airports, both domestically and internationally. 
To apply, travelers need to submit an application along with a nonrefundable fee that ranges from $50 to $122.50, depending on the program. Then they must go through a vetting process that includes a background check and complete an in-person interview.
It can take months for the application process to be completed and not everyone who applies to these programs gets enrolled in them.
Why are Trusted Traveler applications being temporarily suspended for New Yorkers?
In a letter to the state's Department of Motor Vehicles, Acting Secretary of Homeland Security Chad Wolf said that the state's passage of the Green Light Bill  is the reason why New Yorkers are now ineligible to join the programs.
Wolf explained that this was a matter of security, since the DHS reviews DMV records to ensure applicants meet the programs' eligibility requirements and the Green Light Bill now prevents these records from being accessed by federal authorities. "Because the Act prevents DHS from accessing New York DMV records in order to determine whether a TTP applicant or re-applicant meets program eligibility requirements, New York residents will no longer be eligible to enroll or re-enroll in CBP's Trusted Traveler Programs," said Wolf.
Critics have pointed out that proof of legal status such as a passport or a green card is required to apply for these programs, so it's unlikely that an undocumented immigrant would apply.
However, a DHS official remarked that if the state were to amend the Green Light Bill and give U.S. Customs and Border Protections access to DMV records New Yorkers would no longer be blocked from applying to these programs.
Are all of the programs going to be suspended?
Travelers will not be eligible to apply for Global Entry, Sentri, Nexus and FAST programs. Lisa Farbstein, a spokeswoman for the T.S.A., told The New York TImes that New Yorkers can still apply for TSA PreCheck, though acting deputy secretary of Homeland Security Kenneth T. Cuccinelli told the Times that this could change in the future. 
Will those currently enrolled in these programs be affected by the suspension?
No. Those currently enrolled in the Trusted Traveler programs will be able to retain their benefits until their memberships expire. They will not be able to reapply to the programs after their memberships expire, however. The Times estimates that roughly 175,000 New Yorkers' memberships will expire by the end of the year.
Will the suspension apply to those who have already applied for these programs?
Yes. Those who have applied to these programs prior to this suspension – including those midway through the application process – will now be denied. 
Brooklyn resident and occasional City & State contributor Kayla Webley Adler, who had already received conditional approval and waited several months for her interview scheduled for Friday, wrote in an email, "(the CBP) canceled my interview and told me if something changes, I can reapply and pay the fee again."
In response to a query from City & State as to why conditionally approved applicants were not allowed to complete the interview process, a CBP spokesman wrote in an email, "Not all conditionally-approved applicants secure final approval for membership in a CBP Trusted Traveler Program. ...  CBP's Trusted Traveler Programs utilize a multilayered enrollment process, where the applicant's information is verified and system checks are completed before, during, and potentially after the interview, before an individual is approved for membership.  Without access to New York state DMV information, CBP cannot validate that a New York resident applying for TTP membership qualifies for low-risk status or meets other program requirements."
Why are some people calling the suspension of these programs "retaliative"?
The Green Light Bill, which went into effect December, 2019, has faced heavy opposition from President Donald Trump's administration. The U.S. Department of Justice called the New York state law "legally suspect and has argued that the "Green Light" law prevents federal authorities from enforcing immigration laws.
"This is obviously political retaliation by the federal government and we're going to review our legal options," Rich Azzopardi, a top aide to Gov. Andrew Cuomo said in a statement regarding the suspension.
Former acting ICE Director John Sandweg was similarly skeptical of this suspension and told CNN that this new rule was irrational and "sanctuary policies in no way shape or form affect DHS' ability to vet people for global entry and other trusted traveler programs."
Trump is known to rail against sanctuary cities and two days ago condemned New York City for being one. "Just 29 days ago, a criminal alien freed by the sanctuary city of New York was charged with the brutal rape and murder of a 92-year-old woman," he said. "The killer had been previously arrested for assault, but under New York's sanctuary policies, he was set free."
This story has been updated to incorporate a response from CBP received after posting.