Health Care
Cuomo allies are aplenty on the Medicaid Redesign Team
Lawmakers criticized the exclusion of consumer advocates, physicians and others in the health care sector.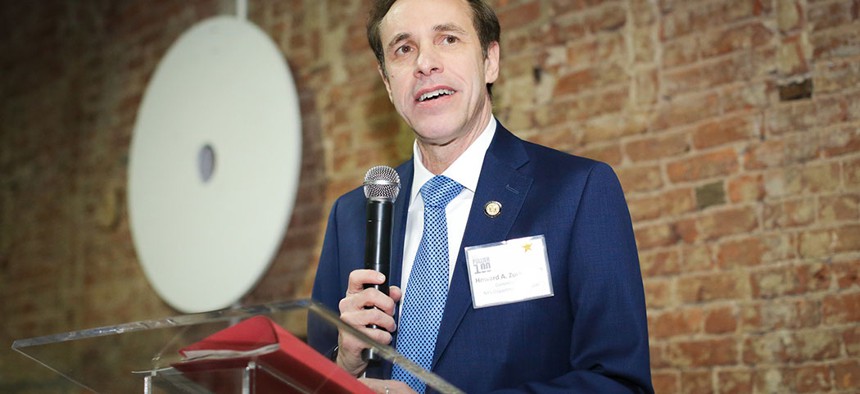 Gov. Andrew Cuomo just announced the appointees to his dream team tasked with solving one of the state's biggest hurdles this year: the rising cost of Medicaid. Including the two previously announced co-chairs, 21 members make up the state Medicaid Redesign Team. That's a decline in the number of members compared with the Medicaid Redesign Team convened in 2011, which ended up including 32 members. 
Many of the appointees on the latest Medicaid Redesign Team are from the Cuomo administration or otherwise have a friendly relationship with the governor. Two top state legislative staffers are on the team as well, but unlike last time, the state lawmakers chairing the health committees are not included. Critics have noted other apparent omissions in the team's membership. No physicians, pharmacists, federally qualified health centers or nursing homes were included. One consumer advocate was included. 
Assemblyman Richard Gottfried and state Sen. Gustavo Rivera, who lead the health committees in the state Legislature, both expressed disappointment that NYC Health + Hospitals, the city's public hospitals system, was left out especially given that New York City is expected to be hit particularly hard under the governor's proposal to shift Medicaid costs onto localities. 
"As they say, 'if you're not at the table, you're on the menu,'" Gottried said in a statement. A week earlier, he and Rivera had criticized the governor and his administration for not providing updates about the selection for the team.
"I think that this entire process is cloaked in secrecy right now," Rivera told City & State. 
Freeman Klopott, a spokesman with the New York State Division of the Budget, responded in a statement: "This is an idea being pushed by people who are against the process before it has even begun and want to criticize its conclusions before they are reached. We should be focused on getting the business of the (Medicaid Redesign Team) going so that it can deliver recommendations that will ensure the long-term fiscal stability of the Medicaid program. The (Medicaid Redesign Team) is a broad selection of professionals who are undeniably experts in their fields and membership is largely consistent with the first (Medicaid Redesign Team) convened in 2011. To suggest otherwise is just a poor attempt at undermining it for personal political interests."
Here are some of the notable members of the Medicaid Redesign Team, who have about a month to report back their plans to save cash in the health program:
Michael Dowling & Dennis Rivera
Michael Dowling, president and CEO of Northwell Health, and Dennis Rivera, the former leader of 1199SEIU, which represents health care workers, are returning as co-chairs for their second time leading the Medicaid Redesign Team. Dowling leads the largest health system in New York, which makes it no surprise why he's a major part of the team. Cuomo also has a strong relationship with the 1199SEIU, which Rivera has also previously led. 
Interestingly, current 1199SEIU President George Gresham and Greater New York Hospital Association President Kenneth Raske were not named to the new task force, even though they were both part of the original group. The New York Times reported last fall that the state "quietly authorized" increases in Medicaid reimbursement rates after the hospital association donated more than $1 million to the state party, which "underscored the power of the hospital association, whose deep pockets and long alliance with an influential union, 1199 S.E.I.U., make it a fearsome presence in Albany."
Gottfried argued at a recent budget hearing that the decision to keep the same co-chairs was fixed from the start. 
Steven Bellone
The county executive of Suffolk County was the only local elected official to make it on to the new Medicaid Redesign Team. Bellone also happens to be a staunch ally of the governor, which can't be said for many other local leaders, such as New York City Mayor Bill de Blasio and Dutchess County Executive Marc Molinaro, who have been critical of the governor's Medicaid proposals. In 2011, by contrast, Linda Gibbs, then the New York City deputy mayor for health and human services, was an appointee. 
Mario Cilento
Mario Cilento, president of the New York state AFL-CIO, hasn't always been behind Cuomo. The union remained neutral in the 2014 gubernatorial election – but that relationship has changed since it lent its support to Cuomo in 2018. "Our governor truly understands and respects and appreciates that value of organized labor," Cilento said at an event that year. 
Robert Megna
Robert Megna may no longer be the director of the state Division of Budget, but he has maintained close ties to the governor throughout the years. Currently a top official at the State University of New York – which manages a number of medical centers and hospitals – Megna has often stepped in to help with the state's financial challenges on Cuomo's behalf. 
LaRay Brown
Brown is in charge of the governor's nearly $700 million initiative to improve health outcomes in Central Brooklyn in her role as CEO of One Brooklyn Health. She's no stranger to being on a Cuomo task force either – she has served as a member of his health care transition team and Medicaid Redesign Team work groups in the past. 
Howard Zucker, Arlene Gonzalez-Sanchez, Ann Sullivan and Theodore Kastner
All four commissioners have been appointed by Cuomo throughout the years to lead state agencies addressing health, mental health, developmental disabilities and substance abuse. Gonzalez-Sanchez also served on the last Medicaid Redesign Team. 
Paul Francis
Francis comes straight from the Cuomo's office, as his deputy secretary for health and human services. Having served under three governors, Francis has been in his current role since 2015. 
Steven Corwin
The president and CEO of NewYork-Presbyterian has donated at least $35,000 to Cuomo between 2013 and 2018, according to state Board of Elections records. 
Donna Colonna
Colonna leads Services for the UnderServed, a New York City-based nonprofit helping those with disabilities, and has previously offered insight as part of a Medicaid Redesign Team work group in 2011.
The rest of the appointees to the Medicaid Redesign Team are: Thomas Quatroche, president and CEO of Erie County Medical Center; Christopher Del Vecchio, president and CEO of MVP Health Care; Pat Wang, president and CEO of Healthfirst; Emma DeVito, president and CEO of VillageCare; Wade Norwood, CEO of Common Ground Health; T.K. Small, director of policy at Concepts of Independence; Todd Scheuermann, secretary of finance in the state Senate; and Blake Washington, Ways and Means secretary in the state Assembly.
-with reporting from Zach Williams
Correction: The state AFL-CIO remained neutral in the 2014 gubernatorial election; an earlier version of this story misstated the union's position that year. T.K. Small is a comsumer advocate; this story originally stated that there were none on the Medicaid Redesign Team.