Eric Adams
How Eric Adams has shocked New York
The mayoral hopeful's greatest hits, from packing heat to out-whiting mayoral rivals to sending gentrifiers back to Iowa.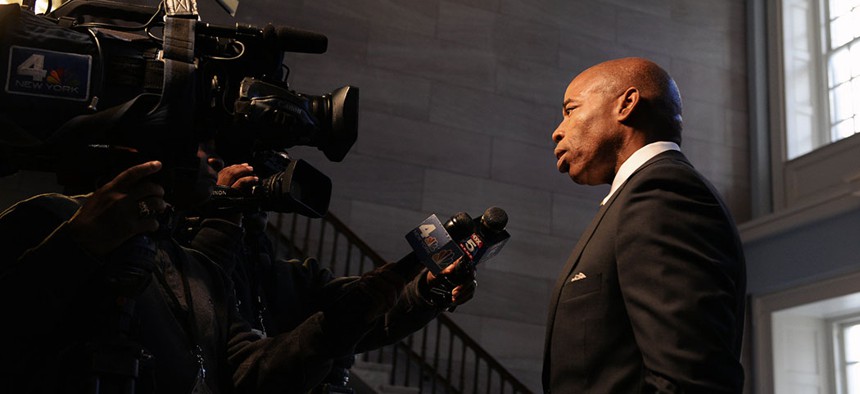 Brooklyn Borough President Eric Adams said he would carry a gun and decline a security detail if elected mayor of New York City on an FAQ NYC podcast late last month. "Yes I will, number one," Adams said. "And number two, I won't have a security detail. If the city is safe, the mayor shouldn't have a security detail with him. He should be walking the street by himself."
The former New York City Police Department captain has repeatedly sought to present himself as a law-and-order politician. He considers himself"extremely conservative on crime," and his commitment to carrying a gun echoes pro-gun interest groups' argument that more armed officers are an effective solution for reducing crime, a strategy also endorsed by President Donald Trump. However, Adams's comments raised eyebrows in New York City, a place with some of the strictest gun control laws in the country. 
This is not the first time Adams made headlines for his provocative or unexpected statements. Here is a rundown of Adam's most shocking and surprising remarks over the years. 
1993: As the leader of 100 Blacks in Law Enforcement Who Care, an association of black police officers, Adams criticized Heman Badillo, the Latino candidate for New York City comptroller, accusing him of betraying his heritage by marrying a Jewish woman. "He returns to his community when he needs votes," Adams said. "He should have returned there when looking for a wife." Adams later apologized directly to Badillo about his remarks. 
March 2010: As a state senator, Adams was so disgusted by boys wearing low-slung pants that he launched his "Stop the Sag" campaign. He sponsored the construction of Brooklyn billboards targeting young black men and encouraging better social behavior. The lawmaker's campaign sought to crack down on New York City crime. According to Adams, "The first indicator that your child is having problems is the dress code." 
November 2017: Adams opposed the shuttering of Woodland, a popular restaurant and bar on Flatbush Avenue with mostly black and Hispanic clientele that had been subject to noise complaints and arrests and threatened with a State Liquor Authority penalty. But when a resident raised concerns at a public meeting in Prospect Heights, Adams said, "I'm not going to be closing people down because folks are saying, 'I don't like the way customers look.'" The neighbor responded, "Vomit doesn't have a racial tint." 
Adams has held several fundraisers at Woodland, received campaign contributions from owner Akiva Ofshtein and reportedly was close friends with the operators, twin brothers Robert and Zhan Petrosyants. Stefan Ringel, a spokesman for the borough president, denied at the time any such relationship and claimed Adams' relation to the Petrosyants "is no different than any relationship he has with anyone that lives or works in the borough."
April 2018: At a private event, Adams reportedly pledged he would "out-white" New York City Comptroller Scott Stringerin the 2021 mayoral race. A registered Republican from 1995 to 2002, a time when Democrats arguably failed to effectively combat high crime in the city, Adams has long tried to appeal to white voters, especially when it comes to public safety. "People look at a black candidate and they think he can't go into the Baysides, Bay Ridges and Marine Parks, and I'm not going to be the candidate that can't do that," Adams told the Times.
October 2018: After the synagogue shooting in Pittsburgh, Adams urged off-duty officers to carry handguns into church."If we have officers who are trained on how to respond to emergencies, how to move people to safety, how to properly use a firearm – if they're leaving those firearms at home, I'm saying to them, stop leaving your firearms at home," Adams said. "Do as I do: Bring your firearm to church." Adams was criticized by some Democrats, including New York City Council Speaker Corey Johnson, who said the borough president's suggestion is not "how we heal and move forward."
September 2019: To combat the city's rodent crisis, Adams debuted an unusual rat extermination plan. He unveiled a battery-operated, odor-free device provided by the company Rat Trap that would eliminate the rodents once and for all. During the demonstration, a Rat Trap worker scooped out rat corpses drowned in water and alcohol. Adams, a dedicated vegan and animal advocate who protested the slaughter of geese in Prospect Park in 2011, spurred a backlash from the Voters for Animal Rights, which called the traps "barbaric" and "sadistic." 
December 2019: At the opening of the city's first affordable housing center for LGBTQ seniors, Adams' gave a confusing speech. "I can't celebrate a building that is not going to be inclusive," Adams said. "That is not who I am. Those who know me, they know who I am. And I'm unapologetic about who I am." According to the New York Post, attendees were "taken aback" by Adams' concern over the diversity of a building that is set to house African American, Asian American and Latino residents of 62 years and older with an income below 50% of the area median income. 
January 2020: On Martin Luther King Jr. Day, the mayoral contender unleashed a controversial attack on the city's gentrifiers. "Go back to Iowa! You go back to Ohio! New York City belongs to the people that was here and made New York City what it is," Adams said. In response to criticism for his remarks on social media, Adams responded, "Anyone can be a New Yorker, but not everyone comes to our city with the spirit of being part of our city." Mayor Bill de Blasio countered"it's a city for everyone." Later, Adams said that his divisive words were a "gaffe."
February 2020: Some mayoral contenders are hoping for a more polite campaign in 2021, thanks to a new process in which voters can rank their top candidates for the first time. The new ranked-choice voting structure was approved by ballot in November, and some experts think it could result in more civil debate so as not to alienate voters who might pick them second. But during a recent event alongside rivals Stringer and Johnson, Adams disagreed, warning, "Trust me, it's going to be a dirty campaign."
OKAY FINE I DID IT MYSELF.

Cc: @ZachReports @eberns pic.twitter.com/FC9FkQjvId

— Jack Sterne (@JRSterne) February 13, 2020
Powered By
NEXT STORY: Why Cuomo's approach to politics doesn't work with Trump