Jumaane Williams
Jumaane Williams' crusade to diminish support for Bloomberg
The New York City public advocate keeps slamming the former mayor's record.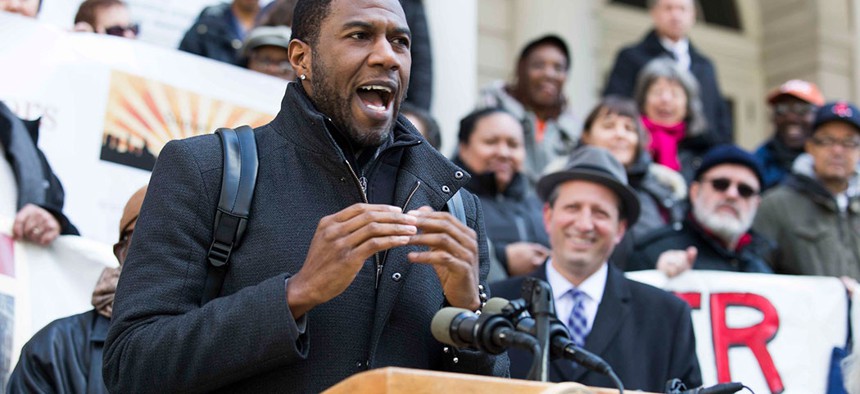 New York City Public Advocate Jumaane Williams is concerned about the support former New York City Mayor Michael Bloomberg's presidential campaign has been receiving and he's making it his mission to inform voters about Bloomberg's controversial mayoral record. 
Williams has spent the past few weeks taking any opportunity he can to convince voters that Bloomberg is not the Democratic candidate they think he is. He even dedicated most of his keynote speech at City & State's New York City Power 100 event on Thursday evening, to railing against the ex-mayor. 
During a small rally outside of Bloomberg's campaign headquarters on Thursday, Williams said that black leaders' endorsements suggest that Bloomberg is buying them off. "I can't say for everyone I don't know, and some of these black leaders I really look up to," he said. "I'm so embarrassed and hurt to see that happen. I know money is a part of it." 
"Mike Bloomberg ... is trying to make people think that he sincerely cared about black and brown and working-class people when he was mayor of this city," Williams continued. "There's a 12-year legacy that we're still trying to climb out of. We do not want to see that across this country."
Bloomberg has recently been endorsed by Queens Democratic Party boss Rep. Gregory Meeks, former New York City Mayor David Dinkins and Assembly Minority Leader Crystal Peoples-Stokes. A number of prominent of black elected officials in other states, such as Illinois Rep. Bobby Rush, San Francisco Mayor London Breed and Philadelphia Mayor Michael Nutter have also endorsed Bloomberg. 
The public advocate made similar remarks during a Crain's New York Business breakfast forum last week. "I think he's just buying some folks," Williams said. "I'm most ashamed of black leaders who live in New York City and are supporting him, because they know who he is. All I can say is he has very deep pockets."
However, Assembly Majority Leader Crystal Peoples-Stokes, one of the black New York lawmakers who has endorsed Bloomberg, told City & State for another story that her endorsement had nothing to do with any promises of campaign cash. "I do know that this gentleman has vast wealth… but his vast wealth has nothing to do with my decision to endorse him," Peoples-Stokes said. 
On Monday, Williams, along with 90 people of color who lived in the city while Bloomberg was mayor, signed off on a letter urging voters not to support his campaign. The letter highlighted some of Bloomberg's most controversial policies that had a "devastating impact" on the city, such as stop-and-frisk, the city's illegal surveillance of Muslim communities, increased low-level marijuana posession arrests and the cancellation of the Advantage housing assistance program, among other things
"In recent days, Michael Bloomberg has attempted to rewrite his legacy, but we haven't forgotten," the letter reads. "The extent of harm, humiliation and terror that the Bloomberg administration's daily racial profiling and police violence caused in Black, Latinx and other communities of color cannot be overstated."
During an MSNBC appearance on Feb. 13., Williams – who was accompanied by Reverend Al Sharpton – similarly expressed his concerns regarding Bloomberg's policy track record and the timing of his apologies for stop-and-frisk, among other controversial policies.
Disturbed to see Black leaders back @MikeBloomberg— There's a history of callous policies harming NYers of more color on housing, education & of course #SQF.

As I said to @KatyTurNBC & @TheRevAl on @MSNBC, the revelations aren't a surprise to all who know the Mayor's work best. pic.twitter.com/NZbjqsWUFz

— Jumaane Williams (@JumaaneWilliams) February 13, 2020
"The things he's talking about now he had 12 years to talk about as mayor and 10 years after that," Williams said. "Where was this (apology then)?
"As a long-serving mayor of a big and complex city, Mike made New York a better place to live and where an economy could thrive," national campaign spokesman Michael Frazier said in an emailed statement to City & State. "He created jobs. He turned around a failing school system. He helped to make the city more sustainable, healthier and safer. Mike acknowledges he got it wrong with stop and frisk. As the mark of a true leader, he apologized and learned from this mistake. Mike will continue the dialogue he is having across the country on issues important to the Black and Latino community."