Michael Bloomberg: Movin' on up
Why black voters are turning to the former champion of stop and frisk.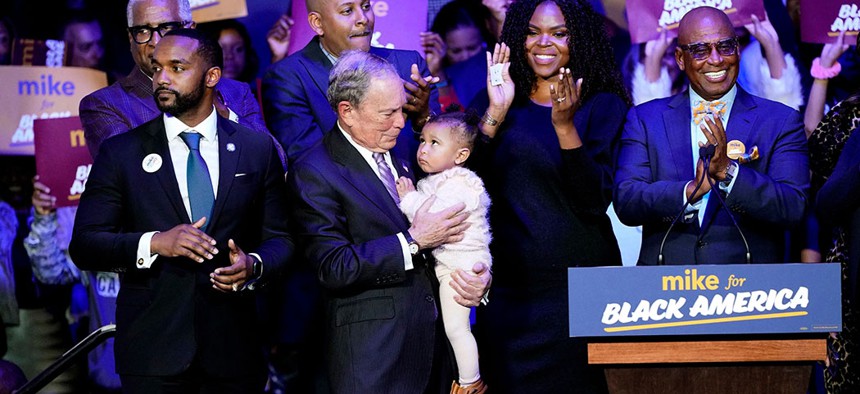 As former New York City Mayor Michael Bloomberg's past comments endorsing stop-and-frisk are reposted online by critics, new polling shows his presidential campaign is increasingly finding support among black voters. Bloomberg is currently the second-most popular Democratic candidate among black voters, according to a new Quinnipiac University poll released on Monday, with his support jumping to 22% from 7% late last month. This corresponds with a significant decrease in black voters backing former Vice President Joe Biden, who is currently beating out Bloomberg in black support by five percentage points. 
This trend may seem odd, given that Bloomberg is a former Republican who won only one-quarter of black voters in his last mayoral campaign. And, while his record of aggressive policing in black and Latino communities may not be widely known outside of New York, recent controversy surrounding a video of a speech Bloomberg gave at the Aspen Institute in 2015 defending that record could lead to the issue having more of an impact. "Ninety-five percent of your murders and murderers and murder victims fit one M.O.," he said in the video. "You can just take the description and Xerox it and pass it out to all the cops. They are male minorities (ages) 15 to 25." 
On Thursday, Bloomberg apologized for those comments, saying "It's just not the way that I think, and it doesn't reflect what I do every day." He initially apologized for his support of stop-and-frisk right before the launch of his campaign in November of last year, though he had been defending the practice just 10 months earlier. 
On top of that, old comments he made saying the elimination of redlining, a discriminatory practice used by banks to avoid lending to black communities, led to the 2008 financial crisis have recently resurfaced.
Soon after the video began circulating, Rep. Gregory Meeks, who is chairman of the Queens County Democratic Party, joined two other members of the Congressional Black Caucus to officially endorse Bloomberg. Another black elected official from New York came out in support on Thursday as well: Rochester Mayor Lovely Warren. Outside of his home state, Bloomberg has racked up endorsements from black elected officials, including Mayors Michael Nutter of Philadelphia, London Breed of San Francisco and Michael Tubbs of Stockton, California, and Rep. Bobby Rush of Illinois, who is a former Black Panther. 
So why are black voters and elected officials backing Bloomberg, despite his history of supporting practices often deemed as racially discriminatory?
"I would say that phenomenon exists primarily among older voters, older African American voters, who don't believe that Biden is going to be viable but feel that Mike Bloomberg is a good alternative because he'll manage government efficiently and productively," said Basil Smikle, a political consultant who aided Bloomberg on his 2009 campaign. "They're not necessarily ideological voters, they are voters who are concerned about bringing us back to some level of normalcy and wanting someone who they believe is someone they have access to."
Black voters are often strategic voters which is why they often throw support behind more moderate candidates, Christina Greer, a political science professor at Fordham University, wrote in an article for the Daily Beast, explaining their recent turn to Bloomberg. After a poor showing in Iowa and New Hampshire, many voters who would've backed Biden may now be looking for viable alternatives. Other moderate candidates, including Pete Buttigieg and Amy Klobuchar, haven't resonated as strongly with black voters. And Bloomberg has been actively courting them, arguing he's the best option to beat Trump.
"For the African American community, it's two things: one, beating Trump, and, two, progress and success – that we do admire people who are successful," Meeks – who is now the co-chair of the campaign's Mike for Black America National Leadership Council – told City & State. Meeks noted that Bloomberg could contrast his self-made wealth with Trump's. Though Meeks never backed Bloomberg for mayor, he said that the national circumstances helped shape his current support as well as the ex-mayor's giving to Democrats during the 2018 midterms. 
"I don't like the words that came out," Meeks said about Bloomberg's resurfaced comments. He mentioned Bloomberg's apologies have helped to assuage his concerns, and he noted Bloomberg's activism and philanthropy to prevent gun violence. 
Former Rep. Charlie Rangel, from Harlem, also praised Bloomberg's work on gun violence as a plus for candidacy. He is still enthusiastically backing Biden but named Bloomberg as the best second choice. "Nobody that I can think of individually has done more to try to ban illegal guns and that is a big one for most of us," he told City & State.
New York City Public Advocate Jumaane Williams said that many black voters outside of New York may also be less familiar with Bloomberg's policies that many black New Yorkers believe harmed their community. Bloomberg's enormous wealth has allowed him to buy a huge number of advertisements Williams pointed out, so his first impression among black voters outside New York has been entirely controlled by his campaign. "I would say that if I saw (a Bloomberg campaign) ad, that I've seen and heard, and did not know who he was, it's a very effective ad," Williams said. Bloomberg has already spent more than $300 million in TV, radio and digital ads, an advertising blitz strategy that also helped him become mayor. 
It's not the only trend that carried over from his mayoral tenure. One analysis during his first reelection campaign in 2005 found that 45% of black voters voted for him despite running on the Republican line, though he drew only 23% in 2001 and 25% in 2009. 
He also is repeating his strategy of actively courting leaders in the black community in this cycle, which he did effectively particularly among faith leaders while mayor. Soon after this week's stop-and-frisk controversy came up, his campaign scrambled to get his network of sympathetic black allies to vouch for his character, Politico reported. He spoke with 20 black pastors about the subject in a pre-scheduled meeting. Calvin Butts, pastor of the Abyssinian Baptist Church who attended the meeting, told Politico he would continue to support Bloomberg, noting the multibilloinaire's previous financial support for the church's development corporation. That $1 million check came right before Butts officially endorsed Bloomberg for his 2009 reelection.
Reporters and political consultants have also observed that Bloomberg's donations to congressional campaigns, his grants to cities and other personal largesse helped him win support in New York and are now doing the same for him nationally. 
"He has given money to and resources to causes that are important to him, and that are important to New Yorkers," Smikle said. "That's a relationship you're always going to want to have, no matter what."
Former black citywide and statewide elected officials, such as former New York City Comptroller Bill Thompson, former Gov. David Paterson and former state Comptroller Carl McCall have not endorsed Bloomberg. Prior to Meeks, the highest-ranking black New Yorker to back him was former Manhattan Borough President C. Virginia Fields. But there are other signs of changing views on the former mayor. Rep. Hakeem Jeffries, from Brooklyn called for a federal monitor to oversee the NYPD because of stop-and-frisk in 2013. At the time, he said, "Michael Bloomberg's racially charged comments in support of the overly aggressive stop and frisk program make clear that the Mayor is incapable of providing objective oversight of the police department." But when Bloomberg entered the presidential race late last year, Jeffries said, "Michael Bloomberg has a tremendous track record of success that he can run on as a mayor for 12 years."
Williams expressed disappointment that black elected officials like Meeks have backed Bloomberg. "Bloomberg has extremely deep pockets," he said when asked why they may be supporting him.