New York City
New York lawmakers react to Weinstein verdict
The disgraced producer was convicted – but not on the most serious charges. Will it come back to haunt Cy Vance?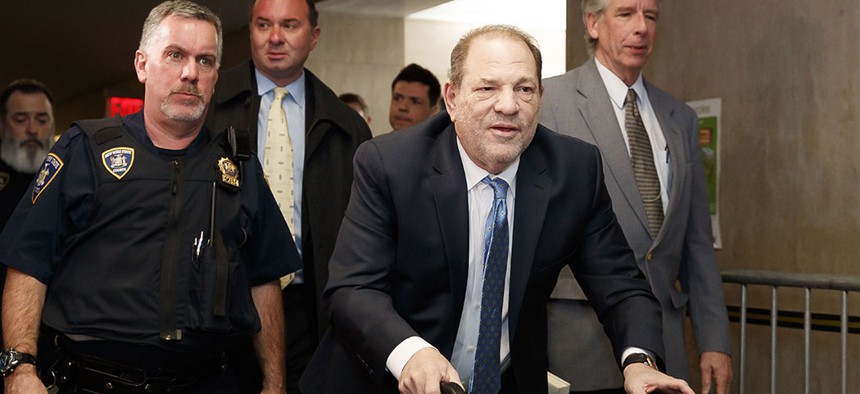 In a landmark #MeToo case, disgraced former film producer Harvey Weinstein was convicted of two counts of criminal sexual assault in the first degree and one count of rape in the third degree early Monday afternoon.
However, Weinstein was not convicted of two counts of predatory sexual assault, the most serious of the five charges he faced, which could have carried the sentence of life in prison. 
The former filmmaker was immediately sent to jail after his conviction and will remain there while he awaits his sentencing on March 11. Weinstein is facing anywhere between five and 25 years in prison and is still facing felony sexual assault charges in Los Angeles.
Manhattan District Attorney Cyrus Vance Jr. held a press conference after the ruling to say that the case and the women who testified "changed the course of history in the fight against sexual violence." Vance also referred to Weinstein as a "vicious sexual predator" who "used his power to trick, assault and humiliate his victims." 
"To the survivors of Harvey Weinstein, I owe, and we all owe, an immense debt to you," he added.
It was Vance, however, who declined to prosecute Weinstein in 2015, after a model alleged that the producer had inappropriately grabbed her breasts during a meeting. At the time, Vance said that he did not feel there was enough evidence to prosecute. 
Following Monday's verdict, New York City Councilwoman Carlina Rivera tweeted that Weinstein should have faced charges in 2015, but Vance dropped the case.
GUILTY: Harvey Weinstein has been convicted of sexual assault and rape.

Should've happened in 2015, but Cy Vance dropped that case. Today I celebrate those who advocated for this justice with a renewed commitment to ensuring our next DA takes sex crimes seriously from Day 1. https://t.co/UzQkbMNaDV

— Carlina Rivera 利華娜 (@CarlinaRivera) February 24, 2020
So far the majority of the reactions to Weinstein's convictions have been celebratory and have applauded the women who testified against him.
Harvey Weinstein is a rapist and predator - but this verdict would not have happened without the bravery of every woman who spoke up & helped create the #MeToo movement.

These fantastic women have my heartfelt support and thanks.https://t.co/1QGg7Knva8

— Carolyn B. Maloney (@CarolynBMaloney) February 24, 2020
Finally some justice for the brave women who came forward.
This is a long overdue moment of reckoning.
Believe survivors. Hold abusers accountable. Change the culture. https://t.co/uTwGgvTldl

— Mayor Bill de Blasio (@NYCMayor) February 24, 2020
This verdict would not have been possible without the brave women who came forward to share their stories. They are the #SilenceBreakers, the change-makers, and warriors for justice. Thank you for your sacrifice. We are holding you close today and always.https://t.co/i6pwpGZJkn

— Alessandra Biaggi (@SenatorBiaggi) February 24, 2020
But not everyone is pleased with the fact that Weinstein was not convicted of the most severe charges.
Stop telling me to be grateful that Harvey Weinstein got convicted on only two of the five charges

— Molly Jong-Fast (@MollyJongFast) February 24, 2020
And some laid that blame directly at Vance's feet.
Cy Vance has the audacity to say "rape is rape" after spending years ignoring victims and blocking reforms that would bring them justice. He doesn't get to take a victory lap for prosecuting Weinstein after public pressure forced his hand. Vance needs to resign now. https://t.co/XZqYtyF1BW

— Aravella Simotas (@AravellaSimotas) February 24, 2020
Critics have accused Vance of having a blind spot when it comes to sexual misconduct. And though the role of district attorney has long been considered a de facto lifetime position, widespread dissatisfaction with Vance has led to a number of candidates challenging him from the left. It remains to be seen whether the Weinstein conviction will satisfy those critics, or whether the mixed verdict will only intensify progressive calls for the district attorney to be replaced.
Powered By
NEXT STORY: How Trump is thwarting Cuomo's agenda