Campaigns & Elections
NY-17 candidate Josh Eisen accused of stalking, harassment and racism
The best-funded candidate for Rep. Nita Lowey's seat used the n-word and made threats in emails, according to lawsuits and criminal charges.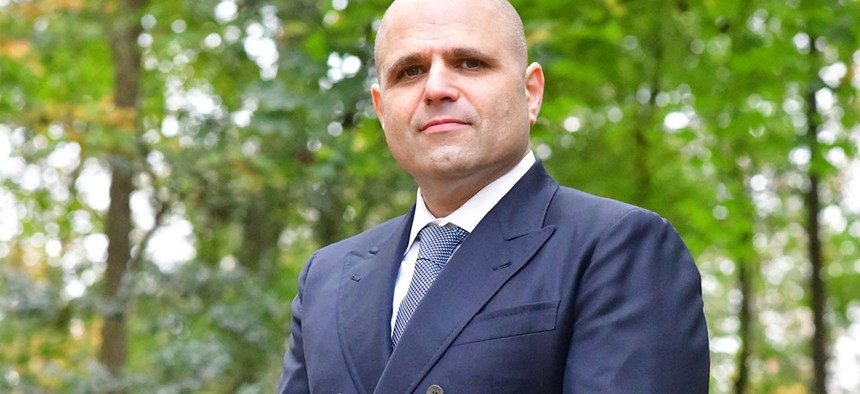 Josh Eisen, a Republican who is running – and leading in the money race – to replace Rep. Nita Lowey, the retiring congresswoman from New York City's northern suburbs, has harassed legal opponents and their families over email, and has a documented use of racial slurs, according to lawsuits involving his companies. 
Between 2014 and 2017, Eisen was sanctioned by judges on two separate occasions for harassing his legal opponents and their family members, their lawyers and their lawyers' family members, and once fined $20,000 by the court. Court filings from those cases also provide documented evidence of Eisen repeatedly using the n-word in emails, describing the sexual appetite and anatomy of an opposing lawyer's daughter, and telling a legal opponent's wife in an email that she would "bathe in the warm semen of Mengele," a reference to the Nazi doctor Josef Mengele. Eisen was also arrested and charged with stalking in Manhattan for allegedly threatening a business partner's family, but his campaign said that charge was dismissed and Eisen's record expunged. 
In a phone call with City & State Tuesday, Eisen admitted that "obviously I sent some emails," but refused to delve into the specifics and said that "most" of the evidence submitted in court "is totally, unbelievably false." Still, after City & State told him of plans to publish this story, Eisen said he will likely end his campaign, saying that "99% I'm out of the race." 
Eisen, 48, is a Republican running in New York's 17th Congressional District, which covers Rockland County and northern Westchester County. He had outraised the entire field as of the last election filing on Dec. 31, bringing in nearly $600,000, although $500,000 of that came from Eisen himself. Eisen has earned a fair amount of attention from both local and national media, but his legal cases haven't been covered until now.
After earning a Ph.D. in religion from Columbia University, Eisen made his money by starting a number of companies, including Morningside Translations, a major provider of language translation services.
In 2014, Morningside, with Eisen as CEO, sued two former employees, accusing Yaniv Tsaidi and David Druckman of launching their own competing business with Morningside's proprietary information. Morningside eventually dropped the case, but in the course of the litigation, Tsaidi and Druckman submitted as evidence emails that Eisen had sent. In messages sent between 2011 and 2014, Eisen sent at least five emails using the full, spelled-out racial epithet, including one saying "some n––––– just accosted the (car)" and another describing himself as "faster than a n––––– running from a lynch." Tsaidi also accused Eisen of "openly using illegal drugs in the office" – something that Tim Gilbert, a spokesman for Eisen, told City & State on Tuesday was "patently false" and that "Josh was never using illegal drugs in the office."
Throughout the case, Tsaidi, Druckman and their lawyers say that Eisen harassed them over email. Eisen, who is Jewish, allegedly accused a lawyer of being like "a kapo in a concentration camp who sells out his fellow Jew for an extra morsel of bread." Eisen accused Druckman of lying about Druckman's mother having Parkinson's disease, called Tsaidi a "pussy" and sent a threatening email to Tsaidi's wife telling her to "think long and hard. I was in your home."
 The judge in Manhattan Supreme Court found his messages so "disturbing and threatening" that the court granted his targets a temporary restraining order banning Eisen from contacting the defendants, their lawyers or their family members.
But Eisen appeared to amp up his aggressiveness when he was caught up in another lawsuit in 2016. Eisen's business partner, Ivan Ciment, accused him of trying to force him out of SpanTran, the translation company they bought together. This case was eventually dropped, and in fact Ciment donated to Eisen's campaign. But in the course of litigation, Eisen was arrested and charged by the Manhattan district attorney with stalking in the fourth degree for sending, as Ciment's lawyer put it, "literally hundreds or thousands" of threatening emails to Ciment's wife, and Ciment was granted a temporary restraining order preventing Eisen from contacting them while the case was ongoing.
In the emails, Eisen wished that Ciment's wife, who was not involved in the case, would "bathe in the warm semen of Mengele," and told Ciment and his wife that "You're my bitch. ... When you're (sic) kids are adults they too will be my bitches" and that "Perhaps your daughter at 18 will be into. ... humiliation performance art." The comments from this case were written up in the New York Post in 2016. In 2017, Ciment's lawyer Ted Poretz was granted his own temporary restraining order against Eisen after he sent some 125 emails to the attorney and his family. Many of the shocking emails name Poretz's daughter, who was not involved in the case, and say she has "a fine vagina" and is "often penetrated" and "loses a different virginity every few weeks." Eisen even taunted Poretz, saying "maybe these emails should enter the records of the Court and vagina (daughter's name) can see what a scumbag her old man is."
On Tuesday, Eisen suggested that some of the emails were made up. "Obviously I sent some emails. And that is where it ends. I'm not going to start parsing with you where people make things up and where they don't," he said. But while the case was active, Eisen's lawyer did not deny that Eisen sent the emails quoted above, arguing that "Mr. Eisen's alleged conduct does not constitute harassment under New York law and therefore his speech is protected under the First Amendment, even if Mr. Poretz is offended by it."
Asked by City & State about the emails showing him using the n-word, Eisen denied that, saying, "I do not use that word. I did not. That's just not – that's just false. That's just crazy." When asked if he was suggesting the emails were doctored, he said, "No. I'm saying that is not true. Period. Full stop. You could do whatever you want with it. I'm not commenting further on it." 
But during the case, Eisen didn't deny that he was responsible for any of the content of the emails submitted to the court. In a September 2014 affidavit, he dismissed the emails as "friendly banter" and "off-the-cuff emails containing insider jokes." He also admitted to sending messages to his former employee's wife. "In these emails, which, after hearing from (the judge), I now regret, I could not help but vent my frustration," he wrote.
Eisen seems to have brought a similarly belligerent approach to his congressional race. Out of many examples on his Twitter feed, he has called Democratic candidate David Buchwald "schnuckwald." He said college professors must have "liked your looks, but do you have any original ideas?" to Democratic candidate Mondaire Jones. 
And Eisen has continued to bring family members into personal disputes. In January, he claimed to have sent a letter to the law firm Davis Polk, where Buchwald's wife works, asking for information about her employment. Buchwald's campaign declined to comment, but Eisen defended the tweet, saying that it was fair since Buchwald's wife appeared in a campaign video.
Eisen is a donor to and supporter of a fellow Republican known for insulting opponents, being entangled in ugly legal battles, and deploying his personal attorney to smear or threaten critics: President Donald Trump. When City & State asked Eisen if he was surprised that no other outlets have written about his court cases during his campaign, he pointed to the president. "Nobody cared. That's the world we live in," he said. "Donald Trump's grabbing pussy and that was all over the place, and I just think we live in the post-grabbing pussy world. The P.G.P. What can I tell you?"
Despite the local Republican establishment's support for Trump, Eisen's history was troubling for both the Rockland County and Westchester County Republican parties.
"He was not endorsed by my committee nor will he be endorsed," Rockland County GOP Chairman Lawrence Garvey told City & State. "The comments, if true, are extremely, extremely troubling." 
Retired firefighter Maureen McArdle-Schulman and Yehudis Gottesfeld, a chemical engineer who earned the Rockland County GOP's endorsement, are also vying for the party's nomination. 
Westchester County Republican Party Chairman Doug Colety told City & State that the party had discovered Eisen's writings during the vetting and screening process "and we were shocked. When you read it, it's shocking," Colety said. "He was disqualified. He wasn't endorsed, nor will he be."
Both party chairmen said that they had known about Eisen's history before City & State contacted them, and both said that Eisen told them he would drop out of the race earlier this month, but then appeared to change his mind. But Eisen said Tuesday that he's "likely dropping out." The only thing that would keep him in the race? "Unless all the other (Republican) candidates have such immense flaws and they're so pathetic," he said. "And I don't think that's the case. I've met a couple of them and I think we're fine."
With reporting by Amina Frassi
Clarification: After this story was published, Eisen contacted City & State to explain that the tweet at Jones was a reference to the lyrics of Bob Dylan's "Ballad of a Thin Man."