New York State
The tricky politics of paid gestational surrogacy
The budget process offers Democrats a chance to figure out an issue that divided them last year.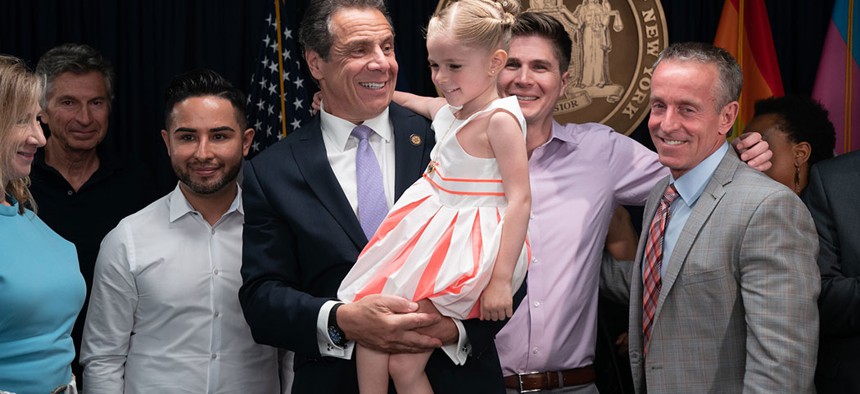 Unlike most issues in Albany that divide state lawmakers along traditional ideological and partisan lines, paid gestational surrogacy pits liberals, LGBTQ legislators and feminist lawmakers of different generations against each other. But that could change in upcoming budget negotiations.
A bill to legalize gestational surrogacy – which allows a woman to bear a child using another woman's egg – did pass the state Senate last year, but it did not get a vote by the full Assembly because of concerns among some older, female lawmakers who say the practice can commodify female bodies. Other Democratic lawmakers, especially those from the millennial generation, see surrogacy as a way to allow gay and straight couples alike to start families through a practice that is already legal in 47 other states. 
One key ingredient to success this year is timing, according to Melissa DeRosa, secretary to the governor, who has been the go-to person for Gov. Andrew Cuomo on the issue. "Gestational surrogacy was a big priority of ours last year and continues to be this year," DeRosa said. "By jump-starting the campaign earlier, taking the time to properly educate legislators, and humanizing the issue, the likelihood of success is much higher."
The state budget process this year offers supporters their best chance yet to legalize gestational surrogacy. This approach would allow Cuomo, who reiterated his support for the proposal at a Monday press conference, to circumvent the Assembly committee process by making the issue part of a broader agreement that includes legislators' other political priorities. A new bill to legalize paid gestational surrogacy was introduced this month by state Senate Finance Chair Liz Krueger – the only Democrat in the Senate to vote against the bill last year – suggests that critics are coming around. But Krueger and other influential lawmakers in the Assembly are pushing for a resolution on the issue to be delayed until after the April 1 budget deadline. 
With Cuomo and the state Senate having already demonstrated their support for the effort, the big x-factor remains Assembly Speaker Carl Heastie, who has said before that he generally opposes including policy proposals in the budget. Whether the Assembly backs the idea one way or another also remains an open question, he told reporters at the Capitol on Tuesday. "If there is support for it in the conference, I'd say it's a priority to have a discussion on it," Heastie told reporters Tuesday. "Whether there is enough support within the conference overall to do it, that's another matter, and I don't have that answer yet." 
Heastie did say that he would discuss the issue this week with a group of lawmakers from his conference. Though he declined to specify the specific lawmakers he planned to discuss the issue with, the most undecided group among his members appear to be the same lawmakers who opposed the effort last year. "I'm very conflicted," said Assemblywoman Deborah Glick of Manhattan, the state Legislature's first openly gay or lesbian member and who opposed the effort last year. "On the one hand, I think this is happening and it's going to keep happening so we should do what we can to make it as safe as possible. On the other hand, I'm very uncomfortable with some aspects of it."
Other past opponents include the chairs of the two legislative committees that oversee state spending – Krueger and Assembly Ways and Means Chair Helene Weinstein. The new bill proposed by Krueger would give surrogates additional rights that include a grace period of at least eight days after birth to decide whether or not to contest the custody of the child. There is also a provision that would not allow a woman to be a surrogate more than two times, and a requirement that a woman have delivered one healthy baby before she would be eligible for paid surrogacy. "One of the reasons I think it's so important for this issue to not go in the budget is because it requires those kinds of conversations," Krueger said in an interview. "There are lots of different health issues, biomedical ethical issues." 
The Manhattan lawmaker said that further discussion could sway some Democratic lawmakers to withdraw support for the original bill, sponsored by state Sen. Brad Hoylman of Manhattan and Assemblywoman Amy Paulin of Westchester County, which served as the basis for the governor's proposal. "It's not a simple story," Krueger said of the nearly unanimous support the Hoylman bill had among Democratic colleagues last year. "The bill has had very little attention from most legislators." State lawmakers did hold a May 2019 hearing on the matter. 
Hoylman said that he is amenable to revising his bill to address critics' concerns, but he called the eight-day grace period a "nonstarter" that would undermine the whole purpose. "I speak from personal experience," said Hoylman, who has had two children with his husband through gestational surrogacy. "I would never go into an arrangement where the woman acting as a surrogate, even though she's not genetically connected to my children, might be able to claim parental rights." His proposal includes requirements that contracting parents pay for independent legal counsel and medical insurance for their surrogate, who would get to choose her doctor. "I think the bill we have now is first in class among potential laws legalizing surrogacy across the country," he said. Paulin did not respond to a request for comment.
New Yorkers that wish to have children through paid surrogates can travel to almost any state in the nation to do so. By incentivizing residents to seek such services elsewhere, the state is undermining its own ability to protect the health of surrogates, according to Hoylman. "We're asking New Yorkers to go to other states where there may be very bad laws that might jeopardize our citizens." He said the surrogacy push aims to not only legalize it in New York but to also do so in a way that could be a model elsewhere. "I'm not sure that is the goal of Sen. Krueger," said Hoylman.
Delaying action on surrogacy, as Krueger is urging, until after the budget would give opponents more opportunities to mobilize and make their case. Hoylman, Cuomo and other proponents have highlighted the issue as a matter of equal rights for same-sex couples who want to have families through surrogacy. Considering that some couples pay tens of thousands of dollars to surrogates, opponents argue that efforts by relatively wealthy people to have children should not come at the cost of protecting women. "Under this bill, women in economic need become commercialized vessels for rent, and the fetuses they carry become the property of others," feminist icon Gloria Steinem said last year of the Hoylman-Paulin bill. Such concerns were among the reasons that Weinstein proposed the state's existing ban three decades ago, along with GOP state Sen. John Marchi of Staten Island.
Avowed feminist lawmakers like Krueger, Weinstein, Glick and Assemblywoman Didi Barrett of Poughkeepsie are skeptical about last year's Hoylman proposal to legalize paid gestational surrogacy. But their younger counterparts in state government have a different take on the issue. Most members of both houses under the age of 50 have signed on as co-sponsors of the bill. While some of them say they share concerns about the danger of allowing women to be exploited, they do not oppose the idea as a matter of principle. "I am in support of legalizing surrogacy," said Assemblywoman Yuh-Line Niou of Manhattan. "I have offered surrogacy to two of my friends before. I understand how hard it is to find a good surrogate." She ultimately did not serve as a surrogate.
One reason for this generational divide is the emphasis that younger feminists have placed on allowing women, even those who might be more vulnerable to exploitation, to ultimately make their own reproductive health decisions. It is also an issue that allows women greater freedom to strike a balance between their careers and families, according to DeRosa. "Surrogacy is something that affects women of a certain age," said DeRosa, who is 37. "It's incredibly important to women across the state, who are not elected to the Senate or the Assembly. Until very recently, decisions were being made for them by old white men or older white women who are completely out of touch with this generation." Such an emphasis on the need to allow women to make their own decisions mirrors similar arguments from proponents of decriminalizing sex work, who also face opposition from some prominent feminists. 
Besides Krueger's proposal, the governor's 30-day amendments included numerous tweaks to address how legalization would affect insurance law, which suggests that the governor is looking to make a deal that would address outstanding concerns. 
Gestational surrogacy was also among the issues, along with climate change and an Equal Rights Amendment, that Cuomo advised reporters to focus on. "That's where the conversation in this budget is really going to be found," he said. "That's what no one is talking about." According to Cuomo, reporters spend too much time discussing hot-button issues like recently-amended criminal justice reforms and his efforts to trim $2.5 billion in Medicaid spending through a panel of experts he appointed. 
For now, the political momentum appears to be behind Cuomo's budget proposal, but proponents may need at least the tacit support of powerful critics like Krueger and Weinstein to get a budget that includes the legalization of paid gestational surrogacy. The reluctance of Heastie to include non-fiscal items in the budget could help them keep the issue out of the budget this year. 
Considering that most powerful opponents of his bill are also some of his strongest allies on other issues, Hoylman said that taking the time to address concerns is a step he is willing to take – even if it means waiting until after April 1 to get the effort across the legislative finish line. "I'm in favor of passing it however it gets done," he said.