New York City
Coronavirus containment zone, limiting public gatherings and St. Patrick's Day parade canceled
Rounding up the week's political news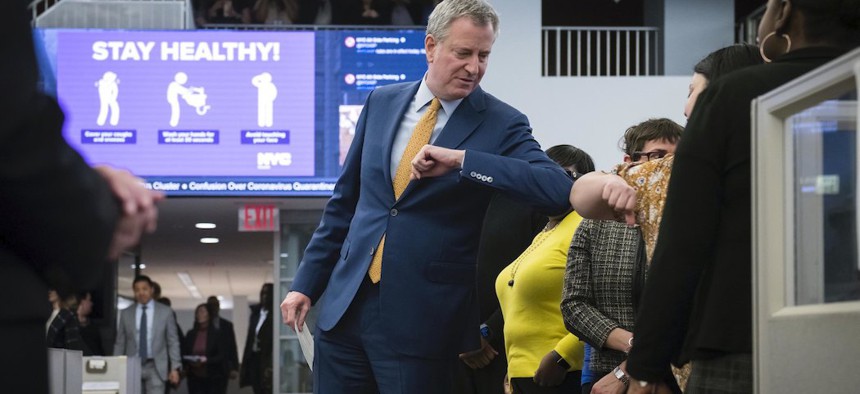 With the onslaught of news about the new coronavirus, it can be hard to find a moment of levity. Teens in Westchester County have taken to creating memes about the COVID-19 pandemic as a means of sharing information and maybe having a laugh, but not everyone shares Gen Z's sometimes morbid and nihilistic sense of humor. Luckily, Uber released a list of the strangest items reported lost in its cars, which is the perfect way to get your mind off of the rapidly spreading disease. So if you're stressed out, take a moment to think about the kind of person who loses "mice to feed my pet snake" or "my pants and my sword" in an Uber and crack a smile. Now, though, the latest on COVID-19 and other news in New York.
Coronavirus concerns
The new coronavirus has continued to spread in New York, with hundreds of confirmed cases as of printing. For the second week in a row, COVID-19 dominated the state's news cycle. Gov. Andrew Cuomo announced that gatherings of 500 or more people are now banned statewide. That included Broadway theaters, which went dark the day of the governor's announcement and will remain closed for at least several weeks. Venues like bars and restaurants that can accommodate fewer than 500 people must now cut their capacity in half. Many cultural institutions in New York City had already closed their doors, including the Metropolitan Museum of Art and Carnegie Hall. On Wednesday, Cuomo and parade organizers announced New York City's St. Patrick's Day parade would be postponed, the first time the parade didn't go off as expected in over 250 years. Earlier that day, Cuomo also announced that all City University of New York and State University of New York schools would shift to remote learning for the rest of the semester after several private universities around the state took similar precautions.
On Thursday, New York City Mayor Bill de Blasio declared a state of emergency in the city and confirmed that large arenas like Madison Square Garden and the Barclays Center would close, possibly for months. Additionally, professional sports all but came to a halt, as the NBA, NHL and MLB all suspended play.
The politics of coronavirus
In Albany, it's not quite business as usual with daily press briefings from Cuomo, but the legislative session nonetheless presses on with the state budget due at the end of the month. Coronavirus preparedness has largely overshadowed the budget talk typically seen in March, with once high-priority issues like tweaks to bail reform and legalizing recreational marijuana taking a back seat. Cuomo has called on state Comptroller Thomas DiNapoli to reassess state revenue in light of the new coronavirus outbreak amid concerns of the economic impact of the pandemic. State lawmakers are also expecting to pass a paid sick leave proposal that includes provisions for those under quarantine. Generally, responding to a recession feared will occur as a result of the coronavirus pandemic will likely be the focus in the final days of budget negotiations.
New Rochelle "containment area"
In what is perhaps the most drastic measure taken by the state so far to curb the spread of the coronavirus, Cuomo declared a "containment area" in New Rochelle with a 1-mile radius around a synagogue identified as the epicenter of Westchester County's outbreak. Although people are allowed into and out of the area, large public gatherings have been banned. The National Guard has been deployed to help with cleaning public spaces and distributing food. The New Rochelle public school district has closed all 10 of its schools. The state is opening its first drive-thru coronavirus testing site in New Rochelle as well.
Weinstein sentenced
In just about the only other major noncoronavirus news, a judge sentenced Harvey Weinstein to 23 years in prison after his conviction of rape and sexual assault. His sentence was close to the 29-year maximum sentence that he could have received, and well over the five-year minimum sentence. Given Weinstein's age and health, it seems likely this means the former movie mogul will be imprisoned for the rest of his life, a fact that his defense attorney pointed out in court. Shortly before the judge handed down his decision, Weinstein said he felt remorse, but was "totally confused" by what had happened to him, and compared the #MeToo movement to the Red Scare of the 1950s.
Powered By
NEXT STORY: Voting in the time of coronavirus