Coronavirus
New York needs masks, gowns and ventilators. Will Congress come through?
Federal responses to the coronavirus pandemic haven't addressed shortages of medical supplies. Could New York's congressional delegation change that?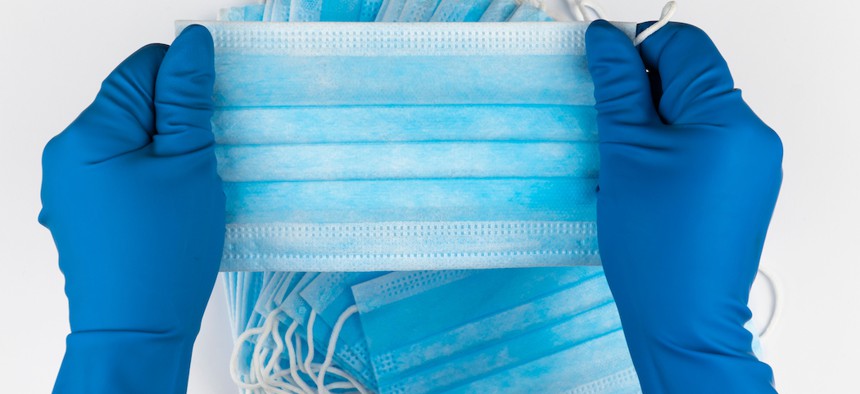 Fifty million surgical masks, 3 million N-95 respirators, 25 million gowns, gloves, and coveralls, and 15,000 ventilators: That's the projected need for New York City's hospitals and health care systems, according to Mayor Bill de Blasio, as the number of confirmed cases of the coronavirus soared to 7,845 in New York state – 5,151 of which were in New York City. New York City area hospitals and emergency room physicians are already reporting being overburdened and having to reuse crucial supplies such as disposable respirators. But while Congress and the White House debate an economic stimulus package of more than $1 trillion to address the economic fallout from coronavirus, there has been little to no mention of stimulating the economy by buying or manufacturing medical supplies and saving lives. 
With the number of confirmed cases expected to continue to grow by the thousands as testing expands, de Blasio said on Thursday that the city will soon be severely short on gowns, gloves and ventilators in just two or three weeks.
But despite reports since February that hospital systems will soon face a shortage of crucial medical supplies to fight coronavirus, the two emergency relief packages passed by Congress and signed into law by President Trump have not focused largely on addressing those shortages. Except for expanding access to tests, the bills already passed have dealt primarily with economic measures, including some, such as expanded access to sick leave, that might help slow the spread of the virus but not reduce its deadliness. 
Now, in the economic stimulus package currently being negotiated in Congress, members of New York's congressional delegation have an opportunity to make appropriations for medical supplies a condition of passing a bill. President Donald Trump and Senate Republicans have focused on providing cash assistance to taxpayers and bailouts to affected industries such as airlines. But, despite the fact that New York's congressional delegation includes the top Democrat in the Senate, a member of the leadership in the House of Representatives and the House Appropriations Committee Chairwoman, even Democratic proposals have sometimes emphasized alternatives such as expanded unemployment insurance, often without even the slightest mention of doing anything to stem the coming tidal wave of death that New York faces. Rep. Don Beyer, vice chair of the Joint Economic Committee, outlined the Democratic proposal for the stimulus in an oped on Wednesday that contained nothing medicine-related except for having the federal government cover a larger share of Medicaid. 
Pleas from de Blasio and Cuomo, who have even turned to dental offices and corporations such as Goldman Sachs to donate unused masks, suggest that appropriations for purchasing these medical supplies is a more immediate need to help the large number of Americans who will soon be overwhelming hospitals. "There are a lot of issues, of course, that will affect our economy and our workers," Rep. Grace Meng, who represents parts of Queens and sits on the House Appropriations Committee, said. "But right now, today, Americans need these supplies."
A shortage of supplies and ICU beds is something all states and cities across the country will likely have to deal with, but New York has by far the largest number of confirmed coronavirus cases – 7,845 as of Friday afternoon, with California in second with 1,063. The real number of infections is believed to be much higher, as the federal government's failure to provide adequate test kits or appropriate testing guidelines means that even many symptomatic people have been denied testing.
Both Cuomo and de Blasio have been begging for assistance from the federal government, and lately they've been getting more creative. Cuomo, for example, seems to be welcoming custom-sewn donated masks from clothing designer Christian Siriano. Meanwhile, de Blasio is asking for help from billionaire and tech entrepreneur Elon Musk.
Democrats in the House and Senate are now pushing for the economic stimulus package currently being negotiated to include a sizable investment in securing medical supplies for states like New York that desperately need them.
The Senate Democrats' proposal, outlined this week by Senate Minority Leader Chuck Schumer, who represents New York, makes funds for medical supplies and other health care needs a priority. The $750 billion proposal, which includes low-interest loans to businesses and subsidies for public transportation systems facing low ridership, also allocates $400 billion in emergency funding to public health, medical supplies and treatment capacity needs. It's not clear how much of that would go to medical supplies specifically, but the proposal cites a "major investment" to address the shortage of supplies in devices. 
Representatives for Schumer did not respond to a request for comment, but the senator affirmed his interest in prioritizing these health care needs on Twitter this week. "We need the testing to work," he tweeted on Tuesday. "And we need much more than that. We need hospitals to be well-prepared. They need equipment. They need masks. They need ventilators. They need beds. That is number one in our $750 billion package that @SenateDems have proposed."
Schumer and other Democratic leaders, including Rep. Nita Lowey, who chairs the House Appropriations Committee and represents a district in Westchester and Rockland Counties, have also been pushing Trump to act on the Defense Production Act he invoked earlier this week, which would allow the federal government to order the manufacturing industry to produce necessary supplies. Trump told Schumer in a phone call Friday morning that he would actually start using the powers under the act. Of course, Trump said the same thing when he invoked the law Wednesday, only to reverse himself later that day, saying he would only act on it in a "worst case scenario." The reality with Trump is that nothing he says can be believed and no plea to him will necessarily be heeded unless it comes coupled with actual leverage, like being included in a bill to avert economic collapse. 
Schumer's proposal faces some resistance in the Senate, as the Senate Republicans prefer to  focus on economic relief for businesses and families. A Senate bill, however, will still need some Democratic support to win the 60 votes needed to pass.
The White House, meanwhile, has not demonstrated nearly as much concern for New York's shortage of lifesaving equipment as it has for its constituents' bank accounts. A proposal from Treasury Secretary Steven Mnuchin focused solely on economic relief.
But House Democrats have some leverage to make funding for medical supplies a priority in the stimulus package, as Republicans, and ultimately Trump, need their support to pass this stimulus. "Trump understands only two metrics: the stock market and his poll numbers, and by both of those metrics, he is in big trouble," former Obama administration official Dan Pfeiffer wrote recently. "In raw political terms, Trump and McConnell need to fix the economy much more urgently than Democrats do."
Meng, while not in a leadership position, said she intends to do just that. "As just a member of the committee, this is a top priority," Meng said, referring to her place on the Appropriations Committee. "New York, of course, is just one state. We have the majority of cases right now in the entire country. If you want to see what New York will be like in a week or two, then you can look straight to Washington state where they literally have hospitals doing arts and crafts and making their own masks right now. That's just not acceptable, we cannot get to that level."
Meng also suggested that funding for medical supplies is becoming a priority for the House Appropriations Committee. Speaking to City & State on Friday afternoon, Meng said she had just gotten off a phone call with the committee and said its chair, Rep. Nita Lowey is working on the issue. "We have all made this clear to Chairwoman Nita Lowey," Meng said. "Chairwoman Nita Lowey also, I believe, is on the same exact page."
Lowey's office said the congresswoman has been leading the effort to get supplies to New York, although the evidence for that claim that they initially cited was about a relatively miniscule amount that has already been appropriated and has apparently not come close to resolving the shortages de Blasio and Cuomo are highlighting. The first emergency appropriations package, enacted earlier this month and worth $8.5 billion, Lowey's spokesperson noted, included $500 million for the procurement of pharmaceuticals, masks, and other medical supplies. 
But $500 million would not come close to filling even New York's need for ventilators alone. Ventilators can run $25,000 to $50,000 apiece, and hospitals are unlikely to be able to purchase enough of them on their own. To actually save the lives of people who will be battling the coronavirus – which is where ventilators, which help patients breathe or breathe for them, come into play – much more money will be needed. Lowey's spokeswoman clarified, however, that this is something Lowey hopes to include in the next bill. "Chairwoman Lowey was always clear that more support would be needed, which is why she is working on a third package to surge even more resources across the country," she said in an email. "The Appropriations Committee is working on more resources for medical supplies and funding to support the invocation of the Defense Production Act to ramp up capacity to make medical supplies."
The stimulus bill could be passed in Congress as soon as early next week, as Senate Majority Leader Mitch McConnell said Friday that he wanted to come to bipartisan agreement in the Senate by midnight. That could give Democrats a matter of hours to signal an intention to stand firm on funding for medical supplies being included in the legislation. In the meantime, New York – and other states – might want to conduct more outreach to tech billionaires and clothing designers to produce the masks, ventilators and other supplies they will soon need