New York State
New York's political turncoats
The long, proud history of politicians switching parties.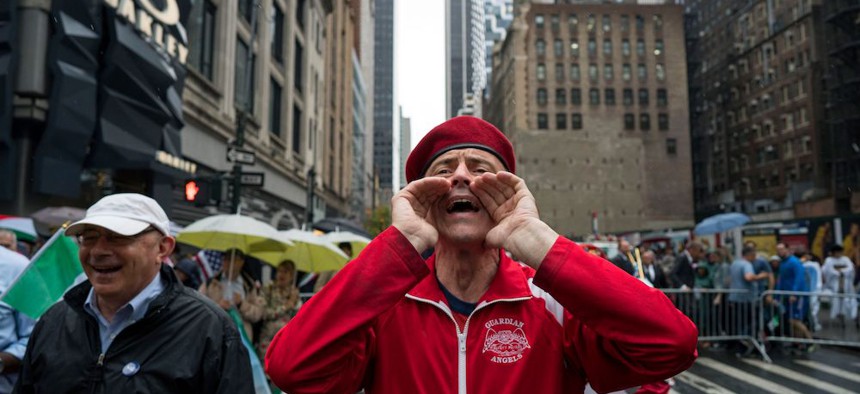 Radio show host. Guardian Angels founder. Perennial potential candidate for elected office. Curtis Sliwa has been many things. Now, he's eyeing the 2021 Republican nomination for New York City mayor – which means it's time for him to join the ranks of political party switchers in New York politics.
Some have left the Democrats or Republicans because their political ideology evolved, while some felt their own parties changed while they stayed the same. Others simply saw a political edge to be gained by switching their party registration.
Here are some New Yorkers who, for one reason or another, have changed their party affiliation.
Eric Adams
The Brooklyn borough president has been through a political change or two over the years. This includes an abandoned 1994 congressional run as a Democrat where he received backing from the Nation of Islam, then he was as a registered Republican from 1995 to 2002 before going back to the Dems several years before he won a state Senate seat in 2006.
Peter Koo 
The unofficial "Mayor of Flushing" ditched the GOP in 2012 just as the party's hopes for political relevance began going down the drain in New York City. Given how easy reelection has been for Koo ever since, it looks like he's sticking with the Dems for good.
Michael Bloomberg
There was a time, nearly two decades ago, when becoming a Republican made sense for a billionaire New York City mayoral hopeful in need of a ballot line. It also made sense when he ditched the GOP to go independent a few years later to win reelection in an increasingly liberal city. Switching to Democrat after so many years didn't earn him enough friends for a strong Super Tuesday showing, so we'll have to go without a New York billionaire cage match this November.
John Brooks
The former Republican accepted the Democratic Party's nomination when he successfully challenged corruption-plagued GOP state Sen. Michael Venditto in 2016. You could say that he got ahead of the political curve that has turned Long Island increasingly blue in recent years.
Joseph Robach
The soon-to-be-retired GOP state senator came to the state Capitol nearly three decades ago as a Democratic assemblyman. He switched parties in 2002 and won election to the state Senate, a move that would add an extra vote and a jocular touch to the GOP conference in the years ahead.
Julia Salazar
The Brooklyn state senator is the most outspoken self-described Marxist in state politics, a notable turnaround for the former Republican who just a few years ago blasted liberal professors on conservative firebrand Glenn Beck's TV show. We'll see if her current ideology sticks for the long haul.
Mike Spano
The Yonkers mayor won a seat in the Assembly as a 20-something Republican in 1992. Life in the chamber became a lot easier after he moved across the aisle in 2007 to join the Democratic majority. Winning a third term as a Democratic mayor means he can finally say most of his political life has been spent with the Democrats.
Vito Fossella
The former Staten Island congressman's family has deep roots in the Democratic Party, but he nonetheless became a registered Republican before first winning a New York City Council seat in 1994. He eventually became the only GOP member of the city's congressional delegation – a distinction he could've held to this day had it not been for a drunken driving conviction, with an extramarital affair on the side.
John Lindsay
Decades before Bloomberg, another former Republican mayor ran for the 1972 Democratic nomination for president. Lindsay fell short, and failed to get the Democratic nod for U.S. Senate in 1980. But Lindsay didreach the national stage as a regular guest host of "Good Morning America."
Herman Badillo
The former Democratic congressman from the Bronx ran for mayor as a Republican in 2001. His mayoral hopes were dashed in the GOP primary by fellow party switcher Michael Bloomberg, whose deep pockets ensured that Badillo's political career as a Republican didn't last long.
Olga Méndez
The first Puerto Rican woman to serve in the state Legislature felt the Democrats were taking her for granted after 13 terms in the state Senate. She made the point by heading over to the GOP in 2002, but voters threw her out of office the next time they had a chance.
J. Edward Meyer III
Meyer is the only person on this list to serve in two states' legislatures. He was first elected to the New York Assembly in 1970 as a Republican but then switched sides in 1973 and served an additional term. Once the 21 century came around, he popped up in elected office once more as a six-term state senator in Connecticut. 
Pedro Espada Jr.
He technically remained a Democrat throughout his (shall we say tumultuous?) political career, but no one will ever accuse the former Bronx lawmaker and convicted felon of being a loyal member of the party. He unsuccessfully ran for office on the Liberal Party line in 1996 and failed as a Republican candidate in 2002. That legislative coup he helped launch in 2009 to give the GOP control of the state Senate wiped out whatever goodwill he still had in his own party. For some reason, Democrats ended his career by backing a primary challenge against him.
Teddy Roosevelt
If a New York City boy can move west for a while and become a cowboy, then he can surely go from being a Republican president in 1908 to becoming a Bull Moose progressive insurgent four years later. The move cost the GOP the White House, but at least Teddy didn't go Democrat.
Ogden Reid
The midcentury liberal represented parts of Westchester County in the U.S. House of Representatives for five terms as a Republican. He then went Democrat in 1972 because of his dislike of President Richard Nixon. While he only survived in Congress through 1974, at least he got to serve long enough to see Tricky Dick go first.
Curtis Sliwa
The Reform Party lost its ballot access in 2018 after Sliwa led a hostile takeover of the party. Sliwa registered as a Republican last month in order to run for New York City mayor. Considering the unpopularity of the GOP in four of the five boroughs, the party should be thankful that, if Sliwa wins the party nod in 2021, the vigilante group founder can't possibly make things any worse for Republicans.
Powered By
NEXT STORY: Byford said Cuomo made his job 'intolerable'