New York State
Tish declares war on Alex Jones' toothpaste
The state's attorney general wants to stop the InfoWars talk show host's hawking toothpaste he claims kills coronavirus.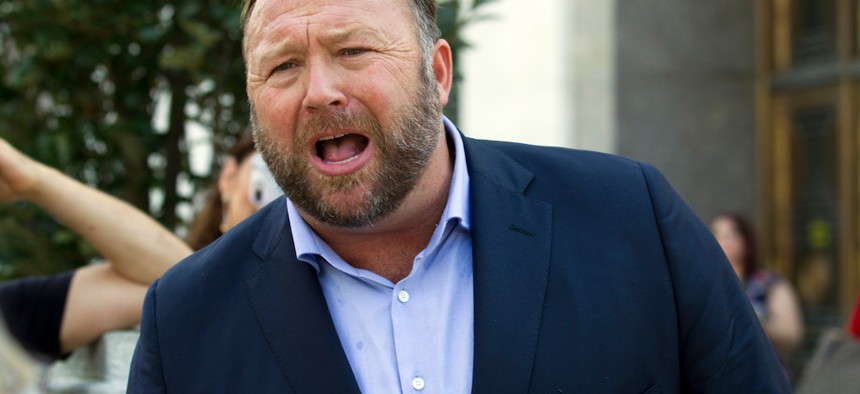 In a week that keeps getting weirder, New York Attorney General Letitia James is now trying to stop far right "InfoWars" host Alex Jones – famous for alleging that the 2012 Sandy Hook shooting was a "total hoax" – from selling a bogus coronavirus cure: toothpaste.
On Thursday, James sent Jones a cease and desist letter asking him to stop selling his "Super-Silver Whitening Toothpaste," that he claims can kill all SARS-corona family viruses immediately. If the far-right talk show host refuses to adhere to the attorney general's request, James will sue the host $5,000 for each violation. "As the coronavirus continues to pose serious risks to public health, Alex Jones has spewed outright lies and has profited off of New Yorkers' anxieties," James said in a statement.
Jones, who is known for selling fishy vitamin supplements on his show and promoting bogus conspiracy theories, has claimed that the Super-Silver Whitening Toothpaste has been approved by federal officials and contains a "patented nanosilver" that can kill the SARS-corona family.
"The patented nanosilver we have, the Pentagon has come out and documented and Homeland Security has said this stuff kills the whole SARS-corona family at point-blank range," Jones said on his show Tuesday. "They're still discounted, despite all the hell breaking loose."
It's doubtful that any federal agency signed off on Jones' toothpaste, however, considering both the Food and Drug Administration and the National Center for Complementary and Integrative Health have stated that nanosilver – or colloidal silver – can be dangerous to your health and cannot cure any ailments. "Colloidal silver consists of tiny silver particles in a liquid that is sometimes promoted on the Internet as a dietary supplement," the National Center for Complementary and Integrative Health's website explains. "However, evidence supporting health-related claims is lacking. In fact, colloidal silver can be dangerous to your health."
On Monday, the FDA announced that it has sent warning letters to several companies that have been selling products that claim to combat the coronavirus, advising people not to purchase them and that there is no cure for the virus at the moment. "The FDA considers the sale and promotion of fraudulent COVID-19 products to be a threat to the public health," FDA Commissioner Dr. Stephen M. Hahn said in a press release. "We have an aggressive surveillance program that routinely monitors online sources for health fraud products, especially during a significant public health issue such as this one." 
However, Jones has alleged that James has not accurately portrayed what he said about the Super-Silver Whitening Toothpaste on his show, according to the New York Post. "I don't believe in a cure," Jones said. "I would never tell my listeners that this is a silver bullet, it's just not true."