New York State
11 issues the state Legislature could still take up this year
Although the legislative session is in limbo, here's what state lawmakers want to address.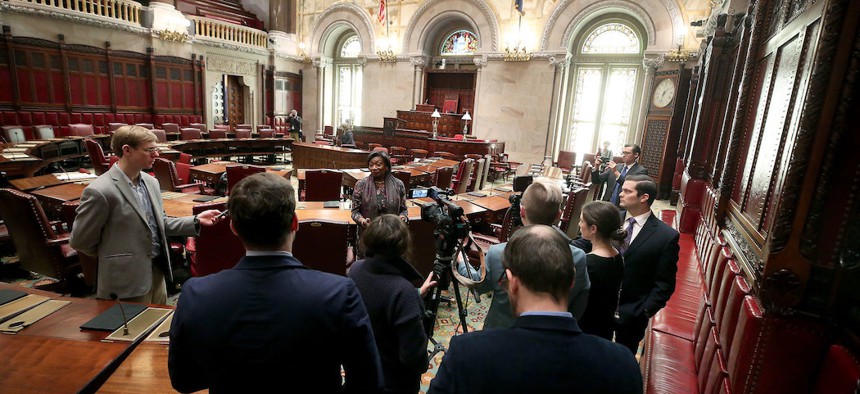 The New York state legislative session is "effectively over," at least according to Gov. Andrew Cuomo. After passing a $177 billion state budget in early April, lawmakers are doing their jobs remotely due to the spread of the new coronavirus and the rising number of COVID-19 cases and deaths in the state. 
But state Senate Majority Leader Andrea Stewart-Cousins said that the body could convene as needed, raising the possibility of further legislative activity up through the session's originally scheduled end date of June 2. Other lawmakers have flatly rejected Cuomo's suggestion that the session is done, saying it's not up to the governor. "First of all, we have three branches, bro," state Sen. Gustavo Rivera said. "We have three. And therefore we get to decide when we go on."
If the state Senate and Assembly do reconvene, here's a list of bills and issues that could be at the top of the agenda.
Budget cuts
As part of the budget, state lawmakers authorized Cuomo's budget director to adjust spending throughout the year in response to projected shortfalls. The Aid to Localities budget bill included language that gives the state budget director, Robert Mujica, the authority to make changes if updated revenue estimates show the budget to be unbalanced – which is likely, given an expected shortfall of $10 billion or more due to a major economic slowdown resulting from the coronavirus pandemic. The budget director could then withhold a certain amount from localities, including school aid. The Legislature would then have 10 days to respond to cuts, should they decide to. 
"If revenues are short then we will put together a package of reductions, we'll send that to the Legislature, they will have 10 days to review it and adopt jointly an alternative proposal," Mujica told NY1's Errol Louis earlier this month. "If there is an alternative proposal that works we'll execute on that proposal or in the absence of the Legislature acting then we will execute on the original proposal."
Recreational marijuana
State lawmakers failed to reach a deal with the governor before the budget deadline, putting legalized recreational marijuana on hold again. Amid the coronavirus outbreak, pot legalization was "too much, too little time," according to Cuomo. As City & State reported this month, lawmakers wanted significant tax revenues set aside to reinvest in minority communities disproportionately targeted for marijuana offenses, while the governor wanted more flexibility by avoiding specific earmarks.
Extending the Child Victims Act
Some lawmakers wanted to add a one-year extension to last year's Child Victims Act, which suspended the statute of limitations for victims of child sex abuse during a one-year window ending in August 2020. When the state court system halted all non-essential proceedings last month, including submissions under the Child Victims Act, supporters said the new extension would be critical. "It's always been prudent to extend the CVA's revival window by another year, matching similar policies in progressive states like California, New Jersey and Hawaii," state Sen. Brad Hoylman, a sponsor of the original law and the proposed extension, said in a statement last month. "Now, the massive unexpected interruption to our judicial system makes the need for extending the CVA more urgent than ever."
Tenant protections
In response to the coronavirus pandemic, Cuomo imposed a 90-day moratorium on evictions, preventing landlords from kicking out tenants who can't cover rent during the crisis. But the order does not include rent forgiveness, which could cause an eviction backlog when the moratorium ends. State Sen. Michael Gianaris introduced a rent relief bill that would suspend rent for residential tenants or small business commercial tenants who have lost incomes due to the crisis. Under Gianaris's bill, which has at least 21 co-sponsors in the state Senate, those tenants would not owe any rent for those 90 days, even when the allotted time is up. Earlier this week, Gianaris called on the governor to issue an executive order similar to his legislation. "Many renters are making real-time decisions about their housing situation that cannot wait for the crisis to be over," Gianaris said in a letter. "We must take serious action right away to keep our neighbors in their homes at this perilous time."
Three lawmakers – state Sen. Liz Krueger, Hoylman and Assemblyman Jeffrey Dinowitz – also introduced the New York State Tenant Safe Harbor Act, to build on the 90-day moratorium by preventing landlords from evicting tenants for non-payment of rent that accrued during the current state of emergency and for six months after it eventually ends. "The expiration of the 90-day eviction moratorium is a ticking time bomb for many tenants who have lost all sources of income during the COVID-19 pandemic, especially if they experience other significant expenses such as medical care while they are out of work," Dinowitz said in a statement. "The New York State Tenant Safe Harbor Act is a common sense approach that will still allow landlords to seek payment for rent so that they can maintain their buildings while also acknowledging the reality that we need to take unprecedented action so nobody loses their home due to coronavirus."
Mobile sports betting
The state budget included language expanding sports betting, but only at additional locations inside the state's existing commercial casinos. State Sen. Joseph Addabbo has said he will continue the fight to legalize mobile sports betting in New York, pointing to New Jersey's early success with mobile sports betting and the need to fill a looming state budget gap. "I'm not giving up the fight," Addabbo told The Action Network. "We're now looking at $10 billion we need to make up. So I think we're going to have to be called back into session in the fall, by Zoom, to address that unfinished business."
Gig workers
New York state did not pass new protections for gig workers, who are now at the front lines of the coronavirus crisis. Gig workers, who work for companies like Postmates or Uber, could get more labor protections such as overtime pay and unemployment insurance under various proposals. The push to change most gig workers' classification from independent contractors to employees is facing hurdles in California, which passed a law addressing the issue, and it has drawn growing attention due to the pandemic.
Climate and Community Investment Act 
Last year, environmentalists applauded the passage of the Climate Leadership and Community Protection Act, a landmark state law setting ambitious clean energy mandates to combat climate change. The NY Renews coalition then turned their attention to the Climate and Community Investment Act, which it bills as a way to "help fund the transition to a renewable energy economy by making polluters pay for the damage they're doing to our climate and our communities." The bill, sponsored by state Sen. Kevin Parker and Assemblyman Kevin Cahill, remains in committee. 
Pharmacy benefit managers
Both the state Senate and Assembly passed a bill last year to regulate pharmacy benefit managers – which negotiate drug prices on behalf of insurers and employers – only to see it vetoed. The bill's sponsors, Assemblyman Richard Gottried and state Sen. Neil Breslin, reintroduced the bill with some technical changes this year, and Cuomo called for changes in his initial budget proposal. During the final budget negotiations, pharmacists argued that their response to the coronavirus pandemic may be more effective if the state helped them limit the power of PBMs. 
Single-payer health care
Proponents of single-payer health care say coronavirus pandemic demonstrates how it would save lives. Supporters of the New York Health Act, the state Legislature's proposed single-payer bill, says under such a system, people who are uninsured would not have to worry about fees if they get sick with COVID-19. "If you lose your job because your company had to let go of you because of COVID-19, you lose your health coverage in most cases, which means if you do go to the hospital, who's going to pay for all the care they're going to give you?" Gottfried, the Assembly Health Committee chairman, said. "Under the New York Health Act you wouldn't be losing your coverage, your doctor, your hospital would be getting paid in full. And we'd have a system that treats people as if they matter." In the past, the governor has said he's open to the concept, but that it would likely have to happen at the federal level. 
Rape intoxication loophole
A bill that would clarify legal language to stipulate that a person cannot give consent to sexual activity when voluntarily under the influence failed to make it into the state budget. The current penal code includes those who are "mentally incapacitated," which only applies for people who were involuntariy intoxicated. The bill's sponsor, state Sen. Alessandra Biaggi, has said that she, along with the governor's office,will continue to push for the billand hopes it will pass this session. 
Sex worker decriminalization 
The push to make New York the first state to legalize sex work was always a long shot this session, although the movement has gained traction in recent years thanks to insurgent candidates like state Sen. Julia Salazar who made it a part of their campaigns. A more incremental step would have been to repeal the state's "loitering for the purposes of engaging in prostitution" law – which critics dubbed "walking while trans" ban, complaining that it's too vague and allows law enforcement to target transgender women of color. Although Cuomo came out in support of the bill this year, a bill sponsored by Hoylman and Assemblywoman Amy Paulin did not pass. 
Powered By
NEXT STORY: The end of #PresidentCuomo?