Andrew Cuomo
A coronavirus confederacy rises
Gov. Andrew Cuomo and other governors pitch President Donald Trump on a multi-state pact to reopen for business.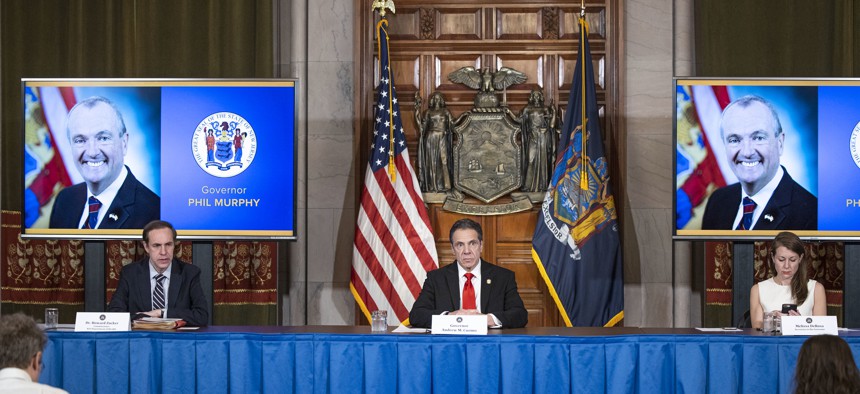 For those who do not want to put in the work, there is an inherent danger to wielding political power. President Donald Trump – a leader who spends big chunks of his time playing golf and bingeing on cable news – has balanced his attempts at remaining in the limelight during the coronavirus pandemic in recent weeks with efforts to shift the responsibility for the government response to individual states.
But as the spread of the virus begins to plateau in New York City – the hardest hit part of the country – Trump is asserting that he has the sole authority to decide when social distancing restrictions should end across the country. "Some in the Fake News Media are saying that it is the Governors decision to open up the states, not that of the President of the United States & the Federal Government," Trump tweeted Monday morning. "Let it be fully understood that this is incorrect."
Such an assertion of power threatens to undermine efforts by Cuomo and the governors of six nearby states to reopen schools and businesses through joint agreement. Data about the pandemic, university research on COVID-19 and other state-level resources would also be shared among New York, New Jersey, Connecticut, Massachusetts, Rhode Island, Pennsylvania and Delaware. "If the federal government comes in and says they're going to substitute a federal plan, that would then trump the state plan," Cuomo said at a Monday afternoon press conference at the state Capitol. "Pardon the pun." 
Cuomo appears to be daring the president to either offer a plan of his own or leave the details on restarting the economy to governors like himself. A proposed multi-state alliance could serve as a national model on how states can manage the transition away from the current social lock-down – and Trump appears to be taking a hands-off approach for now.
"I would rather work with the states," Trump said of the new effort at a Monday evening press conference. "I would rather have them make the decision."
The governor said that he had not discussed the bipartisan, multi-state approach with the president, whom he has said he is in regular contact with, before announcing it Monday afternoon with five fellow governors. Massachusetts joined the group later on Monday. Another Republican governor, Gov. Phil Scott of Vermont, has also expressed openness to joining. The more the better, according to Cuomo, who fellow governors credited with leading the effort. "We have to come up with a smart, consistent strategy to restart the systems we shut down and get people back to work," Cuomo said in a joint press release with five of the six governors. "To the extent possible we want to do that through a regional approach." 
Trump suggested that he could overrule the actions of states if he wants to. "The president of the United States calls the shots," he said, without offering specifics on how such power would be based on the U.S. Constitution. Yet Trump hedged on whether he would use federal authority to override states' decisions on easing social distancing restrictions. "I think everybody wants to open," he said. "I like the way they've done it." He later added that "new and very important guidelines" on ending social distancing would soon be released by the federal government – hardly a rebuke of the new multi-state effort. 
The president has vacillated from calling for a swift end to social distancing to urging a more gradual approach. May 1 is now a date being floated by the Trump administration, though infighting, supply shortages and other setbacks have meant the federal government still lacks an actual plan for managing the pandemic in a way that would allow more economic activity to resume without endangering public health. 
A task force that includes daughter Ivanka Trump, son in-law Jared Kushner and key deputies like Treasury Secretary Steve Mnuchin and economic advisor Larry Kudlow are forming a seven-person task force to develop the federal response, according to Fox News. Many of them are the same officials who have backed Trump's past assertions that it is the responsibility of individual states, not the federal government, to figure out what to do about a pandemic that has killed more than tens of thousands of people across the country. 
Cuomo and other governors have urged the federal government to take further action to increase production of medical supplies and mobilize the nation's resources against the pandemic, but Trump has distanced himself from such efforts. "I don't take responsibility at all," he said in mid-March, referring to the federal government's level of responsibility in helping states increase their testing capacity. After dismissing the danger of the crisis early on, states across the country remain confused about how exactly Trump wanted to confront the pandemic.  
If governors cannot get the federal government to help them, it appears they are going to help themselves. Some have said that Trump has ideological qualms with interfering with private industry. Others say that states have legitimate constitutional grounds to assert their powers in an emergency. But Cuomo, a pragmatist if nothing else, appears to believe that the key to getting what he wants lies in making Trump believe that overseeing the government response is more work than it is worth.
Just take a look at how Cuomo pointed out just how much hard work it takes to govern. "I have to manage the operation and that's every day," Cuomo said in response to Trump's tweet. "Every day I have to tell my local governments what they're doing. Every day I have to tell the schools what to do. Every day I have to tell the hospitals, this is what's coming on PPE. Every day I have to tell the hospitals, this is how we're going to balance the patient load. … Again, you're president of the United States, you want to push for the management model? Let's hear (you) out." After weeks of prodding Trump to take more action against the pandemic, Cuomo and other governors are looking to take more control.
Under the new arrangement, each state will decide how and when to ease up on social distancing restrictions, according to the governors. But considering the economic links of the seven states, doing this at more or less the same time will allow for a controlled transition away from the current lockdown in the region. Working groups within each state will develop recommendations within the upcoming "weeks," according to Cuomo. A 21-member "council" made of each states' top state health official, top gubernatorial staffer – including Secretary to the Governor Melissa DeRosa in New York – and economic development chief would then discuss how the seven states should proceed together.
The collaboration marks a big turnaround from interstate conflicts in recent weeks, with friction between New York and states like Florida, Delaware and Pennsylvania that had implemented measures targeting New Yorkers for mandatory two-week quarantines. Just two weeks ago, Raimondo announced measures – subsequently abandoned – to seek out New Yorkers in her state through border checkpoints and door-to-door searches.
"This virus does not recognize borders," Rhode Island Gov. Gina Raimondo said in a joint press release with Cuomo and the other four governors who initially announced the multi-state pact. "It's clear we need a strong, coordinated regional approach to avoid a second wave of this disease." 
How can governors protect their loose confederacy? The president offered a clue during a Monday evening press conference. While attacking the media for criticizing the federal government's response to the pandemic, the president showed reporters a video in which Cuomo, New Jersey Gov. Phil Murphy and other governors praised the federal response to the crisis. "Many of those governors are Democrats and they can't find anything to complain about," the president claimed. Like others before, the governors appear to be reaping the rewards of flattering Trump.
With Republican fears over Trump's reelection chances mounting, the president's comments Monday evening suggest he is in no hurry to tangle with the governors over a multi-state pact that would act on the advice of public health experts. "If they did not do a good job, I would step in so fast," Trump said of the governors. "If some states refuse to open, I'd like to see that person run for reelection."