Campaigns & Elections
Darma Diaz not alone after two others make the NYC Council ballot
However, Diaz's biggest rival, Sandy Nurse, failed to qualify.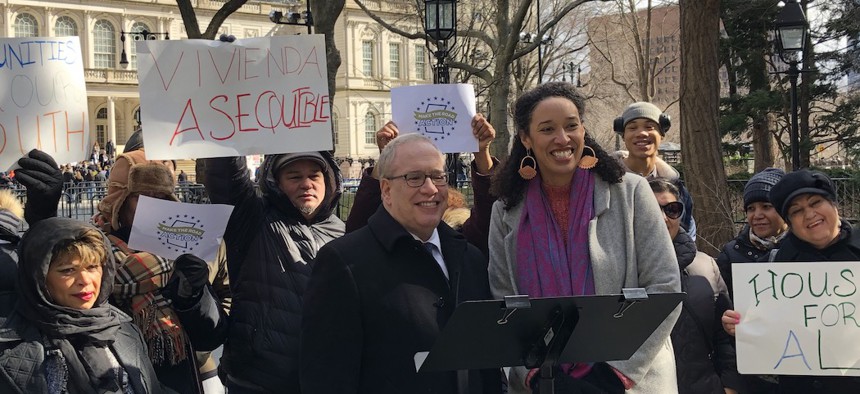 It looks like New York City Council candidate Darma Diaz will have opponents after all – but her biggest rival for the open seat in Brooklyn, Sandy Nurse, won't be one of them, thanks to a paperwork error.
That's the result of a series of court decisions from Kings County Supreme Court Judge Edgar Walker on Thursday. Misba Abdin and Kimberly Council will appear on the June 23 Democratic primary ballot with Diaz, who had already qualified. But Nurse and Rick Echevarría, will not. All the candidates are hoping to represent District 37, which covers Cypress Hills and parts of Bushwick and East New York. It's been vacant since Rafael Espinal Jr. resigned in January.
Abdin, Council, Echevarría and Nurse were all disqualified from appearing on the ballot at an April 22 New York City Board of Elections hearing, after two Diaz campaign volunteers challenged the candidates' petitions. The board, in counsel with the city Law Department, ruled that candidates needed 450 valid signatures to appear on the ballot. The four candidates had turned in between 147 and 218 signatures, well short of the requirement.
But Walker reversed that decision and ordered the board to put Abdin and Council on the ballot. In order to limit public interaction during the coronavirus crisis, Gov. Andrew Cuomo issued an executive order that candidates only needed to gather 30% of the usual number of petitions. The Board of Elections ruled this didn't apply to New York City elections like the District 37 race, which Walker wrote in his decision was "an absurd interpretation" of the executive order. Accordingly, candidates only needed 135 signatures to qualify, which was a threshold that all of them met.
Diaz, who is a Democratic district leader and was endorsed by the Brooklyn Democratic Party, was considered the "machine" candidate. And for about a week, it looked like she would be running for the seat unopposed – something Council mentioned after her victory in court.
"The residents of our district deserve to choose who will represent them, and not have 'the machine' decide who their representative will be," Council said in an emailed statement. "Our collective voices deserve to be heard. I am incredibly grateful for the wisdom of Judge Walker and his application of the Governor's intentions to put the health and safety of New Yorkers first."
But the decision didn't go as well for Nurse and Echevarría. The Nurse campaign said the court ruled against her because of "a technicality that required her order to show cause be served via personal service, and not via overnight mail." And the decision in Echevarría's case wasn't available yet online. Kings County Politics reported that the judge dismissed his case because he didn't submit proper paperwork to the Board of Elections.
Earlier this week, when Diaz was the only candidate on the ballot, she slammed her opponents' court cases as being opportunistic. She claimed to have gathered 1,500 signatures and said the other candidates' relative lack of petitions was "horrible and an insult." Reached via text message on Thursday, Diaz had less bluster. "I will continue to engage voters as I have been for the last 90 or so days," she wrote. "I knew getting into the race I would be met by challenges. Therefore I will remain focused on providing the best outreach and engagement possible while practicing social distancing."
Diaz, a social worker, still seems to be in the strongest position with less than two months to go until the June primary. She has the support of powerful county leader, Assemblywoman Rodneyse Bichotte, as well as the endorsement of Espinal, the former councilman. As of the most recent campaign finance filing on March 23, she had raised more than $22,000 and received more than $124,000 in public matching funds.
But her fundraising trailed Abdin, leader of a Bangladeshi American nonprofit who would be the first person of South Asian descent elected to the council. He had brought in more than $25,000 and gotten more than $130,000 in public matching funds. Council, a reference librarian at a law firm, did not have updated fundraising numbers available.
But the race's biggest fundraiser, at least up through that March filing, was Nurse, who had brought in more than $35,000 in private funds and more than $78,000 in public matching funds. With her relatively strong fundraising and top-flight endorsements from progressive leaders like New York City Comptroller Scott Stringer and the Working Families Party, the race was looking like it would be a fiercely fought contest between Nurse and Diaz. But the judge's decision could be the end of the road for Nurse.
An emailed statement from Nurse said that her campaign would evaluate its options. It wasn't immediately clear whether she would be interested, or even legally able to run on the Working Families Party's ballot line in the November general election.
Powered By
NEXT STORY: We are now in the 'Between Times'