Coronavirus
De Blasio appoints his wife to run COVID-19 task force
The NYC mayor has taken heat for mishandling coronavirus, but appointing unqualified cronies should cure that!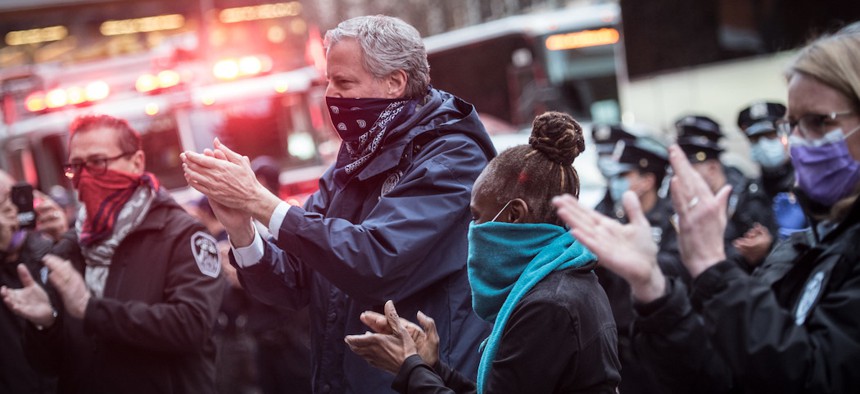 Throughout New York City's COVID-19 crisis, New York City Mayor Bill de Blasio has refused to listen to public experts and allowed politics to influence his decision making. On Sunday, in a bid to prove his critics right, he appointed first lady Chirlane McCray to co-chair the city's new racial inequality coronavirus task force. 
The goal of the task force is to ensure that the city's communities that have been hardest-hit by the pandemic, as well as minority and women-owned businesses, receive the help they need to recover from this disaster. McCray's appointment to the task force, however, strikes some members of the City Council as inappropriate, even unethical. Some might even say de Blasio is continuing to put his family's political interests ahead of his city's needs. 
A former speechwriter and public relations executive, the first lady is not an expert on public health, infectious diseases, pandemics, business management – or management of anything at all. McCray is best known for leading the helm at Thrive NYC, the city's billion-dollar mental health initiative that has been criticized by the City councilmembers and New York City Comptroller Scott Stringer for spending vast sums with no demonstrated results. 
The city is also home to some of the world's premier public health experts, so what makes McCray the ideal candidate for any kind of coronavirus task force? 
De Blasio has made many decisions during the city's outbreak based on his own personal or political interests, particularly when it has come to following the advice of the city's Department of Health and Mental Hygiene. The mayor is known to have a contentious relationship with the department and as a result he ended up dismissing much of their advice at the onset of the outbreak, The New Yorker reported. He ignored the department's proposals to combat the virus in early March, initially encouraging New Yorkers to go on about their daily lives – and even to go out on the town – and refused to anonymize nasal swab tests so they could be used to estimate the virus' spread. "Dan Kass (the city's former deputy commissioner of environmental health) is one of the best environmental-health experts in the country," Mary Bassett, the former commissioner of the city's Department of Health and Mental Hygiene, told The New Yorker. "New York has one of the best health departments in the United States, possibly the world. We'd all be better off if we were listening really closely to them right now." This refusal to listen to experts has even extended to de Blasio and McCray's stubborn insistence on driving 22 miles round trip to Prospect Park for their walks.
Some city lawmakers have speculated that the move was purely political, since McCray is currently eying the Brooklyn Borough presidency. "This is political. I wish de Blasio would stop doing this," City Councilman Robert Holden told the New York Post. "Let her win the Brooklyn borough presidency on her own merits."
Councilman Anthonio Reynoso, who is running for Brooklyn borough president, remarked that McCray's appointment to the taskforce reeks of "nepotism" and "cronyism." 
"There's always a bit of a split between the political appointees, whose jobs are to make a mayor look good, and public-health professionals, who sometimes have to make unpopular recommendations," an anonymous former head of the city's Department of Health told The New Yorker. "But, with the de Blasio people, that antagonism is ten times worse. They are so much more impossible to work with than other administrations."