Coronavirus
How many New Yorkers have died from COVID-19?
It's not clear due to limited testing and different reporting criteria between New York City and state.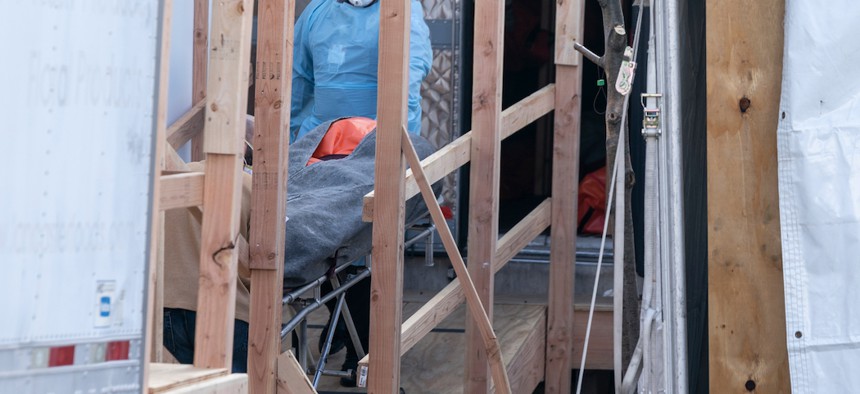 Every statistic about the coronavirus outbreak should be taken with a grain of salt. New York's relatively high rate of testing has resulted in more positive cases – but it still fails to reflect an unknown amount of people suffering at home who can't or won't get tested. And while China seems to have turned the tide on the virus, nobody knows whether to trust the country's numbers.
The number of deaths in New York is thought to be a more trustworthy stat. "We used to say in the police department that 'bodies don't lie,'" Brooklyn Borough President Eric Adams said on a recent episode of the "FAQ NYC" podcast. "Those deaths that have taken place, we should have those numbers, because the information should be on the death certificate, and we know exactly what happened when someone expired."
If only it were that easy. Even the number of deaths in New York caused by the coronavirus has been clouded by confusion, with the state and the city releasing different death tolls, and both governments have admitted that their numbers don't provide a complete snapshot.
Gov. Andrew Cuomo has been providing the number of deaths attributed to the coronavirus at the top of his press briefing every day for more than a month. On Friday, the state reported 16,162 deaths. But that number only counts the deaths of people who have tested positive for the coronavirus and who then died at hospitals or nursing homes. It doesn't include New Yorkers who have died at home, many of whom were never able to get tested for the virus.
"Fact: It's not an accurate total number of deaths," Cuomo said on Thursday. "There will have been many other deaths that were never tested for COVID that should be attributed to that number."
And the number of at-home deaths is significant. After Gothamist reported on the issue, the New York City government began publicly releasing revised totals. As of April 24, City Hall had calculated 5,102 "probable deaths" – people who never tested positive for the disease, but that health professionals or medical examiners believe perished from COVID-19. If those probable deaths were added to the city's 10,746 "confirmed deaths," it would increase the city's total number of deaths from the coronavirus by nearly 50%.
Both the New York City and New York state governments release daily reports that include data on the number of deaths in the city, which causes more confusion, because they each report different numbers. According to the city's data page, a death only counts toward its total after a victim's positive test for COVID-19 is confirmed by a laboratory, and that death is confirmed by both the Office of the Chief Medical Examiner and the Bureau of Vital Statistics. The state appears to be reporting its numbers based on the Hospital Emergency Response Data System, and daily calls to hospitals and nursing homes. "Due to the time required by the City to confirm that a death was due to COVID-19, the City's reported total for any given day is usually lower than the State's number," according to the city's website. Sure enough, on Friday, the state reported 11,544 confirmed deaths in the city. The city reported 10,746.
The true death toll of COVID-19 in New York won't be known for a long time, given the messy data environment. But even if the government's numbers aren't strictly accurate, it doesn't mean the totals are useless. The figures can reflect trends and help shed light on whether New York is slowing the spread of the virus. But more importantly, the numbers help elucidate the real human cost of the disease. "Every one is a face and a name and a family that is suffering," Cuomo said at an April 12 press conference. "This is truly tragic news."