Coronavirus
Coronavirus limits Seawright's options after losing ballot spot
The state's highest court stripped the assemblywoman of the Democratic line.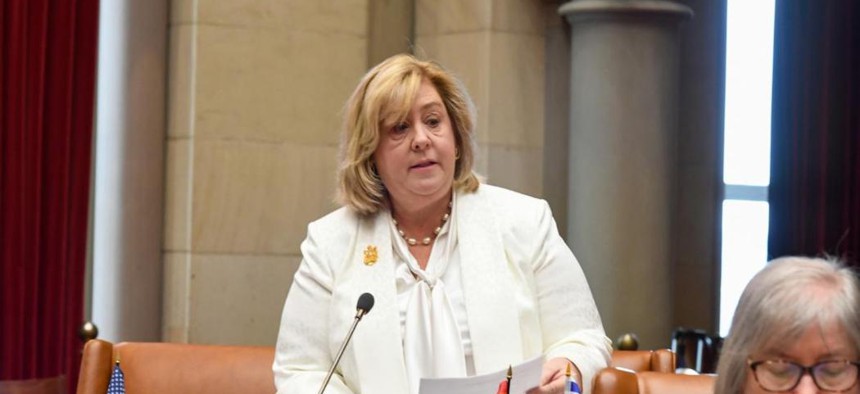 Two Democratic Assembly members – Rebecca Seawright and Carmen Arroyo – who were seeking re-election were removed from the ballot after losing court cases on Thursday. And in Seawright's case, her backup plan may be foiled by Gov. Andrew Cuomo and the coronavirus. 
Seawright, who has represented Roosevelt Island and part of Manhattan's Upper East Side since 2015, was unchallenged for the Democratic and Working Families Party nominations, but failed to secure their ballot lines after neglecting to turn in the necessary paperwork – something the state's highest court ruled was a "fatal defect." 
In a statement, Seawright vowed to try to run in the November general on an independent ballot line. In a normal year, candidates who wanted to make up their own party line would be gathering signatures on petitions right now, but that process has been postponed indefinitely due to the coronavirus, per an executive order from Cuomo.
If the process isn't allowed to resume, Seawright could possibly aim for a write-in campaign, but the numbers don't look great for her. That's because Lou Puliafito, a doorman and union shop steward whose legal challenge resulted in Seawright getting knocked off the ballot, will be in the race as a Republican. 
The 76th Assembly District is heavily Democratic – 60% of its active registered voters belong to the party, while just 15% are Republican. But it's less hostile to the GOP than other districts in the city. Seawright's Republican opponent in 2016, Jonathan Kostakopoulos, earned 27% of the vote, to Seawright's 73%. Write-in campaigns are always hard, and in a presidential year Seawright would have to persuade a huge pool of voters, many of whom aren't attuned to local politics, to not only support her but remember to actually write out her name instead of simply checking a box. But they're not impossible: Former state Sen. Serphin Maltese won a 1990 primary in Queens as a write-in candidate. 
Whatever happens, the state Court of Appeals' ruling against Seawright makes it a lot more likely that Puliafito will win the Assembly seat in November. If so, he would be the first Republican lawmaker elected in Manhattan in 20 years. Former state Sen. Roy Goodman and former Assemblyman John Ravitz were both elected to their final terms in 2000. 
But Seawright isn't going to let the party off easy. "The Republican Party has thus far forced a Soviet Union-style election with a sole hand-picked candidate," she wrote in a statement. "We will continue to fight for ballot access so that the voters will have a choice this November. "
The legislative career of the other candidate to lose in court Thursday, 86-year-old Assemblywoman Carmen Arroyo, is even more likely to be over. She has represented the South Bronx since 1994, but was booted off the June 23 primary ballot after a court challenge from her 29-year-old progressive opponent, Amanda Septimo. The state Court of Appeals ruled that the hundreds of back-dated signatures on Arroyo's petitions constituted fraud – something her daughter, former New York City Councilwoman Maria del Carmen Arroyo, was also accused of in 2013.