Coronavirus
De Blasio's disagreements with the health department
The mayor, frequently at odds with the department, selected the city's public hospital system for COVID-19 contact tracing.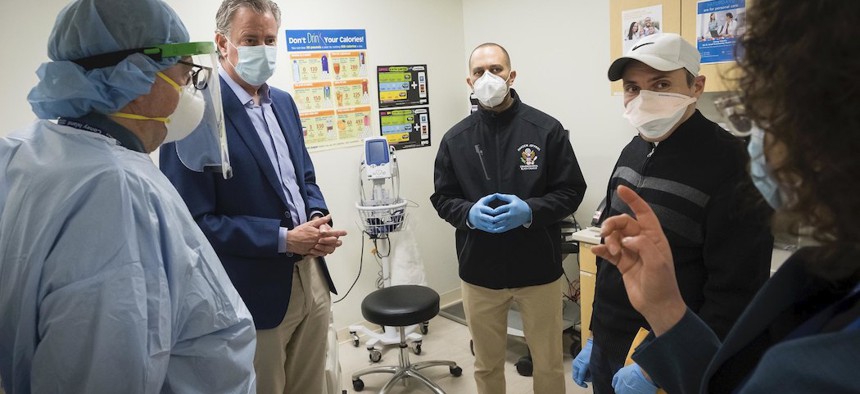 On Friday, New York City Mayor Bill de Blasio announced that New York City Health + Hospitals, the city's public hospital system, will be leading the city's new contact tracing program, with some assistance from the Department of Health and Mental Hygiene.
De Blasio's decision not to have the health department oversee this initiative, however, has struck some as odd and indicative of the mayor's contentious relationship with the department. On Friday afternoon, city and state legislators wrote a letter condemning his decision to put the city's public hospital system in charge instead of the health department, which has 150 years of contact tracing experience.
"New York City has the best health department in the nation, and possibly the world. The Department of Health & Mental Hygiene (DOHMH) has vast experience in infectious disease outbreaks and contact tracing. The move to strip it of the leadership of this critical program defies explanation and raises many practical concerns," the lawmakers wrote.
They also wrote that the health department has "conducted contact tracing in many outbreaks and epidemics, from tuberculosis and venereal diseases in the 1930s, to more recently HIV/AIDS, Ebola, Hepatitis, and, thus far, COVID-19."
I am truly perplexed by @NYCMayor decision to not assign @nycHealthy to lead the Contact Tracing program despite its vast experience in dealing with public health crises like this one. My statement with @MarkLevineNYC, @CarlinaRivera & @DickGottfried pic.twitter.com/B4nwgDgLox

— Gustavo Rivera (@NYSenatorRivera) May 8, 2020
De Blasio has also created city coronavirus task forces, none of which are being led by city health officials. The mayor notably put his wife, first lady Chirlane McCray, in charge of one task force despite her not having a medical background. Like President Donald Trump, de Blasio frequently puts politics ahead of the advice of medical experts, regardless of the effect it may have on city residents.
During the onset of the city's COVID-19 outbreak, he based many of his decisions on his personal and political interests, particularly when it came to following the advice of the city's health department. De Blasio ignored its proposals to combat the virus in early March, and refused to anonymize nasal swab tests so they could be used to estimate the virus's spread. It wasn't until top city health department officials – Bureau of Communicable Disease Assistant Commissioner Dr. Marcelle Layton and Deputy Health Commissioner Dr. Demetre Daskalakis – threatened to resign that de Blasio agreed to close the city's schools, restaurants, bars and gyms.
The mayor has been butting heads with the department since he took office, when he lifted restrictions on the Hasidic Jewish circumcision ritual in 2015, despite numerous herpes infections that occurred because of it. That same year, amid a Legionnaires' disease outbreak in the Bronx, he asked health officials to perform unnecessary tasks to make himself look good. And as recently as a measles outbreak that began in 2018, he failed to make measles vaccinations mandatory, which resulted in hundreds of cases of the illness.
It's not unusual for politicians and public health officials to clash, but de Blasio's detestation of the city's health department is uniquely intense. "There's always a bit of a split between the political appointees, whose jobs are to make a mayor look good, and public health professionals, who sometimes have to make unpopular recommendations," a former head of the health department told The New Yorker. "But, with the de Blasio people, that antagonism is 10 times worse. They are so much more impossible to work with than other administrations."
However, those who have worked with de Blasio have also recounted that the mayor tends to be dubious of all public health officials' recommendations and has belabored them for hours. "He certainly has no trust in his field of expert commissioners and high-ranking agency officials," a former City Hall official told Politico. "If an expert at an agency says to him, 'Mayor this is what's happening,' instead of granting that some truth and acting on it, he will laboriously poke and prod at that opinion for hours."
As recently as March 11, the mayor questioned the guidance of the World Health Organization, shortly after it had declared the coronavirus to be a global pandemic. "I think we can say at this point in time, we're looking at all the guidance, but with a bit of a trust but verify worldview," de Blasio said during a press conference.
While de Blasio was running for mayor in 2013, he promised the city's ultra-Orthodox Jewish community that he would overturn the city's metzitzah b'peh ritual requirements, a practice that involves a mohel sucking blood from a baby's penis right after it has been circumcised. In 2012, the health department mandated that any parent who wanted their child to take part in the ritual must sign a consent form that acknowledged the risks involved. The order came after a baby who underwent the ritual contracted herpes and died in 2011.
During his first term as mayor, de Blasio delivered on his promise to lift these restrictions and asked that any cases of herpes be self-reported in 2015. But in 2017, it was revealed that six new herpes infections had been tied to the controversial ritual, which resulted in criticism of de Blasio, who has often been accused of being especially lenient when it comes to the city's Hasidic Jewish community. It's also worth noting that de Blasio represented much of Brooklyn's Hasidic community when he was a member of the City Council.
The city then threatened to tighten the restrictions if the Hasidic community failed to follow its lax guidelines for the circumcision ritual. "Given how protective families are of mohels and the practice of metzitzah, working with families and the community when there is a new case of neonatal herpes continues to be our better option," the health department said in 2017. "That said, our main priority is to protect the health of babies, if the community is not living up to the deal announced in 2015, we'll go back to the drawing board and start over."
In October 2018, measles broke out in the Williamsburg, Brooklyn, Hasidic community after anti-vaccination literature had been plastered and shared throughout the community. Many felt de Blasio was, again, giving the Hasidim liberties he wouldn't give others by allowing them to opt out of vaccinations for religious reasons, despite there being nothing included in the Talmud about avoiding vaccination.
It wasn't until April, after 250 measles cases had been identified, that the mayor declared a public health emergency and called for mandatory measles vaccinations for people in Williamsburg. "The mayor should have gone out sooner and gave the push to say people should be vaccinated without coming out and saying we're going to do penalties and to strong-arm anyone," City Councilman Chaim Deutsch told Politico in April 2019. "You need to be diplomatic in the way you come out. You can't come out with force all of a sudden. You need to come out and say, 'Listen, we need you to work with us. This is an epidemic now in the city, and it's getting worse and worse.'" 
The health department also said something should have been done sooner to combat anti-vaccination sentiments. "Our missed opportunity is not being louder earlier about the anti-vax sentiment," Daskalakis told Politico at the time.
In 2015, the city faced a Legionnaires' disease outbreak that killed at least 12 people and infected at least 130 in the Bronx. While de Blasio was receiving praise for his handling of the situation in the media, the health department was dealing with his politically driven and unnecessary inspection of water cooling towers in the Bronx. The mayor made health officials inspect the towers for traces of the disease, even though the source of the outbreak, a Bronx hotel, had already been identified. "The preponderance of medical and scientific information available now points to one of the original five sites as the source of this outbreak, with the Opera House Hotel as the most likely source of the outbreak," a city official told The New York Times in 2015, as investigations into the outbreak were still underway.
Officials felt the move was calculated, meant to signify to the press that the mayor had done everything he could to contain the outbreak. De Blasio also tried to get then-Deputy Commissioner of Environmental Health Daniel Kass fired, after he refused to follow de Blasio's pointless direction. But Mary Bassett, then the commissioner of the city's health department, refused. "Dan Kass is one of the best environmental health experts in the country," Bassett told The New Yorker. "New York has one of the best health departments in the United States, possibly the world. We'd all be better off if we were listening really closely to them right now."