Campaigns & Elections
Does the South Bronx representative have to be from the block?
Several candidates in the crowded field to replace Rep. José E. Serrano don't live in the district. Does it matter?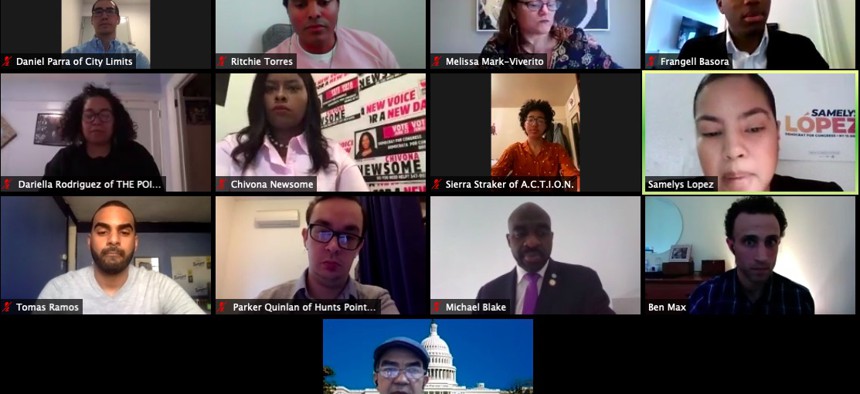 Some congressional districts in New York are awkwardly shaped. Rep. Jerry Nadler's district paints a wide line down the west side of Manhattan before hopping across the harbor, hugging the thinnest shred of coast and growing again to a big splotch of southern Brooklyn. Rep. Nydia Velázquez's district may as well be a subway line, stretching from southern Brooklyn to Lower Manhattan, North Brooklyn and out to Central Queens. And those are nothing compared to some of the gerrymandered monstrosities in states such as Maryland.
But New York City also has at least one straightforwardly defined district: the 15th Congressional District, wholly encompassing the area known as the South Bronx, from Hunts Point to Yankee Stadium, up to Fordham Road and the Bronx Zoo. Geographically coherent and densely populated, it's the second-smallest district by area in the whole country. 
Now this South Bronx community is going to get a new representative in Washington for the first time in 30 years. Rep. José E. Serrano, who has been in office since 1990, decided not to seek reelection because of his worsening Parkinson's disease. While the 76-year-old Serrano had slowed down in recent years, he was in many ways an embodiment of the South Bronx. It's the district in New York with the highest Hispanic population, 65%, and Serrano is a native Spanish speaker, born in Puerto Rico. It's the poorest congressional district in the nation, and Serrano grew up in Bronx public housing. It may be the most deeply Democratic district in the country, where 94% of voters supported Hillary Clinton in 2016, and Serrano is among the most liberal representatives and among the least likely to work across the aisle. He lives on the Grand Concourse, in the heart of the district.
The last one may seem obvious, but living in the district isn't a given among the 12 Democrats who are running to fill the seat in the June 23 Democratic primary. Among the top contenders, only Assemblyman Michael Blake and housing activist Samelys López have lived in the district for more than a year. Both New York City Councilman Ydanis Rodriguez and former City Council Speaker Melissa Mark-Viverito live in Manhattan. New York City Councilman Rubén Díaz Sr. lives just a few blocks outside the district. His council colleague Ritchie Torres used to live elsewhere in the Bronx, but moved into the district last year. 
But residency is just one factor of dozens that voters can consider when picking their next champion. What's their ethnicity? Do their politics align with mine? Are they religious? As the primary approaches and some Bronxites make the argument that the conservative Rev. Díaz doesn't represent the district's values, the race's most salient question has become who, if anyone, does? 
City & State asked some of the leading candidates directly, "What makes you, personally, the best one to represent the district and its people?" Their responses revealed a lot about their strategy. 
Torres, an Afro-Latino Bronx native with roots in Puerto Rico, started his answer with a practiced line: "I'm born, bred and battle-tested in the Bronx," he said. "The struggles of the Bronx are hardly an abstraction to me." 
Blake, a black man whose parents immigrated from Jamaica, emphasized that he was raised in the district, even mentioning his childhood street corner in the neighborhood of Fordham Heights. "I believe in The Bronx because I'm living proof of what happens when The Bronx believes in a kid from Creston and Burnside," he wrote in a statement emailed to City & State. 
López, who was born in Puerto Rico but raised in the Bronx, painted the district as a sanctuary. "The South Bronx gave my family a refuge after three years in a New York City shelter and welcomed us into its beautiful community," she wrote. "The South Bronx saved my life and there's nothing I won't do to save my home."
Unlike some of their leading opponents, those three candidates live in the district, and made sure to emphasize it. But insiders weren't so sure that residency matters much in this race. "It's extraordinarily important to folks that are in that district that the person who is chosen to represent them really shares a real sense and real understanding of their lives," said Debralee Santos, editor of the Bronx Free Press, a weekly newspaper that publishes in both English and Spanish. But actually living within the borders of the district? Santos said she doesn't think it would be a problem, since these particular outsiders live close by, and understand the voters' culture. Other districts may take issue with carpetbaggers, she said, but, "I don't know that would necessarily be determinative here."
In fact, The New York Times reported that then-Assemblyman Serrano's wife and children actually lived with him in Albany when he was first elected in 1990, though he also kept an apartment in the district.
The South Bronx "is constantly being reinvented by immigration," said Fordham University professor Mark Naison, founder of the Bronx African American History Project. He cited the district's growing Mexican, Dominican and West African populations. "Because so many people who now live in the district are relative newcomers, I don't think it matters much if people from slightly outside the district are running to represent it," he said. "There is so much population movement occurring, I doubt if half of the people living in the district were there 30 years ago."
Mark-Viverito, Rodriguez and Díaz sure hope that's the case. Mark-Viverito lives about a mile outside the district, in East Harlem, but her old City Council district used to include part of the South Bronx. She noted that in her response to City & State, but the Puerto Rico-born Mark-Viverito also made an explicitly ethnic case for her candidacy. "Being bilingual and a proud Boricua has given me the opportunity to communicate effectively with constituents and relate to their needs," she wrote. 
Rodriguez, too, lives about a mile outside the district, in Inwood, and his council district only includes upper Manhattan. He didn't respond to a request for comment from City & State, but he also made a language-based argument in a May debate hosted by Gotham Gazette. "Hoy, most of the people living in the 15th Congressional District, they have Spanish as their first language," said Rodriguez, who was born in the Dominican Republic. "I was born and raised speaking Spanish and connecting with my brothers and sisters from the African American, Asian and other ethnic backgrounds."
Díaz did not respond to City & State's request for comment, but few question his Bronx credentials. He lives just blocks outside the district, in the Parkchester housing development, and the church he pastors, Iglesia Cristiana Comunidad, is within the district. The state Senate district he used to represent and the City Council district he represents now are almost entirely contained within the congressional district boundaries. 
So Díaz's critics are making a different argument, saying the Democrat's socially conservative, anti-abortion, anti-gay politics don't represent the district's views. Many of the candidates have attacked Díaz for his voting record and his long history of offensive comments, but Torres, who is openly gay, has made the case most clearly. "There's a cruel irony that a Trump Republican could represent the most Democratic district in America," he told Newsweek this month. And Torres insists that's a real possibility. Some Democrats have worried for a year that the wealth of candidates with more mainstream Democratic views would split the vote, allowing Díaz to win with a relatively small share of the vote. With just weeks until mail-in ballots reach voters, Torres describes Díaz as the front-runner. 
"There's no question that if the race were held today, Rubén Díaz would win on the strength of name recognition. Anyone who believes otherwise is delusional," he said. 
Since Torres joined the race, he has presented himself as the candidate that liberal voters should rally behind to beat the powerful Díaz – but with 10 other challengers, he wasn't exactly successful in clearing the field, despite amassing an impressive war chest. Some of those opposing candidates have criticized Torres' eye-popping fundraising totals because he's taken money from real estate developers and such controversial figures as hedge fund billionaire Daniel Loeb. While Torres has championed tenants' rights in the City Council, he has never shied away from taking donations from the real estate industry – and he told City & State that raising big money is the only way to beat Díaz. "If you have less name recognition than the reverend and you have less resources than the reverend, how do you expect to beat him?" he asked. "That would be a neat magic trick."
As of the latest fundraising deadline on March 31, Torres had $929,000 on hand. That's over seven times more than the next leading candidate, Díaz, who had $125,000 in his campaign account. Blake was in third, with $77,000, but could have a hidden, non-monetary advantage thanks to his high-profile labor endorsements from unions that are known for getting out the vote, like 1199 SEIU, 32BJ SEIU and DC37. Blake's status as one of the only non-Hispanic black candidates in the crowded field could also be an advantage if he can get big support from the black Bronxites who make up 28% of the district.
It's not just other candidates who say that Díaz doesn't represent the South Bronx's values. A political action committee called Bronx United is running TV and digital ads in the district slamming the reverend as "a Republican look-alike who admired Donald Trump." Gay rights groups like the Human Rights Campaign have raised the alarm about Díaz without specifically endorsing any of his opponents.
But one South Bronx political operative, who spoke anonymously because they have worked with many of the candidates, doesn't think those outside groups will move the needle in the 15th district. "Those people are the Twitter people. The political class," the operative said. "The nonprofits, they think differently than the guys buying Dutch Masters at the bodega." Those Bronxites see Díaz – 77 years old, born in Puerto Rico, speaking English with a thick accent – like an uncle. And of course, he has his flock. "Twitter is not an organizing force in these communities," they said. "Church is."
If any candidate could counter that claim though, it would be Samelys López. The former nonprofit project manager has never held office before, unlike all her chief rivals, but she's earned headline grabbing endorsements from Rep. Alexandria Ocasio-Cortez, who represents a neighboring congressional district, as well as the Democratic Socialists of America and the Working Families Party. López is a democratic socialist who has positioned herself as the most left-leaning candidate in the race.
Santos told City & State that, as an open seat in a district that has only a 2% non-Hispanic white population, the race has major implications for what leadership looks like in communities of color nationally. "Are they in fact the AOC model … insurgent, revolutionary, paradigm-shifting upstarts?" she said. "Or will you find that the district chooses to opt for someone who is clearly aligned with traditional conduits of power and moves easily within those channels?"
López, the AOC-model candidate, wants to root her politics in the district's history. "My platform is inspired by South Bronx revolutionary movements," she wrote, "from the Young Lords to Hip Hop that empower poor and working class people against corrupt establishment power." 
In the 15th Congressional District, the pitch to voters always has to come back to the culture.
Powered By
NEXT STORY: Independent pharmacies need COVID-19 testing support