MTA
NYC subway shutdown makes history, garners criticism
Reviews are in for the first planned overnight shutdown of the subways in 115 years.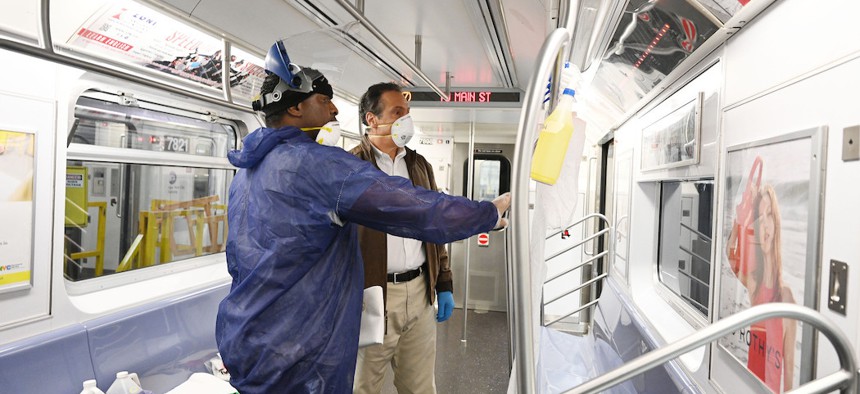 Who would have thought that New Yorkers, a normally reticent bunch, would complain about subway service being stopped overnight for the first time in 115 years?
Critics howled when Gov. Andrew Cuomo announced last week that New York City's subway system would shut down for overnight cleanings until the end of the coronavirus crisis. As the plan went into effect early Wednesday morning, their feedback was not much different.
For the first time since the system opened over a century ago, the subway shut down as planned from 1 a.m. until 5 a.m. on Wednesday. Transit officials pronounced the first night of the shutdown a success. "I think for a debut closing of the subways, I think it can only be characterized as successful," Metropolitan Transportation Authority Chairman and CEO Patrick Foye said during a radio appearance on WCBS 880. "It will be better this morning, Thursday morning, it'll be better on Friday. We're going to continue to tweak it, but I think it was a successful closing."
New York City Mayor Bill de Blasio, too, praised the efforts by outreach teams – social workers as well as police officers and nurses – to direct homeless people who had been sheltering in subway stations and on subway cars to other locations. Freddi Goldstein, de Blasio's press secretary, tweeted that outreach teams contacted 252 homeless people on the subways this morning and were able to help move 139 of them into shelters and safe havens with services. "More than half of the unsheltered residents engaged by our teams agreed to accept support and services, from a warm bed to medical treatment," de Blasio tweeted Wednesday. "This is extraordinary work."
Despite what officials say was a successful launch, transit advocacy groups and advocates for the homeless say the shutdown put essential workers, homeless people and the future of 24/7 subway service at risk. "Last night the NYPD and the MTA began implementing a policy that is pushing hundreds of vulnerable homeless people into the streets in the middle of a pandemic," Giselle Routhier, policy director of Coalition for the Homeless, said in a statement, suggesting that empty hotel rooms should be used to house displaced homeless people. "The city and state are failing our homeless neighbors at a time when their very lives are at risk and when the solution is so easy and so obvious."
De Blasio has moved toward housing homeless people in the city's vacant hotels, but the administration has been criticizedover delays. Homelessness has become something of a lightning rod for both Cuomo and de Blasio in recent weeks, as both leaders have been criticized for offering few alternatives when saying that homeless people have to be removed from the subways.
The first night of the subway shutdown showed that the question of relocating the homeless isn't the only challenge. Reporters from outlets like the Daily News, Gothamist and The New York Times were on the ground as the subways shut down, and hundreds of police officers, social workers, nurses and cleaners were deployed to shepherd straggling riders and homeless people out of subway cars and stations before 1 a.m. As some of these outlets reported, it didn't always go smoothly. Some homeless people left subway stations only to move to the street or to bus shelters.
Meanwhile, there are roughly 11,000 people who the MTA said had continued to rely on overnight subway service even after the coronavirus pandemic shuttered most activity in New York City. Foye and Sarah Feinberg, the interim president of New York City Transit, explained that the MTA is bolstering bus service to continue to transport essential workers overnight and is supplementing additional bus service by allowing essential workers to book transportation to or from work via subsidized for-hire vehicles rides. Foye said that only a "small number" of these rides were provided this morning.
Despite adding over 300 additional buses to the roads, the end of overnight subway service hit some bumps. One worker watched a bus fly right by his stop and luckily caught a ride in a police cruiser, as the Times reported. Meanwhile, bus operators fear an increase in attacks from riders.
Danny Pearlstein, policy and communications director of the transit advocacy group Riders Alliance, said that the MTA needs to further expand bus service. "The MTA should scale up a true citywide enhanced bus network but riders haven't seen that yet," Pearlstein wrote via email. "We need more interborough connectivity and more direct connections to hard to reach neighborhoods. The existing bus network can't cut it alone; it piggybacks off the subway spine in too many respects."
Lastly, some fear that the nightly subway shutdown won't be temporary or last just "for months" as de Blasio predicted it would. It could be longer. Nicole Gelinas, a senior fellow at the Manhattan Institute, wrote in an op-ed for the New York Post that shutting down the subways overnight isn't necessary to disinfect cars or enforce rules against sleeping on trains. That can happen while continuing service, she said. But with the MTA facing a severe budget deficit and plummeting ridership, cutting service only further limits demand. "Riders won't come back unless they know there's a train," she wrote.
Pearlstein also emphasized that 24/7 subway service has to return. "This particular 'new normal' actually must be very temporary," Pearlstein said. "New York can't come back without 24-hour subway service. Too many people have organized their lives around it. Housing and job patterns depend on it."
Powered By
NEXT STORY: Should protests be allowed during COVID-19?