Coronavirus
The politics of face masks comes to the state Legislature
New York Republicans are looking for excuses to go maskless.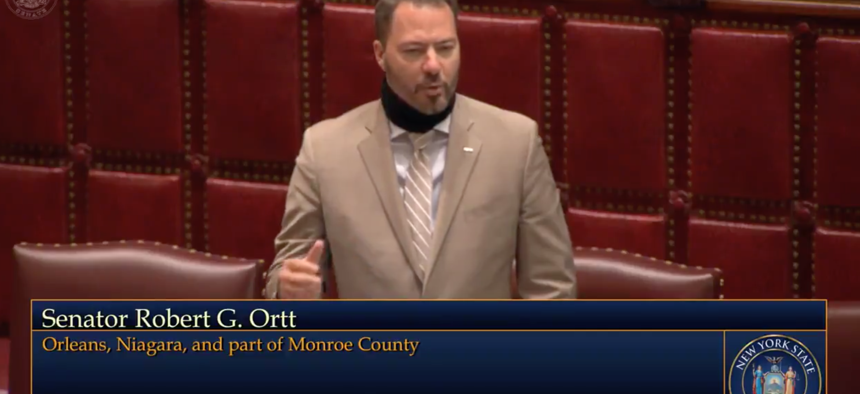 Face masks have become a political wedge issue across the country, and New York politicians are no different.
Gov. Andrew Cuomo donned a surgical mask as he entered the White House on Wednesday to meet President Donald Trump. State Senate Majority Leader Andrea Stewart-Cousins and Assembly Speaker Carl Heastie posted pictures of their masked faces Wednesday as their respective chambers were getting ready to reconvene for the first time since early April.
The issue of masks took on a greater significance Thursday during legislative debates on a bill that would repeal an 1845 ban on wearing masks in public places. Not only were many Republican lawmakers opposed to the measure – they expressed their opinions with barefaced appearances on a video livestream that quickly made its way into the Twittersphere.
"It is important to set an example," said state Senate Democratic spokesman Mike Murphy. "This is not about politics but about public safety and science."
It would be easy to see the maskless Republican lawmakers as a simple rebuke of state Senate Deputy Majority Leader Michael Gianaris, who noted that infectious droplets can travel far when people speak. But that is not how one GOP senator, who was granted anonymity to speak candidly, saw it. "There is no love lost for Gianaris, and particularly him telling them to do it," said the GOP senator. "I think it had more to do with their constituents. (Republican senators) would have taken major grief from the folks back home if they wore a mask."
Of course, that is not how GOP senators put things as they spoke on the floor. State Sen. Patrick Gallivan noted the discomfort of speaking while wearing a mask. State Sen. Pamela Helming said she was taking hers off so that deaf people could read her lips on the livestream.
A third Republican senator, Robert Ortt, did not offer a reason for going maskless as he railed against a bill that he said would enable hate groups and criminals to run amok in a post-pandemic world. "New York's mask law was enacted to prevent dangerous groups like the KKK and antifa from intimidating the general public," he later said on Twitter. "By removing this law, even after COVID related health concerns have passed, we are opening the door to issues of public safety, and worse, acts of intimidation."
Assembly GOP members made similar arguments, but that misses the whole point of the legislation, according to Democratic Assemblyman Dan Quart, who sponsored the bill along with state Sen. Jamaal Bailey. "There are a whole host of governmental responses to ensure law and order or public safety," Quart said. "That includes the permit process on the ability of groups, not individuals, to aggregate and protest. Secondly, individual bigots like the (Ku Klux Klan), they don't usually just stay in their lane. ... They also engage in disorderly conduct, assault, other violations of law." It should be noted that when a KKK recruitment leaflet was spotted in several upstate counties in 2018, the state launched an investigation.
The mask law was passed by the state Legislature in response to tenant rebellions against feudalistic landlords in the Hudson Valley, as chronicled in Howard Zinn's landmark book, "A People's History of the United States." In the nearly two centuries that followed, the law has not prevented the KKK from rallying in Manhattan, but it has been a handy tool for police.
"Laws prohibiting mask-wearing, on the books across the United States, passed in some states as a response to the Ku Klux Klan. New York's law was different," The New Republic wrote last month. "Since the late 1960s, New York's anti-mask law has been enforced (to police) the working class and activists: theater troupes staging publicanti-war performances, bandanna-wearinganarchists in Union Square on May Day,protesters donning Guy Fawkes masks during Occupy Wall Street."
So if the mask ban is not about fighting the klan or preventing bank robberies, why are Republicans opposed to changing the law? The debate in the Assembly offered a clue when Republican Minority Leader Pro Tempore Andy Goodell claimed that he and other lawmakers – including some Democrats – were wearing masks off-camera – though they clearly were not. The point is that for GOP politicians, wearing a mask is a political statement that risks angering die-hard Trump supporters.
To be fair to GOP lawmakers, Assembly Democrats were also going maskless at times during the session on Wednesday, including Assemblyman Jeffrion Aubry, who proceeds over the chamber with a booming voice that likely projects droplets all over the place. Assembly Majority Leader Crystal Peoples-Stokes was also among the lawmakers and staff who worked maskless in close quarters at times. A spokeswoman for Heastie did not respond to a request for comment by press time.
While it might endanger his staff or anyone else who comes near him, the president does actually have a good reason for avoiding masks, according to journalist David Frum. If he wore one, it would be a visual statement of his own failure to stop a pandemic that he once claimed would magically disappear. If that means then that Republicans down the pecking order must say that their opposition to wearing masks stems from a desire to speak more clearly, help deaf people or for other reasons, well, that's just politics in the new normal.