New York City
Want a chauffeur? Join the de Blasio administration
Dozens of New York City government officials get their own car and driver.
While many New Yorkers may be missing the rhythms of their daily subway commute during the coronavirus pandemic, dozens of high-powered public officials in New York City Mayor Bill de Blasio's administration probably can't relate. That's because there are at least 59 public servants in city government who are assigned private, chauffeured cars at all times.
That's according to a list provided by the New York City Department of Citywide Administrative Services, or DCAS, in response to a request from City & State. The full list hasn't been made public before, though some of the details provided had already been publicly reported. For example, New York City Schools Chancellor Richard Carranza doesn't hide his use of a chauffeured car, and the New York Post reported in February that Department for the Aging Commissioner Lorraine Cortés-Vázquez, who de Blasio recently tapped for the Metropolitan Transportation Authority board, gets chauffeured rather than take the train. 
But other positions that get a chauffeur may come as a surprise. The executive director of Gracie Mansion, Roxanne John, who also serves as chief of staff to first lady of New York City Chirlane McCray, gets access to a private car and driver. So does Landmarks Preservation Commissioner Chairwoman Sarah Carroll and the mayor's press secretary, Freddi Goldstein. 
The list, however, isn't comprehensive. DCAS Director of Media and Public Relations Nick Benson said his agency only tracks information about drivers for agencies that are a part of the official citywide fleet . That includes the big-name agencies – Education, Parks, etc. – but not various other semi-independent organizations like the Conflicts of Interest Board or the Public Design Commission. At least one such agency, the Office of the Actuary, reportedly provides a chauffeur to the city's chief actuary. The New York Post caught the agency's chauffeur idling the car in a no standing zone last year. The Office of the Actuary didn't respond to a request for comment. 
It also wasn't clear how many people get chauffeured by members of the NYPD. Police Commissioner Dermot Shea is known to be driven by his security detail, but DCAS couldn't confirm whether other high-ranking members of the NYPD also get driven around. The NYPD's Executive Protection Unit chauffeurs a number of high-ranking elected officials as part of their security detail, but it was not clear exactly how many people in the city get that privilege. City & State confirmed that de Blasio, New York City Comptroller Scott Stringer, New York City Public Advocate Jumaane Williams and New York City Council Speaker Corey Johnson all get NYPD drivers. De Blasio's immediate family members – McCray and their kids Dante and Chiara – have all been known to be chauffeured by the NYPD at times, but it wasn't clear how often they get the service. The NYPD did not respond to multiple requests for comment.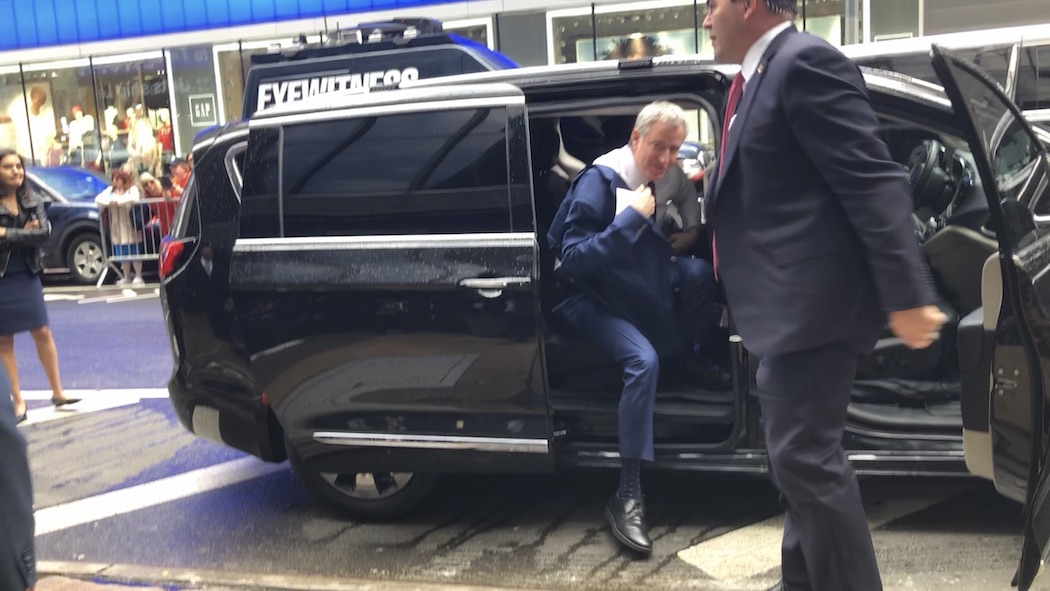 While the total number is somewhat clouded, there isn't reason to think that the amount of positions getting full-time chauffeurs has changed much in the last 20 years. Benson said that DCAS only started privately tracking the number of full-time drivers near the start of de Blasio's first term, in 2014. From then until now, the total number of chauffeurs employed by DCAS rose by just three, from 58 to 61. The Wall Street Journal reported in 2014 that nine officials in the mayor's office had assigned chauffeurs. Today, that number appears to be just one higher, with the addition of the counsel to the mayor, Kapil Longani. Six other officials under the wider umbrella of the mayor's office also get drivers, including Census Director Julie Menin and Mayor's Office of International Affairs Commissioner Penny Abeywardena.
While hard numbers aren't available for Mayor Michael Bloomberg's administration, Benson and other DCAS employees said that, anecdotally, the number didn't change much with the new mayor. A former Bloomberg City Hall staffer agreed, but spoke on background due to a lack of hard evidence. 
Not all commissioners get a full-time driver, but they can request a chauffeur from DCAS on an as-needed basis. But officials who want their titles added to the coveted full-time list have to prove they need one, explained Loree Sutton, who served as veterans' services commissioner from 2014 to 2019, and is now running for mayor. Sutton didn't get a chauffeur when she first took the job, but "I was going to hundreds of events all over the five boroughs… and DCAS just got tired of requesting transportation." Getting a driver "made all the difference," Sutton said. "It's absolutely essential to doing the job right."
Frequent subway riders may squawk with jealousy at such a comment – or possibly a righteous rage. De Blasio has long been criticized for his "windshield perspective" and the way his transportation policies seem to be shaped by someone who primarily moves around the city in a car. De Blasio,"still has a very car-oriented mindset on many (urban transportation) issues," the then-executive director of Transportation Alternatives Paul Steely White told City & State in 2018. "You can't have a car city and a public transportation city. You really have to choose."
Just 27% of workers in the city commute by automobile, so anybody who drives to work is in the minority. Anybody who gets driven, even more so. High-level city officials gain something by getting driven place to place, but do they lose some perspective in the process?
City Hall is quick to defend the practice. "Our senior administration officials are dedicated public servants who work 24/7 to keep New York City running," said de Blasio spokeswoman Laura Feyer. "Commissioners and agency heads have had drivers going back multiple administrations, and there is nothing new about this policy."
The former Bloomberg City Hall staffer, who had a full-time driver, argued that chauffeurs allow high-level officials to be more efficient. "Do you want them driving, or do you want them working while driving, and not looking for parking?" the staffer said. It's a perk, but it's also a tool. Officials can work constantly, and expectations are increased. An on-call chauffeur is also another benefit that could help lure top talent into public service when they could be making more money elsewhere. 
Of course, not everyone eligible for a driver takes advantage of the service. Transportation Commissioner Polly Trottenberg is said to often decline her chauffeured ride to work. Similarly, Dan Doctoroff, a former deputy mayor under Bloomberg, was said to have added a bike rack to his city vehicle. Sometimes he'd be chauffeured to work, then ride his own bike home. 
And some people in government turn down the service entirely – most often elected officials, who may prefer to project the image of an everyman or everywoman. De Blasio now rides in the backseat of a Chrysler Pacifica, but as public advocate, he declined a chauffeur and drove himself. Staten Island Borough President Jimmy Oddo has never had a driver, according to his office, and drives his own Jeep around the borough. Bronx Borough President Ruben Diaz Jr. and Brooklyn Borough Eric Adams are driven in city cars by employees sometimes, their offices explained, but they don't have full-time chauffeurs.
The practice has earned relatively little scrutiny over the years, with a full list of chauffeured officials not being released until now. One of the city's most prominent good government groups, the New York Public Interest Research Group, hasn't analyzed the city's use of city drivers, executive director Blair Horner told City & State, but he was pleased to hear the city was forthcoming with the information. One area where he had concern, though, was government officials using public resources on personal time. "When does the public officer's life as a public officer end and his or her role as a political figure begin?" he asked. "There's a certain level of vagueness in the whole system."
That issue has been raised before – just one of many scandals that city chauffeurs have found themselves in the middle of. In 2006, then-Public Advocate Betsy Gotbaum had to repay the city thousands of dollars for taking her driver on personal trips, including shopping at Costco and visiting friends in the Hamptons. The chauffeur for Bloomberg's Transportation Commissioner Janette Sadik-Khan got a speeding ticket in 2008 as she raced up to Albany to make the case for congestion pricing. More recently, chauffeurs for both de Blasio and McCray have gotten into car crashes.
Of course, who gets driven and what happens on those trips is private by design. A 2016 job posting for a chauffeur attendant for the buildings commissioner laid out the job's duties. Among them: "complete trustworthiness and discretion."