New York State
Where are the ex-IDC members now?
Most of the controversial state senators lost reelection bids in 2018.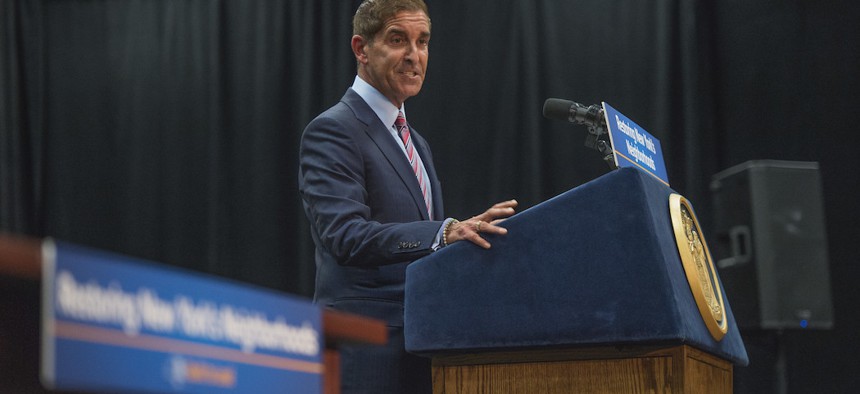 The controversial state Senate Independent Democratic Conference formed in 2011 and officially disbanded in 2018. Months later, most of its remaining members lost their reelection bids in the Democratic primary, thanks to backlash for their scheme with Republicans to keep Senate Democrats out of power. But state Sen. David Carlucci managed to win reelection and is now aiming even higher, hoping to fill retiring Rep. Nita Lowey's open congressional seat in the Lower Hudson Valley. Here's where his other colleagues, and many of the IDC's former staffers, are now, two years after the conference kissed and made up with the mainline state Senate Democrats. Many ex-staffers ended up with Gov. Andrew Cuomo – who has never limited himself to only hiring loyal Democrats. 
Former Members 
Jeff Klein: The Bronx-based leader and founder of the IDC is now a lobbyist at Mercury Public Affairs.
Diane Savino: The lawmaker representing parts of Staten Island and southern Brooklyn won reelection in 2018 and is expected to be reelected again this year.
David Carlucci: The Rockland County lawmaker is declining to run for reelection, and is running for Congress instead. 
David Valesky: The former state senator from Syracuse is still in government, serving as deputy commissioner of the state Department of Agriculture and Markets.
Malcolm Smith: Smith lost reelection in Queens in 2014 and was convicted on federal corruption charges in 2015 for trying to bribe his way onto the New York City mayoral ballot. He's imprisoned in Pennsylvania and scheduled to be released in 2021.
Tony Avella: The longtime lawmaker is fundraising for a run for his old City Council seat in northeastern Queens, which will be open in 2021. 
Jesse Hamilton: The former Brooklyn lawmaker is trying to make it back to Albany, challenging Assemblywoman Diana Richardson in the 2020 Democratic primary. 
Marisol Alcantara: The upper Manhattan resident is back with her former employer, serving as the New York State Nurses Association's area director for the Lower Hudson Valley.
Jose Peralta: The former Queens lawmaker died at age 47 from leukemia while still in office in November 2018.
Former high-level staffers
Rich Azzopardi: The IDC's first spokesman has long since gone to work for Gov. Andrew Cuomo. He's now a senior adviser and top tweeter.
Sarah Bangs: The former IDC finance director is now a lobbyist with major Albany firm Bolton-St. Johns. 
Barbara Brancaccio: After a short stint flacking for the IDC and Klein, she is now the chief communications officer for the New York City Housing Authority.
Dana Carotenuto Rico: The longtime chief of staff for the IDC is now Cuomo's deputy secretary for legislative affairs and policy. 
Abbey Collins: The one-time Klein spokeswoman has long since joined Cuomoland. She's now chief communications officer for the Metropolitan Transportation Authority.
Jason Elan: The one-time IDC spokesman has gone out to Long Island, now serving as deputy to Suffolk County Executive Steve Bellone.
John Emrick: The conference's former chief of staff is now a lobbyist with the MirRam Group and a consultant with the group's associated Hamilton Campaign Network.
Candice Giove: The IDC's former communications director stayed at the Capitol, and is now communications director for the Senate's Republican minority.
Eric Soufer: The former communications director and counsel for the IDC is now a consultant with Tusk Strategies.
Erica Vladimer: The former policy analyst and counsel for the IDC accused Klein of forcibly kissing her in 2015. She then co-founded the Sexual Harassment Working Group and ran for Congress in New York City – though she dropped out before the 2020 primary. 
Powered By
NEXT STORY: What to know about New York City's reopening