New York City
50-a repealed and a second week of protests
Rounding up the week's political news.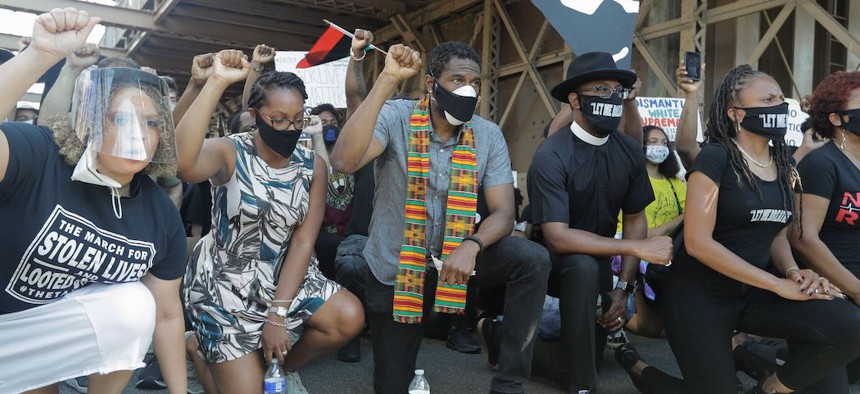 New York City police officials began announcing disciplinary action this week against several officers for alleged misconduct during the recent protests. Two officers have been suspended for shoving a woman to ground and pepper-spraying a man after pulling down his mask. Another cop had their gun and badge taken away for opening their car door into a protester while their car was in motion. But in the same week that top police brass revealed investigations were underway, a leaked letter by a lieutenant expressed regret for kneeling alongside protesters, which was seen by activists as evidence that the police culture needs to change. Lt. Robert Cattani called it a "horrible decision" that he will be "shamed and humiliated about for the rest of my life." He said "the cop in me wanted to kick my ass." Makes you wonder what went through the mind of Chief of Department Terence Monahan when he took a knee, which was seen as a significant moment for the NYPD's highest-ranking uniformed officer.
Keep reading for the rest of this week's news.
50-a repealed and other criminal justice reforms
State lawmakers returned to work in the wake of statewide and nationwide protests against racism and police brutality to pass a slate of criminal justice reforms. In all, they passed a package of 10 bills over three days. The most significant of those was the repeal of Section 50-a, which had kept police disciplinary records secret. Its repeal will make those records, including past complaints, internal trial details and disciplinary actions, available to the public. Police unions around the state have long opposed the repeal and have been criticized for standing in the way of greater accountability. Gov. Andrew Cuomo signed the repeal on Friday. Lawmakers also passed the Eric Garner Anti-Chokehold Act, first introduced after NYPD Officer Daniel Pantaleo placed Eric Garner in a fatal chokehold on Staten Island in 2014. The bill, which was also signed by Cuomo, bans chokeholds and criminalizes their use by police if they result in injury or death. Another bill would require New York State Police officers to wear body cameras. They're currently the largest state law enforcement agency that doesn't equip its officers with body cameras.
NYC is (minimally) open for business
New York City entered the first phase of reopening, meaning that the entire state has reopened to some degree. In the city, construction has resumed and curbside retail pickup is available. Since taking the first step to fully reopening, subway ridership has begun increasing, hitting its highest levels since March. However, some businesses in the city, impatient to return to normal, aren't adhering to the reopening rules. Meanwhile, other parts of the state are moving ahead in the later stages of reopening. The mid-Hudson Valley and Long Island entered the second phase, which includes opening outdoor dining and in-store retail, while parts of upstate have entered the third phase, which includes the return of spas and indoor dining at restaurants. Although most indicators about the severity of the coronavirus pandemic in the state have remained fairly positive, concerns remain about a possible resurgence, especially as cooped-up New Yorkers venture out without wearing masks and/or ignore social distancing rules. In New York City, for example, the percentage of people testing positive for the coronavirus has increased slightly in recent days.
A second week of protests
Following the killing of George Floyd in Minneapolis, ongoing protests against police brutality and racism continued into a second week across the five boroughs. After New York City Mayor Bill de Blasio lifted the curfew, police this week seemed to take a lighter touch with the overwhelmingly peaceful protesters, with fewer clashes and fewer arrests. In fact, on one recent night, police recorded no arrests at all, compared to 700 arrests made in a single night the week before. Calls to defund the police have intensified as protesters keep hitting the streets demanding change. Advocates want to cut $1 billion from the NYPD's $6 billion budget this year and redirect it to social services. More and more lawmakers have joined the calls for significant cuts to police spending, although most have not committed to $1 billion. Even de Blasio has now committed to instituting cuts to the NYPD's budget and redirecting those funds to social services, including youth employment programs. But nonprofits and other groups have said there's been radio silence regarding that promised money. And the mayor said he doesn't support removing the NYPD from city schools, one of the goals of criminal justice and police reform advocates.
Powered By
NEXT STORY: The protest primary