Manhattan
Challengers blast Vance's push to jail looters
Five Manhattan DA candidates criticize the incumbent's 'latest harmful political stunt.'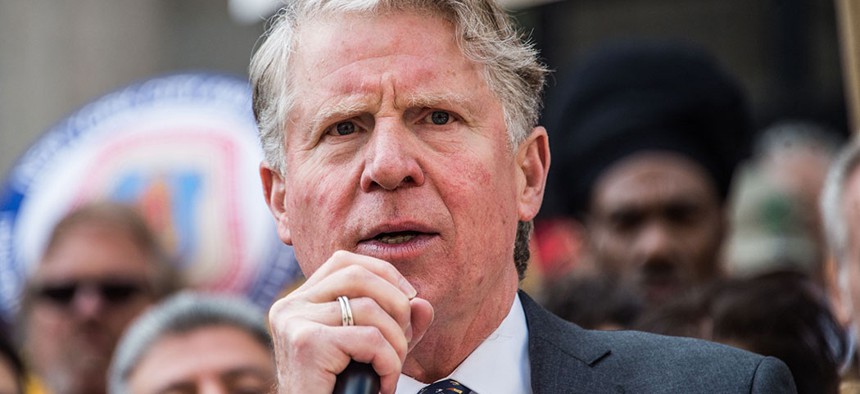 Five candidates who are planning to run for Manhattan district attorney in 2021 co-signed a letter criticizing the incumbent, Cyrus Vance Jr., for asking the state for authority to hold accused looters in jail ahead of trial.
Vance asked Gov. Andrew Cuomo to enact an executive order or the state Legislature to pass a law that would eliminate the practice of cash bail, but allow judges to order defendants to be held in jail ahead of trial if they are deemed "dangerous" or have a "clear risk of re-offense," CBS 2 reported on Wednesday. 
Vance said he thinks those at risk of reoffending include the alleged burglars who looted stores across the city last week in a crime wave loosely connected to the recent protests against police brutality and systemic racism. But under the changes to New York's bail law that went into effect on Jan. 1, most cases of burglary aren't bail-eligible, meaning that alleged looters must be allowed to walk free after arrest.
"This is about people who are taking advantage of this moment when people want to come out and protest peacefully," Vance said about the looters on CBS 2. "I'm calling for more judicial discretion."
In a letter shared exclusively with City & State, Vance's opponents said the district attorney's remarks were his "latest harmful political stunt." Tahanie Aboushi, Alvin Bragg, Janos Marton, Eliza Orlins and Assemblyman Dan Quart, who signed on to the letter, all are running as progressive candidates in the 2021 Democratic primary for Manhattan district attorney. Aboushi and Marton are civil rights attorneys, Bragg is a former chief deputy state attorney general, Orlins is a public defender and Quart is a state lawmaker and civil litigator and defense attorney.
Vance has not yet announced whether he'll run for re-election for the office he has held since 2010. Many observers assume he won't, since the Democrat has come under fire in the last few years for a variety of offenses, including an alleged soft-pedaling of his case against convicted rapist and Hollywood mogul Harvey Weinstein. 
Vance's opponents accused the district attorney of using his platform to call for more incarceration, "urging Governor Cuomo to expand bail eligible offenses in order to unlawfully detain people protesting the murder of George Floyd and the many Black and brown people killed by police violence." 
Candidate Statement on DA Vance_060920 by City & State NY on Scribd
But the candidates' accusations against Vance seem to be well beyond what the district attorney actually asked for. The letter says Vance is "calling for the incarceration of Black people on unaffordable money bail, in violation of the letter and spirit of the law, for exercising their constitutional right to protest systemic racism in our city."
In fact, Vance specifically said in the CBS 2 interview that he would like cash bail to be eliminated entirely – a position that he has held for years, along with the city's four other district attorneys. Along with that, however, Vance has asked for judicial discretion, or a "dangerousness" standard, that could allow for the alleged looters to be held pre-trial. Cuomo and the state legislature have repeatedly declined to allow judicial discretion in the state of New York, even as they tweaked the 2019 bail law earlier this year. Vance asking for an emergency order highlights the fact that certain crimes – such as looting – aren't eligible for bail but nevertheless may seem more egregious to the public. Other critics of the current bail law, such as NYPD Commissioner Dermot Shea and the New York Post, have used similar tactics to discredit the law, and were instrumental in passing a change to the law in April that allowed defendants to be detained pre-trial in more circumstances.
In a phone call Tuesday with City & State, Quart said that Vance's request was "tantamount to lawlessness. … What he's saying is I want powers to do things which the legislature never allowed."
But the candidates' letter also accused Vance of calling for the incarceration of those protesting systemic racism. While there is disagreement on the question of whether looting should be considered an act of protest, Vance attempted to draw a clear line between the two. While he asked for authority to hold looters in jail, he also announced on Friday that he would decline to prosecute the charges commonly brought against peaceful protesters, including unlawful assembly and disorderly conduct. However, he said, "if evidence emerges that any individuals personally participated in violence against police officers, destruction, or looting, such individuals will be charged with appropriate crimes."
Vance's call for action by Cuomo and the Legislature is likely to go unanswered. There's no indication that the Legislature plans to revisit bail laws after changing the law just two months ago. Cuomo has publicly agreed with Vance's call to hold looters in jail, but doesn't think a change to the law is necessary to do so. Rich Azzopardi, senior advisor to the governor, claims that the looters could be charged with burglary in the second degree, with is a bail-eligible offense under certain circumstances. But David Hoovler, president of the District Attorneys Association of the state of New York, argued that Cuomo's office is asking prosecutors to overcharge defendants. A spokesman for the Legal Aid Society told City & State that most cases of looting are facing the lesser charge of burglary in the third degree. That isn't bail-eligible under current law, which means people accused of looting can't be held in jail while they await their trial.
Powered By
NEXT STORY: Activists and civil rights leaders on how to reform policing