Campaigns & Elections
Congress may get its first openly gay Black members
Ritchie Torres and Mondaire Jones celebrate early leads in their Democratic primaries.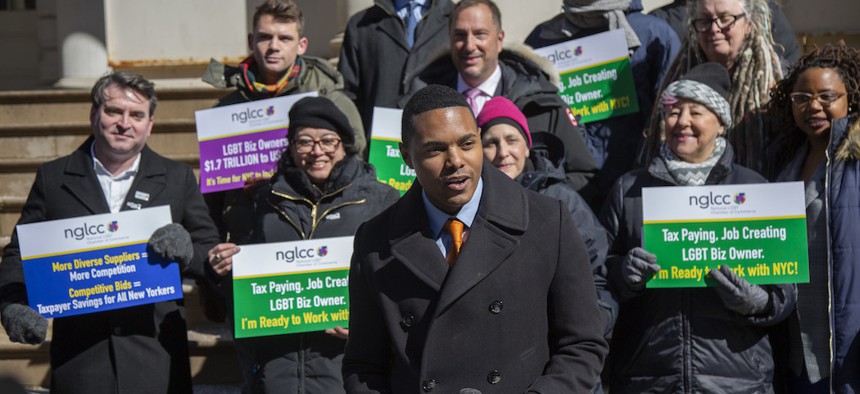 Through the congressional primary campaign season, New York City Council Member Ritchie Torres and attorney Mondaire Jones were routinely asked the same question: What will it be like to be the first openly gay Black member of Congress? Now, Torres and Jones could be poised to share that honor.
With all in-person votes tallied in New York's 15th and 17th congressional districts – covering the South Bronx, and Westchester and Rockland counties, respectively – Torres and Jones maintain strong leads over their Democratic primary challengers. If Torres and Jones maintain those leads as absentee ballots are tallied in the two reliably blue districts – the 15th District has historically been the most Democratic district in the nation – they are set up to become the first openly gay Black members of Congress. "It's totally transformative," said Cynthia Dames, project manager for the New Pride Agenda. "It represents LGBTQ (people), it represents people of color, and for any group that has been marginalized, it shows the results and an outcome from movements that are now coalescing."
To top it off, those early leads come at the tail end of Pride Month – a coincidence that didn't go unnoticed by some on Twitter.
Tonight, New York helped elect two openly gay Black men ever to the United States Congress!

Congratulations @MondaireJones & @RitchieTorres !

What a great #PrideMonth pic.twitter.com/NTByFLpnTm

— Ernest Owens (@MrErnestOwens) June 24, 2020
If the vote trend continues, @RitchieTorres and @MondaireJones will become the FIRST openly gay black members of Congress. #NY15 #NY17

Y'ALL THIS IS HUGE! #PrideMonth pic.twitter.com/GdRLOfRoOv

— Adam Smith (@AdamJSmithGA) June 24, 2020
It's still Pride Month, and Trump today is welcoming virulently anti-LGBTQ Polish President Andrzej Duda to the WH. We'll remember that come Gay Wrath Month.

In the Pride Month meantime, Mondaire Jones & Ritchie Torres are becoming queer household names. WELL HELLO LET'S CELEBR pic.twitter.com/i9VjyoVoyK

— Slade (@Slade) June 24, 2020
The primaries have not officially been called for Torres and Jones by The Associated Press. With as many as two-thirds of the total ballots still uncounted across the state – over 1.7 million mail-in ballots were requested because of the coronavirus pandemic, and the process of tabulating them won't begin until July 1 – many are hesitant to draw conclusions from just the in-person ballots. David Wasserman, the house editor at political analysis site The Cook Political Report, has projected that both Jones and Torres have won their primaries. The state Board of Elections' unofficial tally has Torres with 30% of the vote in a 12-candidate field and Jones leading with 43% over seven other contenders.
While Jones acknowledged that every absentee ballot still has to be counted, he told City & State that he is confident in a favorable outcome. "My expectation is that we will win," he said, adding that he expected his margin to actually increase as mail-in ballots are counted. 
He delivered an impassioned speech Tuesday night, highlighting the significance of what it would mean to be elected as an openly gay Black member of Congress. "The historic nature of this campaign is not lost on me," Jones said. "Growing up poor, Black and gay, I never imagined that somebody like me could run for Congress, let alone be a leading contender for the nomination in the great New York 17th Congressional District."
In an interview on Wednesday, Jones repeated those sentiments, adding that his victory didn't come out of nowhere, mentioning trailblazers who came before him, including Rep. Barbara Jordan, Harvey Milk and Bayard Rustin. "I want to put the historic nature of this campaign in that context," he said. "This didn't just happen overnight. There were people who came before me who were doing the hard work and who deserve to be honored."
Torres was unwilling to declare victory prematurely. "I'm not prepared to declare victory until every vote is counted, but even if I win the election, it's governing that matters," he said in an interview with NY1. "It's delivering results for the everyday people of the South Bronx." Representatives for Torres directed City & State to those comments on NY1.
In that interview, Torres became emotional, thanking the people who got him to where he is today, including his mother. "The South Bronx is full of mothers like mine who have suffered and struggled and sacrificed so that her baby boy can have a better life than she did," he said. "The opportunity to represent the essential workers of this borough, to represent the powerful mothers of this borough – it's the culmination of a dream. But we have to count every ballot." If elected, Torres would also be the first out Afro-Latino member of Congress.
Torres and Jones are both running in districts where the longtime incumbent is retiring, leading to many primary candidates in each race. In the 15th Congressional District, longtime Rep. José E. Serrano left a vacuum when he announced his plans to retire from representing a majority Hispanic and Latino district. In the 17th Congressional District, which encompasses all of Rockland County and parts of Westchester County including White Plains, 16-term Rep. Nita Lowey announced last year that she would not seek another term. Eight candidates competed in that Democratic primary, including some very well-funded ones, such as Adam Schleifer, who raised nearly $4.5 million. Jones, by comparison, raised $1.1 million. Schleifer amassed the second-most votes from in-person ballots, but only managed to win 20%, trailing Jones by more than 20 percentage points.
Given the number of candidates in each of these primaries, it's significant that Torres and Jones have won sizable early leads. Some feared that in the 15th Congressional District, a surfeit of progressive candidates would split the vote and hand the primary to New York City Council Member Rubén Díaz Sr., a conservative Democrat. The progressive vote may have been split, for example, between Samelys Lopéz – who ran with the backing of the Working Families Party, the Democratic Socialists of America and Rep. Alexandria Ocasio-Cortez – and Torres. But that hasn't happened so far. With all in-person votes tallied, Lopéz won only 12% of the vote, compared to Torres' 30%. Next after Torres was Assembly Member Michael Blake, with 19%, then Díaz, with 14%.
Torres' lead over Díaz in particular is especially sweet. Díaz, who is Torres' colleague in the City Council, a former state senator and a Christian pastor, is perhaps best known as one of the most conservative Democrats in New York City. Díaz has a history of anti-gay remarks, and last year he was removed as chair of the City Council Committee on For-Hire Vehicles because of his homophobic remarks. "The 800-pound gorilla is Rubén Díaz Sr., the most prominent homophobe in New York City politics," Torres said in an interview with Advocate, an LGBTQ-focused publication, this week.
Jones, too, spoke to Advocate about the ways in which his identity as an openly gay Black man influences his political positions. "For me, policy is personal," Jones said, noting that Black men are disproportionately policed, arrested and prosecuted. He has called for an independent body to investigate and prosecute killings by police. Though Jones' district is reliably Democratic, it is also a majority-white district.
Both Jones and Torres will face Republican opponents in the fall, though those opponents are long-shot candidates, given the heavy Democratic lean of those districts. In the 2018 general election, Serrano won against a Republican challenger in his South Bronx district with 96% of the vote, while Lowey won in the 17th District with 88% of the vote. As of Wednesday afternoon, Maureen McArdle Schulman led Yehudis Gottesfeld in the Republican primary for the 17th District. In the 15th District, the Democratic nominee will face Republican Orlando Molina in November. But before Torres and Jones turn to those opponents, they have to keep their eyes on the absentee ballots as they are tabulated beginning July 1. It's still unclear who – and how many people – voted absentee in each district.
For now, things are looking good for both Jones and Torres – and their chances of making history in Congress. "If I had been able to look to someone like myself in Congress, it would have been direct evidence to me – growing up, questioning whether there was a place for me in a world filled with so much injustice – it would have been direct evidence of the fact that things really do get better," Jones told City & State. "I'm really happy to be providing that inspiration to people."
That idea resonated with Dames, the project manager at the New Pride Agenda, as well. "I think it should be a message to other young LGBTQ members and people of color, to say, 'Take a chance. Organize. Jump in the pool,'" Dames said of the significance of the leads by Torres and Jones. "The time is now."
Powered By
NEXT STORY: Another big night for the DSA