Andrew Cuomo
Cuomo calls his secretaries back for one more job
From reopening the economy to expanding hospital capacity, Schwartz, Mulrow and Cohen are back to beat the coronavirus.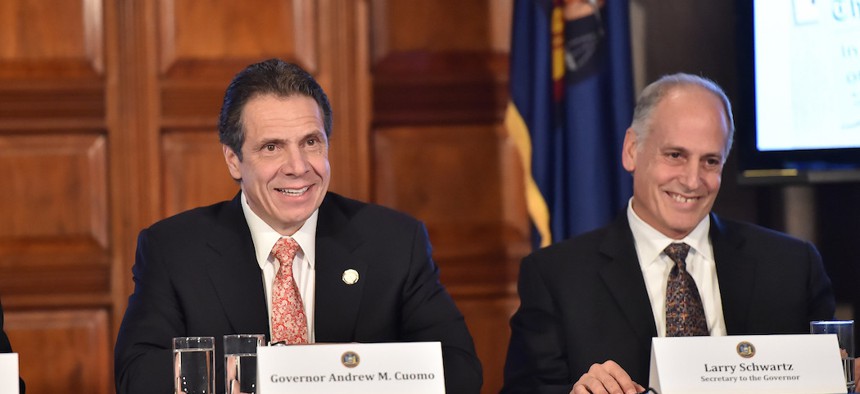 Few in state government are more powerful than the secretary to the governor. As Gov. Andrew Cuomo's closest aide and adviser, his secretary is often entrusted with both delivering the governor's message and seeing that his will is done. So it's no wonder that when faced with the unprecedented challenges posed by the coronavirus pandemic, Cuomo turned to his past secretaries Larry Schwartz, Steve Cohen and Bill Mulrow – three men whose relationships with him go as far back as working for his father, former Gov. Mario Cuomo – to help guide the state's response.
The three were given no small tasks. Schwartz headed up the more immediate efforts of the state, like procuring and distributing health equipment and working with hospitals to expand capacity. On the other end, Cohen and Mulrow focused on the state's economic recovery and led the commission that developed the New York Forward plan, the document now guiding the state's gradual reopening.
In many ways, Schwartz returned to the role that he had held working for both Cuomos and then-Gov. David Paterson – that of a behind-the-scenes enforcer who ensured that the governor got what he wanted. Perhaps most notably, Schwartz reportedly helped the governor hinder the 2013 Moreland Commission to Investigate Public Corruption when its inquiries got too close to Cuomo. And although Schwartz left the administration in 2015, he never entirely stepped away; he's been serving as Cuomo's proxy on the Metropolitan Transportation Authority board for the past five years.
Schwartz is the first to admit that he is no expert when it comes to health care and hospitals. But he is a manager. "I think the governor wanted to use me more for my get-it-done skills," Schwartz told City & State. When asked about his reputation as Cuomo's former enforcer, he said that he's loyal to his friends, like Cuomo, and to this administration. "I don't have an agenda other than to help them get what they need done," Schwartz said. "And I get it done, most of the time."
Schwartz said that among his responsibilities were getting private hospitals to comply with new inventory reporting standards, including beds and ventilators, and coming up with a plan to expand their capacity by at least 50%. When hospital executives expressed some resistance to the more burdensome requirements, Schwartz engaged in some light arm-twisting, according to The New York Times. After he reminded hospital executives that the state had control over their ability to purchase expensive new equipment, they complied with the state's directives.
Schwartz has also been heavily involved in the state's procurement process, which has undergone scrutiny for the lack of transparency and oversight. The administration said in May that it had spent $2.8 billion on the crisis so far, but hasn't detailed how it spent all that money. A $69.1 million contract for 1,450 ventilators that never arrived was a particularly egregious example of the state's missteps in its scramble to secure desperately needed medical equipment. Schwartz said he plans to make recommendations on how to improve the state's procurement process if there's a resurgence of the coronavirus, but added that there was nothing wrong with it. "Nothing is perfect; no one is perfect," Schwartz said. "I would say we were pretty close to near perfect."
For the economic side of the crisis, Cuomo recruited Mulrow and Cohen, who both currently work for private equity firms. Mulrow, a onetime state comptroller candidate who has been in finance for decades, works for the Blackstone Group. Cohen is the general counsel and chief administrative officer at MacAndrews & Forbes, which is run by Cuomo billionaire donor Ronald Perelman. Compared to Schwartz, both Mulrow, Cuomo's most recent secretary before Melissa DeRosa, and Cohen, the governor's first secretary, were comparatively low-key. Fox Business described Mulrow as an "amiable" man who is willing to compromise, a sharp contrast not just with Schwartz's public persona, but the governor's as well.
The ties that Mulrow and Cohen have to the business community make them well-situated to plan the state's economic recovery and advise businesses on best practices for safely reopening. "Steve and I have literally been on Zoom calls for anywhere from six to 12 hours a day, talking literally to every industry group in the state," Mulrow told City & State.
Although all three former secretaries remain behind the scenes for the most part – unlike other key gubernatorial advisers, none have made an appearance at one of Cuomo's daily press coronavirus briefings since they were appointed on March 23 – Mulrow's description of his and Cohen's role differed from Schwartz's role in that it is less insular. Rather than working with groups of other Cuomo aides to implement the governor's directives, the two financially focused advisers spent much of their time gathering outside input. "Steve and I are mostly looking outward and being the communications arm for the governor," Mulrow said. "Our best avenue to add value is to take our knowledge of how (the governor's) team works and bring it to the outside."
With the state facing a more than $61 billion budget shortfall over four years and an economy not expected to rebound until the first quarter of 2023, Mulrow and Cohen have not been given an easy job. Their appointments to figure out the state's economy during a massive fiscal crisis has drawn comparisons to Felix Rohatyn, the financier credited with saving New York City from financial collapse in the 1970s. And the criticisms that followed the otherwise revered government adviser will likely find echoes in the modern age – once again, unelected Wall Street executives have enormous control over New York's finances.
Ultimately, it's not uncommon for the governor to task trusted staff with important missions. DeRosa, his current secretary, is officially leading the state's coronavirus recovery efforts. Back in 2011, Cuomo put Cohen in charge of organizing his first major legislative push and one of the most important parts of his legacy – the legalization of same-sex marriage. "The governor has been working like this as long as I've known him," Mulrow said of the governor's approach to problems. "He was like this when he was in his 20s."
But ultimately, it will always be the Cuomo show, and his staff and advisers know it. The governor surrounds himself with capable and loyal people who don't try to upstage him, no matter how significant a role they may play in making Cuomo's agenda a reality. His three former secretaries are no different. "It's not supposed to be about staff," Schwartz said. "It's supposed to be about the governor."