Campaigns & Elections
Hot competition for open state Legislature seats in Brooklyn
Establishment liberals face progressive insurgents in majority-minority districts.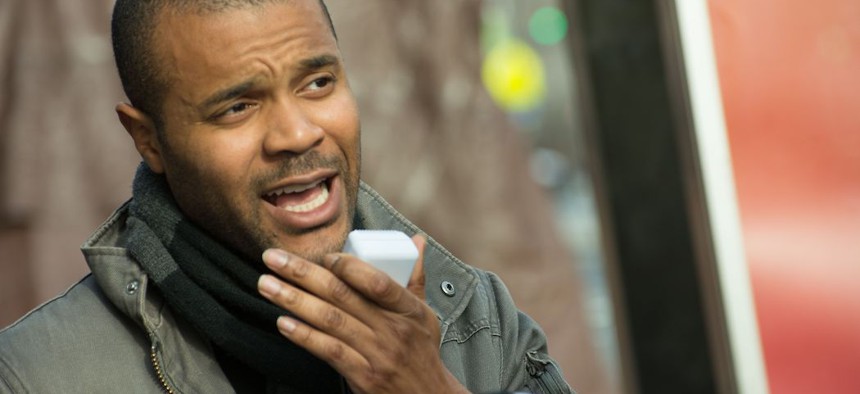 State Sen. Velmanette Montgomery's retirement has set off an intense open primary competition to replace her, with a chain reaction filtering down to an Assembly race. In both Montgomery's 25th Senate District and the partially overlapping 56th Assembly District in Brooklyn, the establishment-backed candidates are facing at least one challenge from the left. And, in a year in which turnout may go up because of easier access to absentee ballots or it may go down because fear of contracting the coronavirus keeps voters away from the polls, any outcome seems possible. 
In the state Senate race, Montgomery has endorsed as her replacement Assemblywoman Tremaine Wright, who chairs the state Legislature's Black, Puerto Rican, Hispanic & Asian Legislative Caucus. Wright is backed by a number of other elected officials, including Assemblywoman Rodneyse Bichotte, who chairs the Kings County Democratic Party. But Wright is facing two well-organized contenders: Jabari Brisport, a public school teacher and member of the Democratic Socialists of America, and Jason Salmon, a former staffer to Montgomery. 
As is the case in many competitive primaries this year, the establishment candidate has a solidly liberal voting record. Even some of the progressive proposals pushed by Wright and her opponents are similar. Both Wright and Salmon, for example, want to bring back the Mitchell-Lama program to create more affordable homeownership opportunities. In a recent campaign email, Wright boasts of her 100% ratings from environmental advocacy organizations and her work on "the negotiation team for landmark criminal justice reforms."
Nonetheless, fault lines can be detected among the candidates, reflecting the demographic and ideological diversity within the overwhelmingly liberal and Democratic district.
The 25th state Senate district is shaped like a sideways L. It stretches from Crown Heights and Bed-Stuy through Clinton Hill and Fort Greene. Then it turns south and encompasses a snippet of northwestern Park Slope, Boerum Hill and Gowanus and onward into Red Hook and Sunset Park. It was clearly designed to be predominantly Black and Latino. Due to gentrification, it is now 46% Black, 27% white and 17% Hispanic. And while it still has a poverty rate of over 21%, it also has slightly higher median household incomes and education levels than the boroughwide totals.
In light of that, it is tempting to lump this primary in with races in other gentrifying districts, such as the contest in Western Queens between Assemblywoman Aravella Simotas and DSA-backed Zohran Mamdani, in which left-wing newcomers to the district challenge a mainstream Democrat from the pre-gentrified community. But neither Salmon nor Brisport are new arrivals. Brisport is Black and grew up on a block in Prospect Heights that lies just barely outside of the district. (He recently moved to Bed-Stuy.) Salmon grew up in the district, in Fort Greene, and is half-Black and half-white.
But to win, they both must appeal to the same kind of white–collar progressive voters who backed 2018 upset winners such as Rep. Alexandria Ocasio-Cortez and state Sen. Julia Salazar who were powered to victory by high support and turnout in their district's mostgentrified precincts. 
While Brisport and Salmon are in the same lane, they occupy different portions of it. Think of the progressive candidates as two distinct groups: the young politicos and the insurgent leftists. 
The young politicos, despite being first-time candidates, have previously worked in Democratic politics or in government. While they have progressive policy platforms and they challenge incumbents from the left, they are essentially just the new generation of liberal reform Democrats. Several state senators who unseated former members of the Independent Democratic Conference, including Alessandria Biaggi, Zellnor Myrie and Jessica Ramos, are in this group. 
Then there are the radical insurgents, such as Ocasio-Cortez and Salazar, both of whom are DSA members and whose more limited prior political experience consisted mainly of more outside-the-system activism, such as Ocasio-Cortez's volunteering for U.S. Sen. Bernie Sanders 2016 presidential campaign and Salazar's work for Jews for Racial and Economic Justice, also known as JFREJ. In this year's presidential primary, Biaggi endorsed U.S. Sen. Elizabeth Warren, while Ocasio-Cortez and Salazar backed Sanders. 
Salmon's biography has elements of both categories. Like an insurgent, he left a career as a musician to get involved in politics, focused on police reform, after a childhood friend died in a police-involved incident in 2014, and he worked alongside Salazar at JFREJ as a liaison to the Communities United for Police Reform coalition. But, like a young politico, he then served Montgomery as a community liaison. His sister-in-law is Audrey Gelman, the well-connected co-founder of The Wing, a women-focused co-working space, and a former campaign aide for City Comptroller Scott Stringer.
Bisport, a DSA member, is undoubtedly a leftist insurgent. He received the DSA's endorsement and also ran for New York City Council as a Green Party candidate in 2017. He has never worked professionally in politics or activism, though he said he has helped to organize rallies and marches on issues such as police reform and same-sex marriage. "After seeing Julia Salazar getting elected as a socialist, and Alexandria Ocasio-Cortez, I saw there was a place for socialist voices – and a place to advocate for those policies – inside the Democratic Party," he told City & State, when asked why he switched his party affiliation. 
Both Brisport and Salmon are running on a range of progressive policy proposals and democratic reforms, including same-day voter registration and vote-by-mail. And both say the recently passed police reforms, such as increasing transparency on police disciplinary records and outlawing chokeholds, don't go far enough. "I know (Wright's) patting herself for the legislation that just passed," Brisport said. "Those are pretty milquetoast reforms that we should have had years ago. We need also defunding the police and decarceration." 
Salmon also supports defunding the police. "It's a shame when nurses don't have PPE – and I've been out on the street every night (at the recent protests), and I'm looking at full militarized gear," Salmon said.
Another division Brisport highlights with Wright is his staunch opposition to charter schools. "We have a pretty sharp difference on charter schools: I support a moratorium on them, (Wright) doesn't. She supports charter schools," Brisport said. "As a public school teacher, I have a strong belief that charter schools harm public schools by competing for funding and space."
Wright, however, notes that charter schools are public schools, as they are free to attend. In response to Brisport's criticism, Wright touted her endorsement from the United Federation of Teachers. "Tremaine supports all public schools in the district," her spokesman Bob Liff wrote in an email. "The most important thing is the kids."
While Salmon and some progressive housing activists allege that Wright was reluctant to back pro-tenant rent regulations that passed last year, she voted for all for the measures that passed. Wright hasn't yet taken a stance on Salazar's "good cause eviction" bill, essentially a proposal for universal rent regulation, which never came to a vote and which both Salmon and Brisport endorse. 
"There were a bunch of housing organizations protesting outside her office," Salmon said, referring to the months before the rent regulations were passed. "We shouldn't have to push our electeds to do the right thing. You won't have to push me to defend tenants." 
Salmon and Brisport both also say they won't take donations from real estate and fossil fuel executives or political action committees, whereas Wright doesn't reject any donations categorically but says that she has never received money from real estate interests. While both Salmon and Brisport call for more aggressive action to combat climate change, including divesting pension funds from fossil fuels, Salmon is for a fee on climate pollution to raise funds for clean energy investment, whereas Brisport is concerned about the potential for the cost to be passed on to consumers. 
Although her rivals say they will do a better job of protecting residents' ability to stay put, Wright argues that her greater experience in working in the district makes her better qualified for the promotion. "I'm the candidate that has a record of investment and commitment in our community, long before I ever held an elected position," Wright said. "I spent 14 years on our community board. I've invested in the community by opening a coffee shop and operating it for nine years. I was able to hire people in the community, people who were formerly incarcerated, people who never had a job."
But to her opponents, a long record in local politics isn't necessarily an asset and may even be detrimental. "There's also qualifications of lived experience," Brisport said. "We desperately need people who are not just career politicians, former lawyers and business people. … As a teacher, I see how we're failing our students in terms of housing, in terms of policing. I can see it holistically."
And Salmon observes that the area's current crop of elected officials haven't been able to stop local housing prices from skyrocketing. "We've had the same power structure in Central Brooklyn for a very long time, and gentrification has really happened in the last 20-30 years," Salmon said. "It's very hard for me to believe that the same power structure that's backing Tremaine Wright is going to do anything different now to bring equity to our communities."
However, Salmon, whose family has been in Bed-Stuy for three generations, also argues that his campaign is distinguished from Brisport's by its greater degree of engagement with long-time area residents. "I registered with a lot of people I grew up with to vote," Salmon said. In implicit contrast with the mostly white and college-educated DSA, Salmon added: "We're not just a movement of one type of person: You're going to see formerly incarcerated individuals, you're going to see teachers, you're going to see Black seniors." 
If Salmon does build that broader coalition, it could give him an edge. But he'll also need to do well among the progressive activist crowd. He and Brisport are competing for those votes and, while neither has dominated among them, Brisport enjoys the advantage of the DSA's national network. Both candidates have received endorsements from unions and progressive advocacy organizations, although Brisport has also secured the backing of bold-faced names such as Sanders and Ocasio-Cortez. 
When deciding who to support in the race, the membership of Brooklyn-based grassroots progressive group Indivisible Nation BK was almost evenly divided between the two candidates. Although the group's endorsement ultimately went to Brisport, many of its members are volunteering for Salmon. "It's hard not to see how Brisport and Salmon don't split the progressive reformer vote," Doug Forand, an experienced Democratic campaign consultant, told City & State. "In a normal year, that would give Tremaine an edge. But we're seeing absentee ballots skew younger, which usually means more progressive reformery." 
Both Brisport and Salmon have raised impressive sums for first-time candidates. As of the most recent filing period, 11 days before the June 23 primary, Brisport has brought in $249,536, with $105,966 on hand, while Salmon has raised $172,817, with $28,082 on hand. Wright has $90,964 on hand, despite raising only $74,784 since launching her campaign, in part because she got in the race later, and she has $43,075 transferred from her previous campaign committee that was raising money for reelection to the Assembly. On Tuesday, according to a Brisport campaign email, the candidate set a new record for the most donors by a New York State Legislature campaign, with over 6,500 donors. 
Wright said she has been consumed since the start of the COVID-19 pandemic with delivering constituent services and that she has deemphasized campaigning. "I didn't spend the height of the COVID(-19) period fundraising," she said. "We decided to halt some fundraising activities and focused more on resources and relief for the community."
In terms of public policy response to the crisis, Wright is mainly concerned with creating new jobs, perhaps by building affordable housing, to combat the economic fallout of the lockdown. "We need a WPA-style work program to bring people relief, so they are stabilized," she said, referring to the New Deal-era Works Progress Administration that built major public infrastructure.
With Wright not running for reelection to the Assembly, a similar race is unfolding to replace her. Wright is backing Stefani Zinerman, a Black lifelong Brooklynite, to replace her in the Crown Heights and Bed-Stuy seat. Zinerman has worked for the New York City Council and for state Sen. Montgomery. 
Like Wright, Zinerman has an agenda that would easily qualify as progressive by mainstream national standards. She supports the New York Health Act, which would create a statewide public health insurance program for all New Yorkers. "We have to have a moral budget," Zinerman said. "A moral budget, for me, means everybody has health care and that we build a sustainable housing model."
Zinerman is running against Justin Cohen, a community organizer, who says he was motivated to run because among the organizations he works with opposing police violence, "the consensus was that we needed a radical decarceration and police abolition lens in Albany." 
Whereas the larger state Senate district incorporates areas that have become largely white and affluent in recent decades, the 56th Assembly District remains majority-Black, with a higher rate of poverty and lower median household income than Brooklyn as a whole. Nonetheless, it too is feeling the pressure of gentrification, as brownstones in the area sell for millions of dollars. 
Ironically, Cohen – a white man from suburban New Jersey who has lived in the district since 2015, and previously between 2005 and 2007 – positions himself as an opponent of gentrification. For instance, he has worked with the Brooklyn Anti-Gentrification Network, which advocates for tighter rent regulations and more affordable housing. "I'm not the perfect messenger for the issues I work on," Cohen conceded in an interview with City & State. "But there's a difference between being a gentrifier and a neighbor. My theory of how social change happens is through coalitions of people across racial and economic lines." 
To combat rising housing costs, Cohen calls for universal rent control and a tax on vacant properties such as pieds-a-terre and units being held off the market. Zinerman, however, notes that universal rent control would prevent elderly owners of two- and three-unit houses from raising rents on their tenants, which could make it difficult for them to keep up with bills such as rising property taxes. 
Cohen and Zinerman also differ on policing. Whereas Cohen advocates police abolition, Zinerman says that is not a priority for most in the district. "I have done, and this community has done, a hell of a job ensuring that the people who police this community are respectful," said Zinerman. "I do not want someone coming and conflating what happens on a national level with what is going on in our community. I respectfully say to the young man who is running: Please learn this community. He has come to this community with a radical lens, is applying to a government job and he's never been to a community board meeting." Cohen says that's untrue: He lives in Community Board 8 and frequently attends its meetings and meetings for Community Board 3 as well. 
Still, the underlying distinction – one of radical activist politics versus more traditional political pathways – remains apparent. Normally, historically, the traditional route would more likely be the path to success. But these days, the old rules of politics may not apply. As Forand said, "It's a weird year."
With reporting from Jeff Coltin.
Powered By
NEXT STORY: The real reopening begins in New York City