New York State
How do you enforce a quarantine?
Details on how the state will force travelers from coronavirus hot spots to self-isolate are still scant.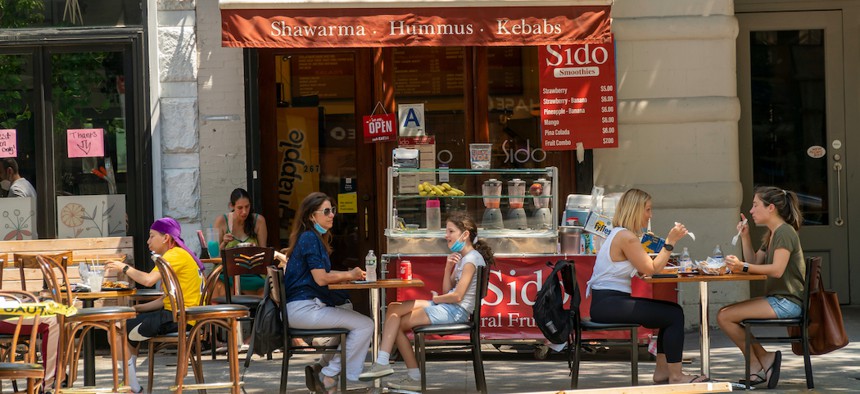 If you travel from Florida to New York and ignore Gov. Andrew Cuomo's order for visitors from coronavirus hot spots to self-isolate for 14 days upon arrival, did the order ever really exist?
While not one of philosophy's best-known thought experiments, the question reflects some of the concerns that have been raised about how New York will enforce its new 14-day quarantine for visitors from states with high coronavirus infection rates. Right now, the list includes Alabama, Arkansas, Arizona, Florida, North Carolina, South Carolina, Texas and Utah. Eight more states may be added to that list, and a Cuomo spokesperson told the Rochester Democrat & Chronicle the administration will finalize that decision in the next day or so.
The order for travelers from these states to self-isolate for 14 days when they arrive in New York was announced by Cuomo last week alongside New Jersey Gov. Phil Murphy and Connecticut Gov. Ned Lamont, whose states will also be enforcing the same type of quarantine on out-of-state travelers. And while Cuomo's executive order mandating this quarantine went into effect on Thursday, there are still some questions about how exactly state officials or law enforcement will ensure that visitors from those hot spots actually self-isolate to curb the spread of coronavirus in New York.
As New York's coronavirus indicators – like hospitalizations, deaths and positive test rates – continue to decline, other states are battling the worst they've seen of the pandemic yet. In particular, states in the South and West are experiencing record daily highs of new cases, and some states that were already well into the process of reopening are pausing or pulling back those measures to prevent further spread. Now, just as Florida and Oklahoma instituted mandatory quarantines for travelers from New York in March – when it was New York experiencing the worst of the coronavirus – the tables are now turning as New York seeks to limit the risk posed by visitors from coronavirus hot spots. "After all that work, struggle, and suffering to confront COVID-19 here, I think that New York (along with the two other states in the compact, New Jersey and Connecticut) wants to show that it still takes this threat very seriously and recognizes that the epidemic can reignite at any time," Stephen Morse, professor of epidemiology at the Columbia University Mailman School of Public Health, wrote over email. "I think it's a signal to those other states that reopened hastily and with lax precautions, and are now suffering from a spike in cases as a result. Some of these states, such as Florida, had imposed similar travel restrictions on New Yorkers, so it's a kind of poetic justice."
Cuomo's executive order applies specifically to people entering New York from a state with a positive test rate exceeding 10% over a seven-day rolling average.
The order doesn't prohibit people from traveling to New York from states that meet that metric, and it doesn't apply to people from those states that enter New York for less than 24 hours, if they're just passing through on their way to another state, for example. Instead, the order requires that travelers coming from those states – whether they live in those eight states or in New York – quarantine for 14 days upon arrival, which, according to state Health Department guidance, means isolating oneself from roommates or family and not going out to get food or groceries. The order does exempt Major League Baseball players coming to New York for spring training and essential workers traveling into New York – though even that exemption has prompted some questions.
Little has been made public about the state's plans to enforce the quarantine, though Cuomo said last week that the state will monitor flights – and the names of passengers on those flights – coming into New York airports. "We'll have inspectors who are randomly looking at the names on the list and calling to follow up to make sure you're quarantining," Cuomo said during an interview on CNN's "New Day" on Thursday. "And if you're not, you're in violation of the law and you will have a mandatory quarantine, and you'll be fined." People violating the order would be subject to fines up to $10,000.
It's not clear, however, who those inspectors would be or how they would contact people who have flown into New York from one of the hot spot states. Cuomo told reporters on Friday that he is in talks with the airlines to determine whether they could cooperate in gathering contact information from visitors from those states. During an interview with WAMC's Alan Chartock on Monday, Cuomo said that he's been asking airlines to have passengers flying into New York fill out customs-style forms, and that airlines have been "surprisingly cooperative." But few other details have emerged.
It's also not clear how monitoring would work for visitors who drive into New York or travel by train. Cuomo has suggested that police officers might discover that a driver was from one of the hot spots during regular traffic stops. "You get pulled over by a police officer and he looks at where your residence (is) and says how long have you been here?" Cuomo said during the CNN interview. Representatives for the governor did not respond to a request for comment on the state's plans for enforcing the order.
But even Cuomo seemed to suggest that because the state will be relying on random checks, some visitors who may be violating quarantine wouldn't get caught. "You know, you can speed in your car, and if you don't get caught, you're fine," he said on CNN. "You can drink too much and get in a car and drive home, and if you don't get caught, you're fine. But if you fly into New York, we'll have your name, we'll know where you're supposed to be staying, there will be random checks."
The difficulty of enforcing these kinds of measures is something experts pointed to as other states instituted them. Wendy Parmet, the director of the Center for Health Policy and Law at the Northeastern University School of Law, said that while she's pleased to see the tri-state region's approach is "evidence-based," applying the order to anyone traveling from high-infection states, problems in enforcement inevitably arise with quarantine orders like these. "Whenever you have something that cannot be enforced widely, if it's enforced sporadically, that raises concerns about discrimination and profiling," Parmet told City & State. "Who among the people driving up I-95 are the ones who get stopped?"
Parmet said her read on the order is that New York does not plan a heavy-handed approach to enforcement – something that checks out with Cuomo's statements so far about random spot checks of people traveling from hot spots. But even if New York did plan to keep tabs on most or all of the people coming in, doing so would require a lot of resources. Parmet noted the trouble that New York City, along with other cities and states, has had in getting their contact tracing programs off the ground. "Contact tracing, and getting the close contacts of known positive cases in the state and keeping a tab on them – now we're going to add to that everybody who drives up I-95. Really?" Parmet said. "The person power to actually do this – it's probably not there."
For those who do follow the orders to self-isolate, the quarantine could be an effective public health measure. "People from a high risk area who may be carrying an often asymptomatic infection can clearly transmit it to lower risk groups in other areas," Barron Lerner, a professor of medicine at the NYU Grossman School of Medicine, wrote over email. "It's just logical harm reduction to ask them to isolate."
As State of Politics noted, a mandatory quarantine also raises legal questions. Rhode Island, for example, got in trouble for its practice of stopping cars from New York, and Cuomo even threatened to sue over the practice. "I'm pretty clear that the discrimination against people based on license plates, the kinds of things that some of the states were doing early, is unconstitutional," Parmet said, adding that the approach by New York, New Jersey and Connecticut is more likely to pass muster because it doesn't discriminate on where someone is from, but applies to anyone who has been in a state with a certain infection rate. Still, she said, legal problems – including privacy concerns – may arise depending on how the order is enforced.
While more details on the enforcement of the quarantine may emerge in the coming days, the little that's known now still poses one nagging question: What good is a quarantine if people can get away with ignoring it? Even if there's not 100% enforcement – or even half that – the order sends a message, Morse, of Columbia University, said. "I think it's really sending a signal that we take it seriously and everyone else should, too," he wrote. "Largely a symbolic gesture, and a statement of ethics."
And as with any collective action, it will come down to good actors. "Of course, self-quarantine is on the 'honor system,' so if folks cheat, it won't work," Lerner wrote. Asked whether it's possible that the order's very existence would dissuade some would-be visitors from traveling to New York, Parmet said it was possible. "I think it probably makes a bunch of people think twice or three times about where they travel," she said.
But the bottom line, she said, is that states issuing these orders are a result of the fact that there is not a national policy on containment and mitigation. "All these efforts are fragile and they're leaky," Parmet said of states' different orders for incoming travelers – because of questions about both their effectiveness and legality. "We've got to have a more consistent approach that mitigates harm and manages to keep people safe by controlling outbreaks around the country."