Campaigns & Elections
New York state legislative primary races to watch
The coronavirus pandemic has added a new variable to contentious races in the June 23 legislative primaries.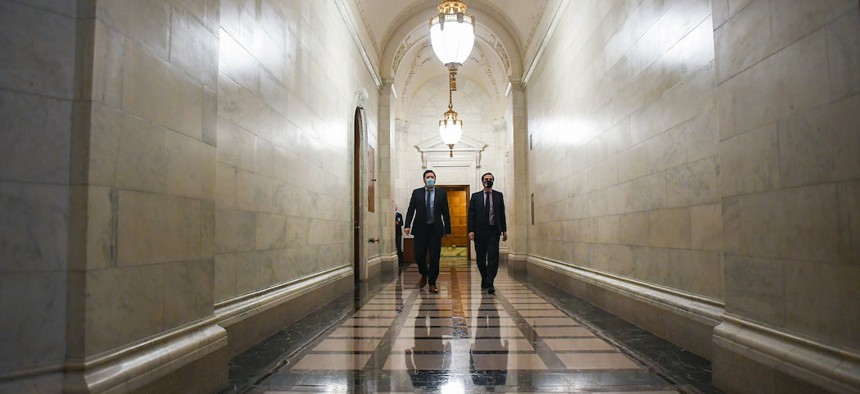 The June 23 election will be unlike any other state primary. Door-to-door politicking is out. Zoom town halls are in. And a surge in voting by mail is changing how candidates approach campaigning. The final results might not even be known for days after Election Day.
Despite the unprecedented situation of holding a primary election during a pandemic, many races are still defined by the same political dynamics as they were before. The political left is looking to expand its influence over state politics. More centrist Democrats are eager to stage a comeback after the big progressive upsets of 2018.
Whichever way the political balance falls between these two forces after the June 23 primaries will have a huge effect on what type of Democrats control state government moving forward, considering the favorable odds for the party to maintain its control over both chambers of the state Legislature.
There are also a handful of competitive Republican primaries that hint at what type of political opposition will remain in the state Capitol. Here are the top state legislative primaries to watch on June 23.
STATE SENATE
State Senate District 1
Parts of Suffolk County
Incumbent: Kenneth LaValle (R) is retiring
2020 declared Democratic primary candidates: Laura A. Ahearn, Valerie M. Cartright Nora Higgins, Skyler Johnson, Thomas Schiavoni
State Sen. Kenneth LaValle's retirement announcement at the start of the year represented the end of the career for the state's longest-serving state senator – and Democrats' first sign of hope at capturing a newly open seat. The seat has been controlled by Republicans since World War I, and it has drawn the attention of five Democratic contenders for this year's primary. They will face an established Republican elected official, Assemblyman Anthony Palumbo, in the general election in what is considered a safe Republican seat, especially considering that Suffolk County voted for President Donald Trump in 2016.
Laura Ahearn, an attorney and victims' rights advocate, currently has the most cash on hand for the primary, reporting a closing balance of $69,602 in her latest disclosure report. Close behind was Thomas Schiavoni, a member of the Southampton Town Council, who has just $1,462 on hand after rapidly spending nearly $88,000 in the last stretch of the race. He isn't the only local political figure throwing a hat into the race – candidate Valerie Cartright is a councilwoman in the town of Brookhaven. Also running are Skyler Johnson, a 19-year-old student, and Nora Higgins, a regional coordinator at the New York State Public Employees Federation. Though the pandemic has put a wrench in usual campaign activities, the candidates have aimed to distinguish themselves through virtual meetings. And it hasn't stopped other controversies from popping up, such as Schiavoni's former campaign staffer calling on him to resign over accusations that Schiavoni fired her for reporting sexual harassment by Brookhaven Town Democratic Committee members.
State Senate District 12
Parts of Astoria, Long Island City and Sunnyside in Queens
Incumbent: Michael Gianaris (D)
2020 declared primary opponent: Ignazio Terranova
State Sen. Michael Gianaris stirred up a lot of controversy when he went all-in opposing the proposed deal to bring an Amazon campus to Long Island City, Queens. That has inspired plenty of talk about a primary challenge – but not a lot of action. One of his purported opponents has dropped out, and former New York City Sanitation Department official Ignazio Terranova has recently been getting grief for taking donations from alleged sexual harassers. Terranova might be able to embarrass Gianaris a little by winning a significant chunk of the votes. But the $32,000 he has left is nothing compared to the $360,000 that Gianaris can spend telling everyone in the district about that endorsement he got from Rep. Alexandria Ocasio-Cortez.
State Senate District 18
Parts of Greenpoint, Williamsburg, Bushwick and Cypress Hills in Brooklyn
Incumbent: Julia Salazar (D)
2020 declared primary opponent: Andy Marte
A staunch voice among far-left Democrats, state Sen. Julia Salazar is well positioned to stay in her seat in the upcoming primary. She had raised more than triple what her competitor Andy Marte had, according to totals from May. Marte was a former staffer for Assemblyman Vito Lopez, who resigned in scandal, and Salazar has tried to label Marte as a Trump supporter and anti-vaxxer. He will likely face a tough time trying to pick up more Democratic supporters in the coming weeks.
State Senate District 25
Parts of Fort Greene, Boerum Hill, Red Hook and Bedford-Stuyvesant in Brooklyn
Incumbent: Velmanette Montgomery (D) is retiring
2020 declared Democratic primary candidates: Tremaine Wright, Jason Salmon, Jabari Brisport
When longtime state Sen. Velmanette Montgomery announced her retirement in January, she quickly backed Assemblywoman Tremaine Wright as her successor. But Wright's aim to take over the seat was challenged by two competitive candidates attacking her from the left: Jason Salmon and Jabari Brisport.
Brisport is a public school teacher who is backed by the Democratic Socialists of America. He is currently leading in cash with close to $106,000 in his war chest. He's also racked up a number of major progressive endorsements, including from the Working Families Party and U.S. Sen. Bernie Sanders. Wright, a two-term lawmaker who has comparatively veered toward the center politically and opposed some initiatives from Democrats on the left, remains close behind on cash with nearly $91,000 on hand. However, she still benefits from support among fellow local elected officials. Salmon, a former staffer to Montgomery, is trailing so far in media attention and funding but has still gotten some notable support from progressive activists.
State Senate District 38
Parts of Rockland and Westchester counties
Incumbent: David Carlucci (D) is running for Congress
2020 declared Democratic primary candidates: Eudson T. Francois, Justin L. Sweet, Elijah Reichlin-Melnick
2020 declared Republican primary candidates: William J. Weber Jr., Matthew R. Weinberg
The open seat encompassing most of Rockland County has drawn competition from both Democrats and Republicans after state Sen. David Carlucci announced his congressional bid. Elijah Reichlin-Melnick, legislative director to state Sen. James Skoufis, seems to be in the best position given how much he has outraised his opponents. He has about $33,000 on hand, according to the state Board of Elections. Former and current elected officials, activist groups and unions have all thrown support his way. Also in the three-way primary are Justin Sweet, town clerk of Clarkstown, and Eudson Tyson Francois, a trustee of the village of Spring Valley.
On the Republican side, William Weber Jr., a certified accountant, has stepped up as the local GOP's preferred candidate after the party's initial choice, Clarkstown Supervisor George Hoehman, dropped out of the race. An associate of Rockland County Republican Party Chairman Lawrence Garvey unsuccessfully contested petitions from Matthew Weinberg, a 22-year-old competitor, earlier this spring. Weber remains in the lead in overall fundraising and currently about $5,000 more on hand than Weinberg.
State Senate District 56
Parts of Monroe County
Incumbent: Joseph Robach (R) is retiring
2020 declared Democratic primary candidates: Sherita S. Traywick, Hilda Enid Rosario Escher, Jeremy A. Cooney
State Sen. Joseph Robach joined a slew of his Republican colleagues in retiring since the Democrats took over the state Legislature. The departure has given room for Democrats hoping to flip the seat that has nearly two times more registered Democrats than Republicans. Jeremy Cooney, the former chief of staff to Rochester Mayor Lovely Warren, is a leading contender after having boosted his name recognition by running against Robach in 2018, winning 44% of the vote. With $37,500 on hand, he currently has the most cash currently, according to the state Board of Elections, and he's been endorsed by New York State United Teachers and the Working Families Party. Hilda Enid Rosario Escher, the former CEO of a human services nonprofit helping Latinos in Rochester, has about $20,000 currently in her campaign coffers. The two are leading the primary – and showing off their chops helping out the community during the pandemic through virtual happy hour fundraisers for unemployed bartenders and community cleanups in the aftermath of protests against police brutality. Whoever wins the Democratic nomination will face Republican Greece Town Councilman Mike Barry, who unsurprisingly has earned Robach's support in the general election.
State Senate District 61
Genesee County; parts of Monroe County and Erie counties
Incumbent: Michael Ranzenhofer (R) is retiring
2020 declared Democratic primary candidates: Joan Elizabeth Seamans, Kim Smith, Jacqualine Berger
Three Democrats are competing for the open state Senate seat in Western New York where registered Democratic voters just slightly outnumber Republicans. Jacqualine Berger, a town board member and deputy supervisor in Amherst, has about $12,000 on hand at this stage in the primary. A self-described labor activist, Berger has racked up numerous endorsements from laborunions, including the New York State Public Employees Federation, New York State United Teachers and UFCW District Union Local One. Also in the race is Joan Seamans, who ran against state Sen. Michael Ranzenhofer in 2018 but lost by about 9 percentage points, and Kim Smith, a retired Monroe County employee and organizer with the activist group VOCAL-NY. Smith has about $2,600 on hand after spending around $9,000 in the last bit of the race and earned the support of some local Democratic groups and activist organizations. Whoever wins the primary will face Republican Erie County Legislator Ed Rath in the general election. The politically connected lawmaker already has close to $47,000 on hand in preparation for November.
ASSEMBLY
Assembly District 31
Far Rockaway, South Ozone Park and other parts of Queens
Incumbent: Michele Titus (D) became a Civil Court judge in January
2020 declared Democratic primary candidates: Richard David, Lisa George, Tavia Blakley, Shea Uzoigwe, Khaleel Anderson, Derrick DeFlorimonte
The race was initially set up to be a complicated one for voters. A special election was initially set for the same day as New York's presidential primary in April, and another primary election for the seat would've occurred soon after in June. But now, thanks to delays arising from the pandemic, the election will take place on June 23. Queens district leader Richard David has gotten a significant boost in his electoral bid, with about $59,000 on hand and the backing of Rep. Gregory Meeks, head of the Queens County Democratic Party. Also in the race are: Shea Uzoigwe, a former staffer for state Sen. James Sanders Jr.; Khaleel Anderson, a member of Queens Community Board 14; Lisa George, a current Sanders staffer; and Tavia Blakley, a former staffer for Assemblywoman Michele Titus; and Derrick DeFlorimonte, a member of Community Board 13 and combat medic with the Army National Guard.
Assembly District 34
Parts of Jackson Heights, Woodside, Corona, North Corona, Elmhurst and Maspeth in Queens
Incumbent: Michael DenDekker (D)
2020 declared primary opponents: Nuala O'Doherty-Naranjo, Jessica González-Rojas, Angel Cruz, Joy Chowdhury
This Queens district has been hit hard by the coronavirus pandemic, making its impact a bigger feature in this competitive primary race. Assemblyman Michael DenDekker, who has been in office since 2009, has drawn a slew of progressive challengers this year. Jessica González-Rojas, the former executive director of the National Latina Institute for Reproductive Health, has earned the backing of the Working Families Party and elected officials like New York City Councilman Daniel Dromm and state Sen. Gustavo Rivera. Former Queens district attorney candidate Tiffany Cabán, who drew attention toward left-leaning policies during her tight race last year, also endorsed her. This was a snub for both Nuala O'Doherty-Naranjo and Joy Chowdhury, who along with González-Rojas, had volunteered for Cabán's campaign. Chowdhury, an Uber driver and labor organizer, has the most amount of cash on-hand among the challengers, according to filings with state Board of Elections from May, with close to $38,000.
DenDekker is still certainly at a financial advantage in the race and maintains support from unions like the United Federation of Teachers and 32BJ SEIU. But he's also faced his own controversies as, amid protests against police brutality, lawmakers are getting slammed for accepting donations from law enforcement groups. Following pressure from activist organizations such as Make the Road Action – which has aligned itself with González-Rojas – DenDekker committed to redirecting $13,000 in funds from police associations back to local nonprofits.
Assembly District 35
Parts of East Elmhurst, Jackson Heights, North Corona, Corona, Elmhurst and Rego Park in Queens
Incumbent: Jeffrion Aubry (D)
2020 declared primary opponent: Hiram Monserrate
Former state Sen. Hiram Monserrate's career fell apart a decade ago when he was expelled from the legislative body after receiving a misdemeanor conviction for assaulting his girlfriend. He's been trying to make a political comeback ever since – and to surprising small-scale success, having become a Queens Democratic district leader in 2018. But some Democratic lawmakers have been swift to condemn his attempt to unseat Assemblyman Jeffrion Aubry in light of Monserrate's history of abuse as well as corruption. Assembly Speaker Carl Heastie suggested Monserrate may not be allowed to join the party's conference if elected. Aubry, who was elected to his Assembly seat in 1992, still has a fundraising advantage over his disgraced opponent. The assemblyman has about $140,000 on hand, according to records from the state Board of Elections, while Monserrate has more than $56,000 available.
Assembly District 36
Parts of Astoria and Ditmars Steinway in Queens
Incumbent: Aravella Simotas (D)
2020 declared primary opponent: Zohran Mamdani
Many DSA-backed challengers have pointed to Rep. Alexandria Ocasio-Cortez's electoral victory in 2018 as a model for future campaigns – but this race, also set in Western Queens, doesn't quite fit that narrative. The leftist challenger Zohran Mamdani, a housing counselor, and Assemblywoman Aravella Simotas are largely aligned on their policy positions. This includes supporting calls to cancel rent because of the coronavirus pandemic, ending cash bail and establishing a universal health care system in New York. Mamdani has tried to distinguish himself by criticizing specific votes and bills that Simotas has supported on education, though the assemblywoman has staunchly defended her progressive credentials. 
Mamdani currently has $86,700 on hand, about $15,000 more than Simotas has for the last leg of the race.
Assembly District 38
Parts of Ridgewood, Glendale, Woodhaven, Ozone Park and Richmond Hill in Queens
Incumbent: Michael Miller (D)
2020 declared primary opponents: Jenifer Rajkumar, Joseph De Jesus
This election isn't shaping up to be an easy win for Assemblyman Michael Miller. A professor with the City University of New York and a former official in Gov. Andrew Cuomo's administration, Jenifer Rajkumar continues to hold more campaign cash than him, though that gap has narrowed since January. Miller currently has about $36,000 on hand compared with Rajkumar, who has $69,800. Rajkumar is banking on a mobilized turnout despite the district's historically low voter turnout, in part by relying on substantial support from the local South Asian community. But she comes with some baggage, having run for another Assembly seat in Manhattan in 2016 before moving to Queens. Also in the race is Joseph "Joey" De Jesus, an adjunct professor and poet running to the left of both candidates who hasn't picked up much traction.
Assembly District 40
Whitestone, Flushing, College Point and other parts of Queens
Incumbent: Ron Kim (D)
2020 declared primary opponent: Steven Lee
NYPD Sgt. Steven Lee is challenging Assemblyman Ron Kim this year, but seems to be having a tough time getting his name out there. Lee – who made headlines for exposing police corruption in Flushing five years ago – is running as the more moderate option, opposing last year's state bail reform law and Kim's support of decriminalizing sex work. Meanwhile, the assemblyman has been introducing legislation related to coronavirus outbreaks in nursing homes, including an effort to repeal a provision that shields long-term care facilities from lawsuits during the pandemic. Kim maintains a significant financial lead with about $57,900 on hand, according to disclosures from the state Board of Elections. Lee only has $2,000 left after a spending blitz earlier this year that cost about $45,000.
Assembly District 43
Parts of Crown Heights and Prospect Lefferts Gardens in Brooklyn
Incumbent: Diana Richardson (D)
2020 declared primary opponent: Jesse Hamilton
This race will test just how much voters are willing to forgive Jesse Hamilton, a former state senator whose membership in the Independent Democratic Conference cost him his seat in 2018. Rather than try to win back his former seat, however, Hamilton is going after Richardson, who first won her seat in a 2015 special election. Despite the name recognition that Hamilton likely has with some voters, Richardson appears to have the edge as Election Day nears. She has gained lots of positive press in recent weeks for her involvement in recent protests against police brutality and the latest financial disclosures show that she has vastly outraised Hamilton, who had just $3,672 on hand a little over a week before the primary.
Assembly District 50
Greenpoint; parts of Williamsburg, Fort Greene, Clinton Hill and Bedford-Stuyvesant in Brooklyn
Incumbent: Joseph Lentol (D)
2020 declared primary opponent: Emily Gallagher
Emily Gallagher is trying to make the jump from community board member to the state Legislature, but standing in her way is an incumbent with 47 years of experience, a ton of money ($167,512, according to the last filing, compared to Gallagher's $15,363) and lots of name recognition. His father, Edward Lentol, even represented the area in the state Legislature at one time. The recent surge in voter interest on criminal justice reforms has also given Lentol, the longtime chairman of the Assembly Codes Committee, a new way to shine with voters. However, the 77-year-old is in the fight of his political life as Gallagher racks up endorsements from local progressive groups to help her make the case that the district needs a legislative update for a new generation.
Assembly District 51
Parts of Red Hook, Greenwood Heights and Sunset Park in Brooklyn
Incumbent: Félix W. Ortiz (D)
2020 declared primary opponents: Marcela Mitaynes, Genesis E. Aquino, Katherine P. Walsh
A crowded field could give Assemblyman Félix Ortiz an edge to hold onto the seat he has held since 1995. An endorsement by Rep. Alexandria Ocasio-Cortez, however, is giving Marcela Mitaynes some late momentum as she seeks to become the latest candidate backed by the local chapter of the Democratic Socialists of America to demonstrate the movement's growing role in state politics. The money game suggests though that this is a race for second. The latest financial disclosures show that Ortiz has more than twice as much money ($177,392) as his opponents combined. Brooklyn Community Board 7 member Katherine Walsh has more cash on hand than Mitaynes – $35,772 to $29,321 – and Genesis Aquino looks to be solidly in fourth place – but the Dominican Republic native could outperform expectations in a district that includes many fellow immigrants.
Assembly District 56
Parts of Crown Heights, Weeksville and Stuyvesant Heights in Brooklyn
Incumbent: Tremaine Wright (D) is running for the state Senate
2020 declared Democratic primary candidates: Justin Cohen, Stefani L. Zinerman
Former pastor and community activist Stefani Zinerman has the backing of key elected officials in the open Assembly race, but activist Justin Cohen has vastly outraised her and had more money on hand a little over a week before Election Day. The recent protests against systemic racism could have a ripple effect in this gentrifying area of Brooklyn. Zinerman, who is black, has emphasized how she is a "third-generation" outsider who would better represent the area compared to "well-meaning outsiders" like Cohen, who is white.
Assembly District 57
Parts of Fort Greene, Prospect Heights and Clinton Hill in Brooklyn
Incumbent: Walter Mosley (D)
2020 declared primary opponents: Phara Souffrant Forrest
The local chapter of the Democratic Socialists of America made Assemblyman Walter Mosley one of their top targets in 2020. In response, the Brooklyn political establishment is rallying around Mosley, who has almost twice as much money as the $55,998 that Phara Souffrant Forrest reported on hand in her latest campaign filings. The tenant organizer has mobilized a lot of grassroots enthusiasm for her campaign, which has largely been run alongside Jabari Brisport's insurgent campaign for state Senate. While the pandemic prevented much of the door-to-door campaigning that would help Forrest pull off an upset, her training as a nurse could prove to be an unexpectedly useful political asset.
Assembly District 65
Parts of Chinatown, the Lower East Side and the Financial District in Manhattan
Incumbent: Yuh-Line Niou (D)
2020 declared primary opponent: Grace Lee
Businesswoman Grace Lee got off to a good start in mounting a challenge to Assemblywoman Yuh-Line Niou, who first won her seat in 2016. Lee raised big money early on, got some press attention and was running a campaign based on local issues to counteract Niou's popularity on the progressive left. But the coronavirus pandemic has limited Lee's ability to reach voters and the latest financial disclosures also show that Niou now has a solid lead in fundraising – $195,621 to $152,184 – and has received endorsements from just about all the biggest names in progressive politics.
Assembly District 73
Parts of Midtown East and the Upper East Side in Manhattan
Incumbent: Dan Quart (D)
2020 declared primary opponent: Cameron Alex Koffman
One of the most peculiar of primary races of the year pits an incumbent with his eye on higher office against a 20-something with almost zero experience in the working world. Cameron Koffman has plenty of money to pull off an upset thanks to his family's connections in the upper echelon of Upper East Side society. Assemblyman Dan Quart is no pauper, even if the $71,200 he has on hand pales in comparison to Koffman, who has about $188,000 to spend in the final stretch of the race. This makes the race a true test of how far money can go to unseat an incumbent who would otherwise have an easy path to reelection.
Assembly District 79
Parts of Concourse Village, Morrisania, Melrose, Belmont in the Bronx
Incumbent: Michael Blake (D) is running for Congress
2020 declared Democratic primary candidates: George A. Alvarez, Chantel Jackson, Cynthia L. Cox, Eric Stevenson, Elvis Santana, Dion Powell
One of the biggest toss-up races appears to be the race to replace Assemblyman Michael Blake. His chosen successor, Chantel Jackson, has a history of anti-vaxxer comments but none of her opponents have a clear advantage over the rest of the pack. Businessman George Alvarez and district leader Cynthia Cox both have more cash on hand – $24,073 and $17,386 respectively – compared with the $6,099 Jackson reported close to Election Day. Add convicted felon (and former Assemblyman) Eric Stevenson, former Blake staffer Dion Powell, and a candidate named Elvis into the mix – and you got one of 2020's most uniquely competitive races.
Assembly District 85
Parts of Soundview, Clason Point and Rikers Island in the Bronx
Incumbent: Marcos Crespo (D) is retiring
2020 declared Democratic primary candidates: Kenneth Burgos, William Russell Moore
The seat opened up the moment that Assemblyman Marcos Crespo announced he was heading for a big pay day in the private sector after spending his youth climbing to the top of state politics. Kenneth Burgos, Crespo's budget director, appears to be a shoo-in to take over the seat unless William Russell Moore, a former fifth-place candidate for the New York City Council, is mounting some sort of stealth campaign that rejects the idea of raising money or getting media attention.
Assembly District 93
Parts of Westchester County
Incumbent: David Buchwald (D) is running for Congress
2020 declared Democratic primary candidates: Jeremiah Frei-Pearson, Mark Jaffe, Chris Burdick, Alex E. Roithmayr, Kristen P. Browde
A crowded field is vying to replace Assemblyman David Buchwald, but two candidates in particular have some distinct advantages. Civil rights attorney Jeremiah Frei-Pearson reported $263,668 on hand in the latest financial filing – more than twice as much as the rest of the field combined. He also has a hefty list of endorsements from the local Democratic establishment. Former journalist Kristen Browde, however, has a litany of endorsements from progressive groups and lawmakers – as well as a compelling story to tell in her bid to become the first openly transgender person to serve in the state Legislature.
Assembly District 122
Parts of Broome, Chenango, Delaware and Otsego counties
Incumbent: Clifford Crouch (R) is retiring
2020 declared Republican primary candidates: Joe G. Angelino, James P. Powers, Victor Furman, Nicholas R. Libous
There are reasons to believe that former Norwich Police Chief Joe Angelino is going to win this one with ease. He has locked up key endorsements, has deep roots in the district and reported about $46,900 on hand in his latest financial disclosure. His most credible opponent, Nick Libous, meanwhile has about $18,300 to spend in the final days of the campaign – though he does boast some name recognition among voters who might recall his father, former state Sen. Tom Libous, who forfeited his seat in 2015 after being convicted of lying to the FBI.
Assembly District 125
Tompkins County; parts of Cortland County
Incumbent: Barbara Lifton (D) is retiring
2020 declared Democratic primary candidates: Seph Murtagh, Beau A.C. Harbin, Jason Leifer, Lisa W. Hoeschele, Sujata Gibson, Jordan A. Lesser and Anna Kelles
A whopping seven Democratic candidates have flocked toward this open seat, and three top contenders have emerged. Progressives have flocked to Tompkins County Legislator Anna Kelles, who has fared the best in overall fundraising among all the candidates. The Working Families Party and former gubernatorial candidate Cynthia Nixon have endorsed her.
One major local figure has backed Seph Murtagh, the communications manager for retiring Assemblywoman Barbara Lifton and a member of the Ithaca Common Council. Ithaca Mayor Svante Myrick, who represents one of two major cities in the district, endorsed Murtagh – another fundraising heavyweight in the race – in late February. But Murtagh was snubbed from receiving his boss's blessing in June. Instead, Lifton endorsed another former staffer, Jordan Lesser, who served as her counsel for a decade before running for office.
Also running for the seat are: Beau Harbin, a Cortland County legislator; Dryden Town Supervisor Jason Leifer; Lisa Hoeschele, executive director of Family & Children's Counseling Services; and Sujata Gibson, an attorney who has inspired controversy for opposing vaccination requirements for children.
Assembly District 126
Parts of Cayuga, Chenango, Cortland and Onondaga counties
Incumbent: Gary Finch (R) is retiring
2020 declared Republican primary candidates: John Lemondes Jr., Daniel B. Fitzpatrick
John Lemondes Jr., a sheep farmer with a long Army career, emerged as the GOP establishment favorite this spring after attorney Ken Bush III dropped out of the race.
While GOP leaders have backed Lemondes, LaFayette Town Supervisor Daniel Fitzpatrick had outraised Lemondes for stretches of the campaign. Though that advantage briefly subsided, Fitzpatrick has spent more than twice what Lemondes has in the last portion of the race thanks to a hefty boost in contributions, according to recent financial disclosures. Fitzpatrick has $3,205 left to spend now compared to Lemondes who has $6,046 on hand.
Assembly District 131
Ontario County; parts of Seneca County
Incumbent: Brian Kolb (R) is retiring
2020 declared Republican primary candidates: Cindy Wade, Ann Marie Heizmann, Jeff L. Gallahan, Jeff Shipley
The race to replace former Assembly Minority Leader Brian Kolb got off to an unexpected start at the beginning of the year, when he was arrested for drunken driving. Manchester Town Supervisor Jeff Gallahan got the local GOP establishment behind him early on and still has more than $11,000 left to spend on the race.
Assembly District 134
Parts of Monroe County
Incumbent: Peter Lawrence (R) is retiring
2020 declared Demcratic primary candidates: Dylan P. Dailor, Carolyn D. Carrol
Fraud investigator Carolyn Carrol has only raised $4,503 but she nonetheless has the financial advantage in her low-cost Democratic primary against Dylan Dailor, who has not reported any fundraising. Dailor has said he would become the first candidate with autism to be elected to the state Legislature. Republicans though have an edge in holding onto the seat. Outgoing GOP Assemblyman Peter Lawrence won reelection unopposed two years ago and the GOP has a significant edge in party registrations. Josh Jensen, who is Republican councilman in the town of Greece, is running unopposed in the primary.
Assembly District 136
Parts of Monroe County
Incumbent: Jamie Romeo (D) became Monroe County clerk earlier this year
2020 declared Demcratic primary candidates: Nelson Lopatin, Justin F. Wilcox, Sarah Clark
Longtime Assembly staffer Justin Wilcox has the endorsement of the local party establishment and support from organized labor. But Sarah Clark is tapping her deep connections to luminaries like former U.S. Sen. Hillary Clinton, who Clark used to work for, as well as endorsements from groups like Planned Parenthood and Citizen Action.
Assembly District 137
Parts of Monroe County
Incumbent: David Gantt (D) is retiring
2020 declared Demcratic primary candidates: Ernest S. Flagler, Demond L. Meeks, Ann C. Lewis and Silvano D. Orsi
Of the four candidates in the field, only Monroe County Legislator Ernest Flagler-Mitchell and Demond Meeks, a local union organizer for 1199SEIU, have raised any significant amount of money in the race to replace longtime Assemblyman David Gantt. Meeks could benefit from his support among organized labor and grassroots activists. He also has a spending advantage down the stretch with more than $21,000 on hand compared to just over $3,000 for Flagler-Mitchell.
Assembly District 138
Parts of Monroe County
Incumbent: Harry Bronson (D)
2020 declared primary opponent: Alex Yudelson
Longtime Assemblyman Harry Bronson found himself with a primary challenge on his hands after he went after Rochester Mayor Lovely Warren's plan for a state takeover of the city's struggling school system. Alex Yudelson, her chief of staff, took a leave of absence and snagged the local party endorsement away from Bronson, who had to gather signatures to stay on the ballot for his own reelection. Despite the early setbacks, Bronson now has a huge cash advantage ($124,494 to $21,758) over his opponent as the one-issue race enters its final stretch.
Assembly District 140
Parts of Erie and Niagara counties
Incumbent: Robin Schimminger (D) is retiring
2020 declared Democratic primary candidates: Kevin T. Stocker, William C. Conrad III
William Conrad seems to be leading the race to take over this open Western New York Assembly seat. Though the latest financial disclosures show he only has about $4,800 on hand now, he has spent far more than his opponent Kevin Stocker, who has close to $2,000 in his campaign coffers and has been spending minimally on the race. Conrad has also earned the support of local lawmakers and unions in his electoral bid. Considered by several observers as a political maverick, according to The Buffalo News, Stocker is an attorney and former Republican who had previously made significant progress as a GOP candidate for a state Senate seat in 2014. Though Stocker's campaign hasn't spent much, according to records from the state Board of Elections, Conrad has accused him of running TV ads for his legal practice that skirt election law by mirroring his campaign's messaging strategy.
Assembly District 149
Parts of Erie County
Incumbent: Sean Ryan (D) is running for the state Senate
2020 declared Democratic primary candidates: Adam L. Bojak, Robert Quintana, Jonathan D. Rivera
Jonathan Rivera, a special assistant to the commissioner of Public Works in Erie County, has emerged as the Democratic Party's favored candidate for this open race in a solidly blue district. He has earned support from numerous unions, other members of the Assembly and The Buffalo News. But former Niagara Councilman Robert Quintana is putting up a strong challenge despite his own checkered political past. His time in office was plagued by accusations of harassment, and after he went on to join the Buffalo Police Department, federal prosecutors accused him of fraudulently collecting disability checks. Quintana avoided a trial and a possible felony charge by entering a one-year diversion program. Drama has also swelled around his campaign for this Assembly seat after Rivera's campaign accused Quintana's daughter of faking petition signatures, though Quintana denied even knowing his daughter was collecting signatures. Though courts found that several of the signatures were collected fraudulently by his daughter, Quintana remains on the ballot. 
Despite everything, Quintana was temporarily leading in fundraising. That gap has since narrowed significantly in the last stretch of the campaign, according to latest disclosure reports, which show that Rivera – whose father once served on the Buffalo Common Council – has almost $30,000 on hand. Quintana has about $6,500 after some aggressive campaign spending. Also in the race is Adam Bojak, an attorney focused on tenants' rights, who has been endorsed by the Democratic Socialists of America.
Corrections: An earlier version of this story erroneously left out Derrick DeFlorimonte, a candidate for Assembly District 31. An earlier version of this story erroneously referred to Make the Road New York instead of Make the Road Action.
Powered By
NEXT STORY: The Cuomo Show ends this week