NYPD
'Occupy City Hall' protestors want to defund the NYPD
Hundreds of activists are camping out, calling for a $1 billion cut to the police budget.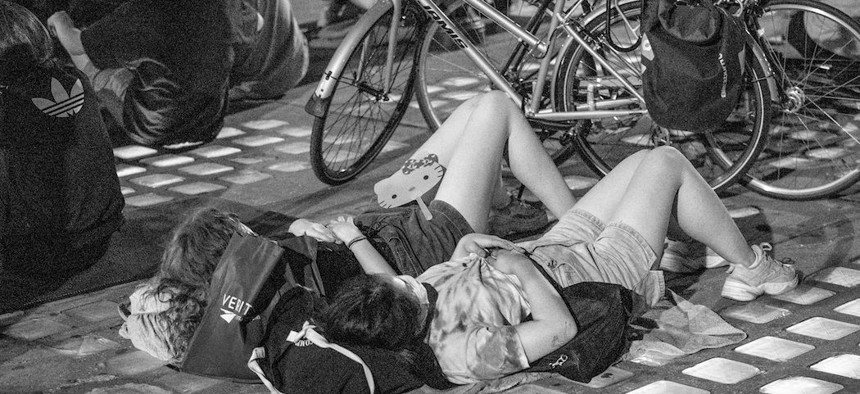 On Tuesday evening, about 100 protestors camped outside of New York City Hall, demanding that $1 billion be removed from the New York City Police Department budget for the next fiscal year.
The activists are planning to remain stationed there, day and night, until June 30, when the city's budget is expected to be finalized. Already large amounts of food, toiletries and blankets have been donated to the protestors stationed outside. A larger number of protesters joined them on Wednesday night. 
Vocal New York, a grassroots organization that seeks to empower low-income New Yorkers, is spearheading the initiative that appears to be drawing inspiration from the 2011 Occupy Wall Street movement, when a large number of activists camped in Manhattan's Zuccotti Park to highlight the country's wealth disparities. Of course, unlike the original movement, which was criticized for lacking a clear end goal, Occupy City Hall's aim is clear. 
"At the end of the day, we're here to talk about budgets," Jawanza James Williams, director of organizing for Vocal New York, told BuzzFeed News. "Because if you look at any budget, where they spend their money, you'll know exactly what they care about, who they care about, and what they prioritize. So if the city of New York is going to give the NYPD $6 billion a year, why can't they do the same to end poverty?"
This latest protest follows nearly a month's worth of protests against police brutality and systemic racism that have been taking place across the country, including hundreds of protests in New York City, with calls being made to "defund the police." On June 12, the New York City Council introduced several proposals to strip $1 billion from the NYPD's budget, which would account for 16% of the department's budget. On June 7, New York City Mayor Bill de Blasio vowed to reallocate some of the NYPD's budget to youth and social services but has declined to specify how much money he would cut.
Powered By
NEXT STORY: Congress may get its first openly gay Black members