New York City
Police reforms in New York City and minor rent relief for tenants
Rounding up the week's political news.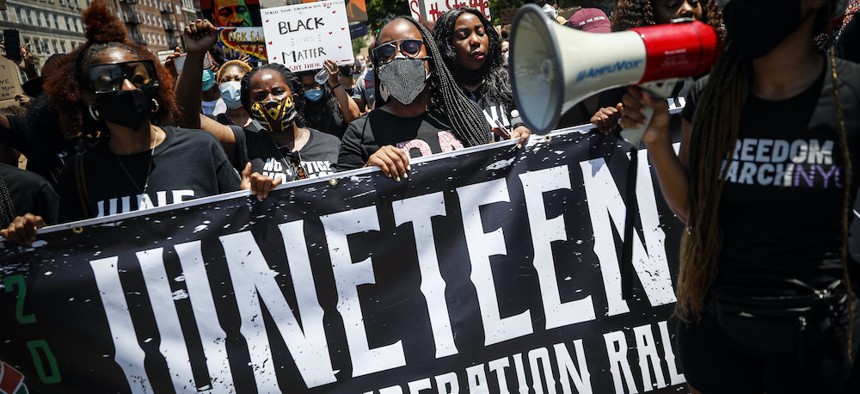 After about 100 days, Gov. Andrew Cuomo's daily coronavirus press conferences have come to an end now that he has determined the state is managing to contain the coronavirus pandemic after months of crisis. No longer will New Yorkers looking for some comfort be able to tune into the #luvguv's paternalistic addresses each day that earned him a national profile. Although what we'll miss the most is comedian Maria DeCotis' series of videos lip syncing to Cuomo's pressers. Keep reading for the rest of the week's news.
Police reform in New York City
More and more officials are joining the call to cut the New York City Police Department budget and reform the NYPD and other police departments. Leaders in the New York City Council, including Speaker Corey Johnson, announced their commitment to cutting $1 billion in NYPD funding in the upcoming budget. While many members already supported the reduction of police spending, the announcement represents the first time the City Council took a stance on a specific dollar amount. However, the details on how to hit that number remain vague, and the council will likely be met with a fight from Mayor Bill de Blasio. The City Council passed a series of reform bills, including making police use of chokeholds illegal and requiring police to report on the types of surveillance technology they use. Gov. Andrew Cuomo also signed an executive order mandating that cities and counties around the state "reinvent" their police departments by April 1, or forfeit state funding. That means state dollars for police, but may also apply to other state support for things like education. However, Cuomo did not offer details on what measures would be taken to reform the state police, which has grown in headcount and funding since he took office. 
Meanwhile, New York City Police Commissioner Dermot Shea disbanded controversial plainclothes anti-crime units, which have been involved in a disproportionate number of shootings. He also indicated support for shifting certain civilian jobs out of the NYPD, like school safety and traffic enforcement. Shea said he would accept some cuts to the police budget given the financial crisis facing the city, but said it must be done "smartly" and in a way that doesn't impact public safety. De Blasio also announced that the city would create an online database tracking all active investigations into alleged police brutality with officers' names, post the disciplinary decisions for those cases and eventually make all disciplinary records available online. It represents a major shift in how the city treats police discipline in the wake of the repeal of 50-a.
Minor rent relief for New York tenants
The New York City Rent Guidelines Board voted to freeze rents for rent-stabilized tenants with one-year leases, while allowing just a 1% increase in the second year for tenants with two-year leases. Tenant advocates viewed the vote as a victory for people struggling to pay rent during the coronavirus crisis. It doesn't cancel the rent, but at the very least, rent-stabilized tenants won't have to contend with a rent hike for a year. Although advocates wanted a freeze for both years of two-year leases, landlords wanted the board to approve a 2% hike for one-year leases and a 5% hike for two-year leases. The decision affects about 2 million renters in New York City. At the state level, Cuomo signed into law a controversial rent relief measure that will provide $100 million in rental vouchers to assist struggling tenants. But it only applies to those who are rent-burdened, lost income due to the pandemic and make less than 80% of area median income. Tenant advocates, many of whom want a complete cancelation of rent during the coronavirus crisis, consider the law woefully inadequate and even dangerous, as it relies on landlords to apply for the vouchers, rather than tenants.
Flanagan stepping down early
Although he had already announced he would not seek reelection, state Senate Minority Leader John Flanagan is taking his leave a little sooner than expected. He's leaving the Legislature on June 28 to accept a private sector job, reportedly with Northwell Health. While it doesn't impact the upcoming election to replace him, it does move up the timing of the decision by his conference on who will replace him as the GOP leader. In a vote among conference members on Friday, state Sen. Robert Ortt was selected to replace Flanagan.
Plans for Phase 2 in New York City
New York City is entering Phase 2 of its reopening on Monday, which means outdoor dining and the return of in-store shopping. After criticism for not releasing plans for the new phase, de Blasio late in the week announced the city was in fact ready to continue reopening, although the governor had been saying as much for days. De Blasio said that parks and playgrounds would reopen as part of Phase 2, a decision that came after a trio of Orthodox Jewish lawmakers from Brooklyn broke into a playground, demanding that children be allowed to play if de Blasio was permitting mass protests. De Blasio also released a plan for outdoor dining, with sidewalk seating running until October, a curb lane seating pilot program that would last until Labor Day and street seating for streets already closed to vehicular traffic.
Powered By
NEXT STORY: The New York Post's most outrageous 'copaganda'