NYPD
Social distancing enforcement is softer in white neighborhoods
Crowds have been gathering on streets outside bars in Manhattan. Weirdly, the cops haven't beaten them up.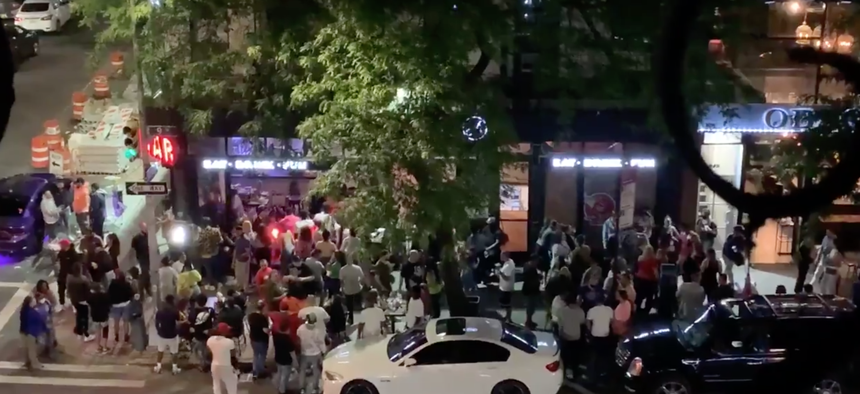 Social distancing was nonexistent and masks optional as crowds of people gathered in the East Village for drinks outside bars on St. Marks Place last Friday night. Despite the fact that public drinking also remains illegal in New York, two police cars drove by without addressing the scene, the New York Post reported. Police did eventually respond and disperse the crowd, according to an NYPD spokeswoman, with several businesses voluntarily closing to help clear the space out. No arrests were made and no summonses or fines issued.
It's just another example of a trend many New Yorkers have noticed: while working-class communities of color often experience aggressive enforcement of social distancing regulations and pre-coronavirus quality of life crimes, the same kinds of gatherings among predominantly white Manhattanites are allowed to flourish – or, at most, let off with a warning. 
Another crowd gathered in Hell's Kitchen on Saturday, but eventually mostly dispersed when police arrived on the scene. In some cases, fines have been issued. 
Elected officials have been critical of these scenes, as Gov. Andrew Cuomo pressured local governments from New York City to the Hamptons to do more to enforce the law or else risk going back on lockdown. 
Of course, most New Yorkers probably don't want the NYPD to use force or make arrests when breaking up a block party – even if the partiers are rich and white. But this lack of enforcement contrasts with recent news that an NYPD officer in Crown Heights, Brooklyn allegedly shoved a black man into hot coals while trying to break up a barbecue on Memorial Day. That was reminiscent of another social distancing arrest – this time of a young Latino man, also in the East Village and just blocks from where the yuppie throngs have been spotted – in which an officer kneeled on the arrestee's neck and, according to a lawsuit filed against the city, stole his money. 
After weeks of protests against police violence and racism, enforcement of social distancing guidelines seemingly remains separate and unequal.
Nearly 80% of summonses and arrests in New York City for violating social distancing rules from March 16 to May 17 were issued to black and brown New Yorkers, according to the NYPD. Complaints made to 311 regarding possible social distancing violations were also more likely to result in summonses and arrests in low-income communities predominantly populated by people of color – and they were less likely to be enforced in wealthier, mostly white neighborhoods such as Chelsea or the Upper East Side – according to an analysis from the city comptroller's office. This is despite the fact that data collected from the Legal Aid Society finds that 54% of 311 calls made from March 28 to May 12 related to such complaints came from majority-white neighborhoods. 
NYPD has arrived to respond to this crowd in Hell's Kitchen. This is a scene that has repeated every night here for probably 10 days. pic.twitter.com/mTkWjitVki

— Liam Stack (@liamstack) June 14, 2020
The city has attempted to relax police enforcement of rules about keeping distance or wearing masks, however. Other city workers have also been repurposed to serve as so-called "social distancing ambassadors" to ensure compliance. 
These ongoing concerns have emerged as officials and residents debate about what activities should be allowable as the city has entered into its first phase of reopening. Some have questionedwhy officials such as New York City Mayor Bill de Blasio have signed off on allowing protests, where maintaining distance is difficult, but not other gatherings. New York state officially only allows any gatherings of up to 10 people right now. 
"We're seeing a social movement growing before our very eyes that's addressing 400 years of oppressive reality in this country, 400 years of structural racism, and demanding a change … That's a very, very different reality than people going to a bar or restaurant to pick up a drink or pick up food and knowing that from months and months the rule has been get your food and go home," de Blasio said on Tuesday. 
But the debate also goes beyond restaurants and bars. Three Orthodox Jews and two Catholic priests filed a lawsuit against New York state for continuing to restrict religious gatherings while allowing mass protests, asking that they be allowed indoors or outdoors at the same scale as the protests. Several Orthodox Jewish elected officials in Brooklyn have also pushed back against the closure of playgrounds by forcibly reopening them to kids. 
One thing is certain: a combination of protests, reopening and ongoing flouting of COVID-19 guidelines may well position New York for another coronavirus wave. 
Powered By
NEXT STORY: The Cuomo Show ends this week