Coronavirus
The balancing act in reopening New York's economy
Officials have been weighing public health imperatives with jobs and business activity.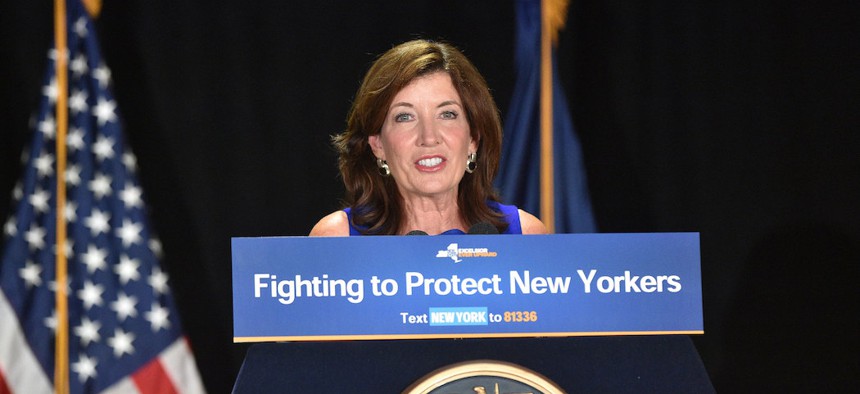 When New York City entered the official first phase of reopening on June 8, the entirety of the state had finally reopened to some degree. Downstate suburbs are entering Phase 2, which includes limited in-store retail and outdoor dining, while parts of upstate are approaching Phase 3, which allows for limited indoor dining and spas. As each region advances, the reopening comes with dual concerns: the risk of a spike in cases and efforts to restart the sputtering economy. 
In a City & State webinar on Tuesday, New York officials said that despite some complaints by local officials, the state is working to balance the economic needs of the state with necessary public health precautions to keep transmission of the coronavirus to a minimum.
Lt. Gov. Kathy Hochul said during the webinar that the success so far in reopening has been thanks to the coordinated approach laid out by Gov. Andrew Cuomo. Each region of the state must hit the same metrics and keep the spread of COVID-19 under control in order to reopen. The strategy requires significant communication between the state and local levels of government, and Hochul said she has been working closely with her home region of Western New York. "If a county says I need more testing kits, I have a spike in a nursing home, I need to have more help with contact tracing, that daily call is our early warning system to say to Albany, the counties need help," Hochul said. "And that's happening all over."
Yet there have been some bumps in the road. Cuomo said that regional control rooms would monitor the various reopening metrics for any potential spikes, and would have the ability to hit the brakes if troubling numbers arose. But some local officials, particularly in upstate New York, have complained that they have been left in the dark about key reopening decisions until the last minute. The control rooms have reportedly been marred by disorganization and miscommunication.
Hochul brushed aside criticism about the regional control rooms. "The state is cooperating here," Hochul said. "That is why we get together literally every single day and see what's happening, what concerns you have. How can we help?" 
Rep. Tom Suozzi said he has been impressed by the state's handling of the reopening. "You can't have every local municipality making decisions," Suozzi said during the Tuesday webinar. "Some of them have the capacity, but many of them don't have the capacity to do all the data-driven decisions that this administration has done."
According to Hochul, those decisions still require a degree of flexibility as new data emerges. She used outdoor dining as an example of a recent change made to the reopening plan. It had originally been part of Phase 3, when restaurants can resume indoor dining, but the governor recently moved it up to Phase 2 instead. 
Suozzi added that the expansion of testing and contact tracing has been crucial to the reopening, ensuring that leaders have the best data available as soon as possible to make decisions. "We have to figure out and learn from each step as we go along," Suozzi said. "Some people are anxious about reopening, other people are anxious to reopen."
Many in the state are worried about a resurgence in coronavirus cases, especially following the days of massive protests around the state against police brutality in the aftermath of George Floyd's death while in the custody of Minneapolis police. Hochul said she and the governor are "legitimately concerned about" the issue, explaining that the state had opened additional testing sites and officials are encouraging anyone participating to get tested. However, Hochul said that despite worries beforehand, no significant spike happened after Memorial Day weekend, when many people headed to the beach. "We're always going to be … sending out the warning, asking people to be really smart and evaluating the data," Hochul said. Suozzi argued that the federal government should be footing the bill for a million tests a day in New York to track emerging outbreaks throughout the state.
A second wave is likely in the fall and winter if a vaccine is not available, according to health experts. Even the best adherence to mask wearing and social distancing cannot completely prevent the spread of COVID-19 when people begin returning to some degree of normalcy. But Hochul said this time around, the state will be ready, from ventilators and personal protective equipment to scaling up hospital capacity. "We have no desire to ever put New Yorkers through when they just endured," Hochul said. 
And for New Yorkers worried that their lives will be put on hold again like they have been for the past several months, Hochul said that thanks to testing, tracing and careful monitoring, the state should be able to keep outbreaks contained without the most severe social distancing restrictions. Rather, the governor would likely take more targeted mitigation measures earlier if the numbers in certain regions warrant it. "I don't think we'll ever have that wholesale closure that we had to deal with before because we know how to handle this now," Hochul said.