Campaigns & Elections
The demise of the election night party
Campaigns are moving events online for the June 23 primary.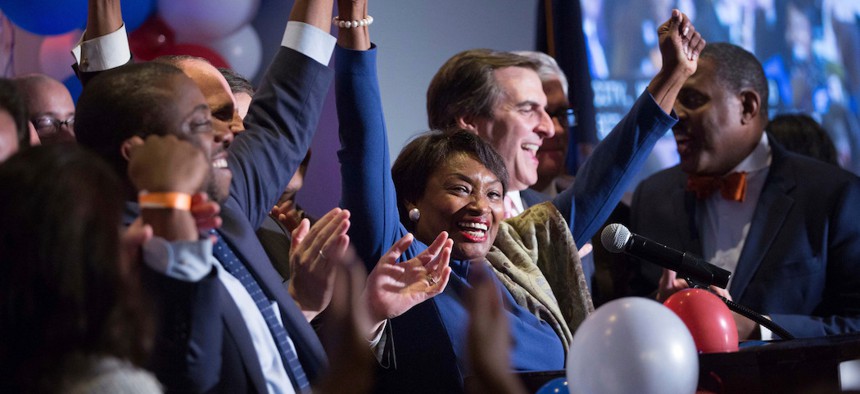 Election night watch parties usually have a few key components. You need a big screen TV, plenty of signs and as many loud supporters as you can cram into a neighborhood bar or convention center. They are all there to serve one overriding purpose: making the candidate look good while allowing folks to have as much fun as possible. The right optics can even transform a political nobody into a star by the end of the night – especially if it's a winning candidate.
In a normal election cycle, campaign staff might spend weeks getting the details right for election night, according to longtime Democratic operative Darren Rigger. "It was always factored into the GOTV budget," he said. "You would set aside some money for a venue, food and drink. The size was always tricky based on if you were going to win or not." 
But that is all over now, and campaigns for the June 23 primaries are going to have to figure out plans on the go. The coronavirus pandemic means there are practical and political restraints on hosting traditional election night events. Zoom appears to be the only option for many campaigns, and hardly a substitute for what could have been in the before times. 
"It can feel really disconnected when you're each in your home," said Christina Gonzalez, who is working on Jessica González-Rojas' primary campaign against Democratic Assemblyman Michael DenDekker in Queens. "How sad it'll be to not get together that night to celebrate (and) let off steam and dance to Bad Bunny together."
It is hard to make plans when bars and restaurants are closed to parties and in-person gatherings are limited to less than 10 people statewide. A campaign could theoretically hold an event in some outside venue like a park or a big backyard while donning full PPE and keeping social distancing space. However, the logistics of finding the right space, getting people there and paying for everything along the way are inherently tricky, according to campaign insiders. 
Plus, there are political risks inherent to staging an event where people could spread the coronavirus. What candidates want to be known for hosting an event where a bunch of people contracted a deadly pathogen? It also comes off as more than a little tone deaf to hold a political event at a time when the COVID-19 death toll is still rising. An ill-conceived election night party invitation could even hurt a candidate's chances to win, if it makes a campaign look like it is playing fast and loose with public health guidelines.
Plus, there might not be anything to celebrate on election night itself. Early voting and the expansion of mail balloting this time around has injected uncertainty into the electoral process. The coronavirus also poses a danger to poll workers and local election boards, which could further delay results. Remember the 2019 Democratic primary for Queens County district attorney? If one race could take weeks to figure out, what is going to happen with dozens of competitive races across the state?
That is why campaigns are taking a cautious approach on June 23. "I highly doubt any events will be held in person," said Democratic political consultant Jake Dilemani. But that does not mean that campaigns have to just hold a boring Zoom meeting with no flair at all. 
Cameron Koffman, a Democrat challenging Assemblyman Dan Quart in Manhattan, is one of several candidates looking to spice things up, for however long the vote counting takes, by having supporters order from the same restaurant on election night – which will offer a discount for anyone usingthe coupon code "Cameron," according to campaign spokesman Martin Rather. 
"All of Cameron's supporters will then all 'eat together' on election night," Rather said. "We're ironing out the final details now, but I can tell you this – I've asked for the deal to be valid through June 30."