NYPD
The reforms in store for the NYPD
What's poised to change for the police – and whether it will make a difference.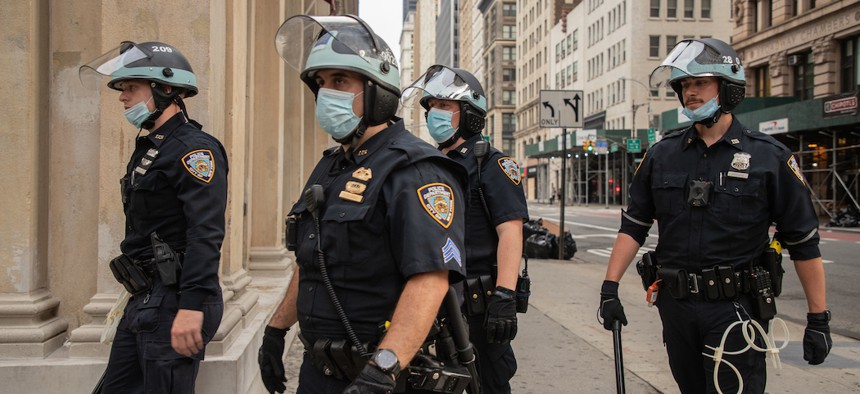 The times are a-changin', and long-stalled reforms to policing in New York City are suddenly sailing through one after the other. 
On Thursday, the New York City Council passed the Public Oversight of Surveillance Technology Act – a bill that's languished in the council since 2017, and which will force the New York City Police Department to disclose the technology it uses. 
The day before, New York City Mayor Bill de Blasio announced that police disciplinary records would be posted in an online database. But while some advocacy groups are hailing these measures as steps in the right direction, others say that some of the reforms announced by City Hall so far are surface-level changes.
In light of the many NYPD reforms that have been floated in the weeks since the recent protests against police brutality began, here are some of the recent citywide changes that have either been announced or proposed by de Blasio, the City Council or even the NYPD brass themselves. (For statewide reforms, check out this list.)
The POST Act
The POST Act would require the NYPD to submit information about the surveillance technology it uses, open it up to public comment, and have the police commissioner submit a surveillance impact and use policy report to the City Council. Essentially, it would shed light on the tech the NYPD uses. "Finally, after the POST Act (passes), we will have a requirement that the NYPD tell us what systems they're purchasing so they can't use them for years without any public pushback the way they have in the past," Albert Fox Cahn, executive director of the Surveillance Technology Oversight Project, told City & State on Wednesday. Cahn mentioned examples of NYPD surveillance tools including facial recognition – a technology that has been shown to have racial bias in identifying faces. 
But Cahn – who has been one of the leading advocates for the POST Act since 2017 – notes that the bill wouldn't necessarily change anything about the way the police use that technology. "This is the weakest surveillance oversight legislation in the country," he said. "And so we see this as just a first step, but an indispensable first step because we can't regulate these technologies until we know what's being used."
Posting disciplinary records online 
While the state voted to repeal Section 50-a – a law that shielded police disciplinary records from public view – anybody who wanted access to those records would have likely had to go through the cumbersome (and often fruitless) process of filing a Freedom of Information Law request. But on Wednesday, de Blasio announced a new measure that appears to put those records closer to the public's grasp. By July, the city said it will publish the results of NYPD officers' disciplinary trials in an online database, including pending charges against 1,100 officers. Information including the officer's name, charges against them and trial date will be posted, as will the results of the trial as decisions are made.
De Blasio also said that eventually, the goal is to expand this into a larger online database, with searchable information on every active officer and their disciplinary history. That expanded database, City Hall officials said, will include not just information related to NYPD disciplinary trials – which are only triggered by the most serious allegations of misconduct – but information on lesser types of misconduct as well. Joo-Hyun Kang, director of the advocacy group Communities United for Police Reform, said that having all disciplinary and misconduct information is crucial. "It could be a very positive step, or it could not. It's one of those cases where how positive it is really depends on the details," Kang told City & State, adding that ideally all misconduct and disciplinary actions for officers would be posted online. "We've got some skepticism. If they put this up, and it's as comprehensive as it needs to be, we'll applaud it then."
Politico reported that the city has not established a deadline for getting this larger version of the database online, but de Blasio said that he wants "everything we have to be put online as rapidly as it can." An NYPD spokesperson told City & State: "The NYPD is committed to developing an online database of disciplinary records. Work has already begun to develop an effective system."
Disbanding plainclothes anti-crime units
On Monday, NYPD Commissioner Dermot Shea announced that the department is disbanding its anti-crime units – made up of about 600 undercover plainclothes officers who patrol the city's streets, targeting violent crime and illegal guns in particular. "This is a seismic shift in the culture of how the NYPD polices this great city," Shea said, adding that the officers in those units – with a few exceptions, including those working in transit stations – will now be reassigned. "It will be felt immediately in the communities that we protect." The anti-crime units had been a part of a number of police-involved shootings, including the 2013 killing of 16-year-old Kimani Gray in Brooklyn. Members of an earlier, now disbanded version of plainclothes units – called the Street Crime Unit – killed Amadou Diallo in 1999. 
But some argue that the measure simply shuffles cops around, and falls short of the widespread reforms being called for by advocates. "It's primarily smoke and mirrors," Kang said, noting that dismantling the anti-crime units but moving the officers within them to other positions doesn't achieve the goal of a smaller police presence. "It's kind of like cosmetics and rearranging furniture, but it's incredibly dangerous because you're taking some of the most brutal, vicious cops on the force and putting them into regular patrol in roles that include community policing," she said. Asked for comment on the allegation that disbanding the plainclothes unit would be an ineffective step, an NYPD spokesperson referred City & State to a video of a press conference Shea held on Monday announcing the move to disband the units. "This is a policy shift coming from me personally. The men and the women of the Police Department were doing what I and others before me have asked," Shea said. "They have done an exceptional job, but again, I think it's time to move forward and change how we police in this city. We can do it with brains, we can do it with guile, we can move away from brute force."
$1 billion in cuts
Advocates' calls to defund the police are being heard. The New York City Council has proposed $1 billion in cuts to the NYPD, with targeted areas including the department's overtime budget and canceling the upcoming class of cadets. These types of cuts, however, will be up for debate as part of the council's budget negotiations with City Hall.
Shifting responsibility for school safety, traffic enforcement 
While the NYPD has been resistant to budget cuts, Shea appears to not be completely blind to the growing appetite for reform. In an interview on Tuesday with The Associated Press, Shea indicated some openness in moving functions like school safety and traffic enforcement out of the NYPD's control. De Blasio said earlier this month, however, that he believed school safety functions should remain as they are – under the NYPD, as opposed to the Department of Education.
Badge visibility
The City Council passed legislation from City Councilwoman Alicka Ampry-Samuel on Thursday that requires officers' shield numbers or rank designations to be visible. Over the course of protests these past few weeks, many have complained that NYPD officers were covering up their badge numbers in an attempt to dodge accountability. This bill would allow individuals to sue if they can demonstrate that they asked an officer to show their badge information and the officer refused.
Criminalizing chokeholds, traffic stop data and more 
A number of additional reforms were passed by the City Council on Thursday, including legislation introduced in 2015 that would criminalize the use of chokeholds – though state lawmakers approved a similar law earlier this month – along with legislation from Public Advocate Jumaane Williams codifying individuals' right to record NYPD officers when acting in their official capacity as cops. Another measure passed on Thursday requires the NYPD to create a disciplinary matrix outlining penalties for specific violations of NYPD rules. Another bill advocates have pushed for that has not been passed is one  introduced by Councilman Donovan Richards in 2019, which would require the NYPD to submit a quarterly report on all traffic stops, with information on the race and ethnicity of drivers pulled over.