New York City
The sticking points as the New York City budget deadline nears
The New York City budget for fiscal year 2021 is due before midnight on Wednesday, July 1, but Mayor Bill de Blasio and the New York City Council have yet to reach an agreement. Here's why.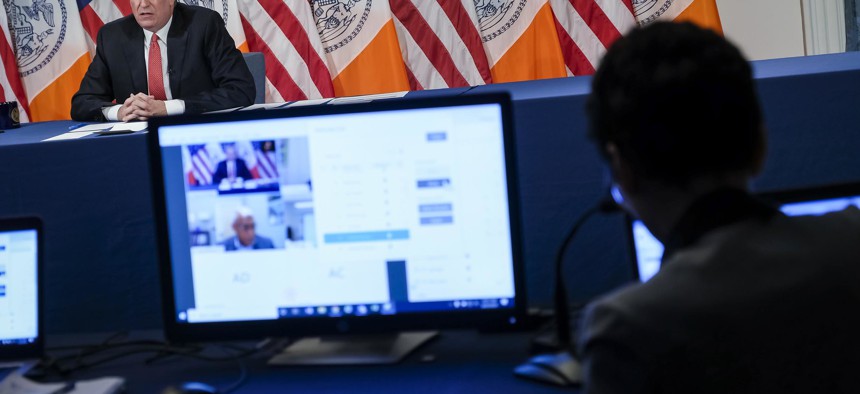 Everybody's working for the weekend. The New York City budget for fiscal year 2021 is due before midnight on Wednesday, July 1. And since Mayor Bill de Blasio and the New York City Council have yet to reach an agreement, discussions are scheduled to continue on Saturday – without any in-person meetings of course, because of the coronavirus pandemic.
"We have to keep negotiating, because we are not where we need to be at this moment," Council Speaker Corey Johnson said at a Thursday press conference. 
That held true as of Friday evening. "We are still far apart," a source close to the negotiations told City & State. "Little bit closer but still far apart as of now."
The source said a deal was unlikely this weekend "unless the mayor caves" as discussions within the City Council continued on Friday. 
It's hard to overstate the difficulty of setting this year's budget. The economic downturn caused by the coronavirus pandemic prompted de Blasio in April to propose slashing the upcoming budget by $6 billion. After spending $97.4 billion in the past 12 months, the city is planning to spend a significantly reduced $89.3 billion in the next 12 – and maybe even less. A more recent May forecast of dwindling revenue suggests that de Blasio may have to reduce spending by another $1.5 billion. From how much to slash funding for the police, to a fight over whether the city should take on billions of dollars in debt, here are some of the biggest sticking points as the de Blasio administration and the City Council continue to negotiate the budget.
Defunding the NYPD budget
In the wake of nationwide protests against police brutality and systemic racism, a popular call emerged: "Defund the police." That demand has taken many forms in the city, but the most prominent is a proposed cut of at least $1 billion to the New York City Police Department budget and redistributing the savings to social services. The NYPD's fiscal year 2020 expense budget was $5.6 billion, so $1 billion less would be major – reducing spending by nearly one-fifth.  By comparison, the city's total expense budget is expected to be reduced by somewhere around 4%.
Budget watchdogs have been calling for a reduction to the NYPD's budget for years, but this year Johnson and other City Council leaders are on board. They released a statement June 12, following two weeks of protests, saying that the NYPD budget "can and should" be reduced by $1 billion. 
De Blasio has agreed that the NYPD's budget will be cut, but rejected the $1 billion figure, echoing concerns from within the NYPD that such a reduction could cause the crime rate to spike. However, there's little evidence nationally that increased spending on police leads to a decrease in crime. Still, de Blasio on Friday promised "something very, very substantial" without specifying how much exactly would be cut. 
Meanwhile, the $1 billion-or-more demand has gone mainstream. And hundreds of activists have camped outside City Hall in an Occupy Wall Street-style protest to maintain pressure on city officials, ensuring that the final dollar figure will be closely watched.
Reinvesting in social services
Budget cuts are inevitable, but exactly where the money gets cut is a matter of debate with every budget. On Thursday, Johnson highlighted his concerns with de Blasio's proposal, saying it "decimates youth programs" and reduces school spending in ways that affect classrooms instead of reducing bureaucracy at the Department of Education. Given the way the coronavirus shut down schools and closed many workplaces, youth programs seemed like an obvious place for cuts. But the reaction, particularly from groups that normally receive the funds, was swift and critical, and Johnson seems to have heard them. "We don't believe the answer is this moment is the status quo on police funding while decimating social services and the social safety net and education," he said on Thursday. Every year, the council makes a push for more funding for the Summer Youth Employment Program, which pays employers to hire teenagers for the summer. De Blasio had originally proposed cutting it entirely, saving the city $124 million. But advocates extoll its benefits, including in reducing crime by keeping young people busy, and this year its budget line will be as closely watched as ever. 
So too will the discretionary funding allocated to City Council members that usually goes toward neighborhood nonprofits. De Blasio's office has put those allocations on the chopping block, and council members are furious. "It's hard to negotiate with someone who is willing to not fund services for (domestic violence) survivors, Holocaust survivors, food for seniors (and) elder abuse services," New York City Council Member Helen Rosenthal told City & State Friday. "With the mayor unwilling to respect the programs that the council funds, he makes it difficult to move forward."
Borrowing for expenses
When de Blasio originally floated the idea of asking the state Legislature for authority to borrow $7 billion to balance the city budget, it was roundly rejected by Johnson and the Council, not to mention Gov. Andrew Cuomo. Now as the city's budget deadline approaches, de Blasio has revised his request, saying he would just borrow $3 billion for this upcoming fiscal year and $2 billion for the next. And Johnson has warmed up to the idea, especially if it means he won't have to make as many spending cuts. "I am open to a responsible borrowing plan," Johnson said on Thursday. But the borrowing wouldn't happen immediately – it would just be a backup option if the federal government fails to deliver aid for local governments spending heavily on the coronavirus response. "Maybe that will come," de Blasio said on Friday of the federal funding. "But we need the fallback of borrowing."
Job cuts
De Blasio has gradually come around to the idea in the last few months. There was no mention of job cuts in his April executive budget. Then he raised the possibility of furloughs in May. Now it's June, and de Blasio is saying that 22,000 city workers may have to be laid off. The mayor's critics say it's a gambit. If job losses are on the table, then preventing those takes priority over anything else, like funding for social services. The City Council's Progressive Caucus released a statement Friday saying its members reject de Blasio's "negotiation tactic of threatening to lay off 22,000 city employees and to cut essential discretionary-funded programs" as the budget deadline approaches.  
But de Blasio didn't back down on Friday. "We have not seen city layoffs of that level since the 1970s fiscal crisis," he said. "I hope we never see them, but right now we have to fill that budget gap."
Powered By
NEXT STORY: A pandemic primary and Occupy City Hall