NYPD
What the NYPD patrol guide says about use of force
During the protests, New York City Police Department officers have not been following their own guidelines.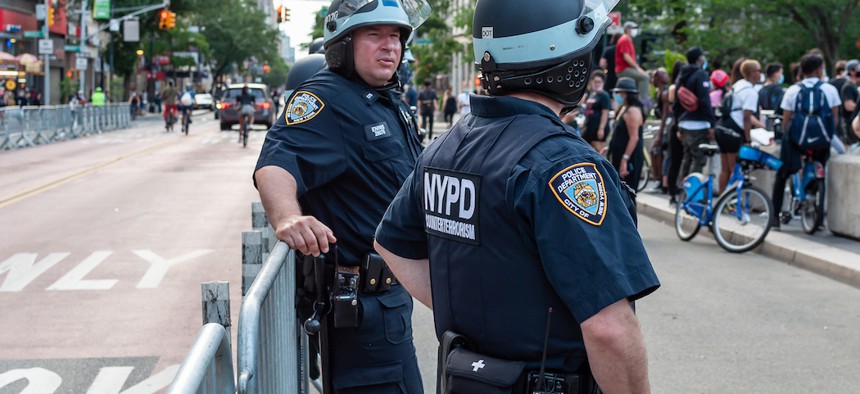 Since May 29, protests against systemic racism and police brutality have been taking place in New York City on a daily basis.
Tensions between protesters and New York City Police Department officers have been palpable, and numerous videos have been circulating online of cops beating, pepper-spraying and driving their patrol cars into crowds of protesters.
A week ago, New York City Mayor Bill de Blasio announced that the city that never sleeps would have a overnight curfew, lasting from 11 p.m. to 5 a.m. The following day the curfew restricted city dwellers from leaving their homes between 8 p.m. and 5 a.m., which only heightened the strain between protesters and the police. Police officers were filmed chasing and beating protesters that were out after the start of the curfew. Responses to these videos have alleged that police officers were using excessive force and violating their code of conduct in an effort to quell social unrest. The NYPD did not immediately respond to a request for comment.
City & State combed through the NYPD Patrol Guide to better understand whether the police have been acting inappropriately, according to their own standards. Here is what the NYPD Patrol Guide said regarding different uses of force.
Use of force
The term "use of force" refers to a wide range of actions from hitting an individual to shooting a firearm. Over the past week, a number of protesters and journalists recorded instances where individuals were beaten, shoved or hit with batons by the police.
NYPD officer just called a female protester a "stupid fucking bitch" and threw her to the ground pic.twitter.com/18YUHYmqQa

— Jason Lemon (@JasonLemon) May 30, 2020
A lot just popped off at the protest for George Floyd at the Barclays Center in Brooklyn. Pepper spray, batons, and several arrests. pic.twitter.com/ZuciQA82fe

— Jon Campbell (@j0ncampbell) May 29, 2020
It's exploded at Barclays. Many arrests. Cop hit me with baton when I was filming pic.twitter.com/NKPoPMHl1v

— Noah Goldberg (@Noah__Goldberg) June 1, 2020
Here's what the Patrol Guide said regarding the general use of force:
"The primary duty of all members of the service (MOS) is to protect human life, including the lives of individuals being placed in police custody. Force may be used when it is reasonable to ensure the safety of a member of the service or a third person, or otherwise protect life, or when it is reasonable to place a person in custody or to prevent escape from custody. In all circumstances, any application or use of force must be reasonable under the circumstances. If the force used is unreasonable under the circumstances, it will be deemed excessive and in violation of Department policy."
The document also said that officers who fail to intervene when they see another officer use excessive force or report the incident are similarly in violation of the department's policies, which can result in discipline or dismissal.
Pepper spray
On May 30, a protester had his mask pulled down by an NYPD officer and was then pepper-sprayed in the face. The NYPD has since suspended that officer and said it is investigating the incident.
I am heartbroken and disgusted to see one of my family members a young black man w/his hands up peacefully protesting and an NYPD officer pulls down his mask and pepper sprays him. @NYCSpeakerCoJo @BPEricAdams @FarahNLouis @JumaaneWilliams @NewYorkStateAG @NYPDShea cc: @EOsyd pic.twitter.com/tGK5XWS0bt

— Ms. Anju J. Rupchandani (@AJRupchandani) May 31, 2020
Here's when the Patrol Guide advises officers to use oleoresin capsicum pepper spray:
"O.C. pepper spray may be used to gain or maintain control of persons who are actively resisting arrest or lawful custody or exhibiting active aggression, or to prevent individuals from physically injuring themselves, members of the service, or other persons. O.C. pepper spray may be used in arrest or custodial restraint situations where physical presence and/or verbal commands have not been, or would not be, effective in overcoming physical resistance. O.C. pepper spray shall not be used in situations that do not require the use of physical force.
"In many cases, O.C. pepper spray will reduce or eliminate the need for physical force to effect an arrest or gain custody. It will often reduce the potential for injuries to members and suspects that may result from physical restraint and it should be regarded as a possible alternative to such force and restraint, where practical."
The guide also advises officers to "flush the contaminated skin area of a subject with profuse amounts of water" after they have been pepper-sprayed and to continue flushing the contaminated area at the stationhouse if needed.
Threatening to fire a gun
During a protest early on June 1, an NYPD officer pulled a gun on protesters during a chaotic encounter near Manhattan's Union Square. Police hit protesters with batons, moving them out of the intersection. A protester then hit an NYPD official in a white shirt, which denotes a more senior officer, in the back with some type of implement. Soon after, another officer pulled out a gun but did not fire it.
The Patrol Guide said that officers should not fire their gun "when, in the professional judgment of a reasonable member of the service, doing so will unnecessarily endanger innocent persons." It also states that officers are not allowed to "cock a firearm."