New York State
With Flanagan's exit, state Senate GOP gets fully behind Trump
#MAGA politics are on the rise as upstaters take control of the minority conference.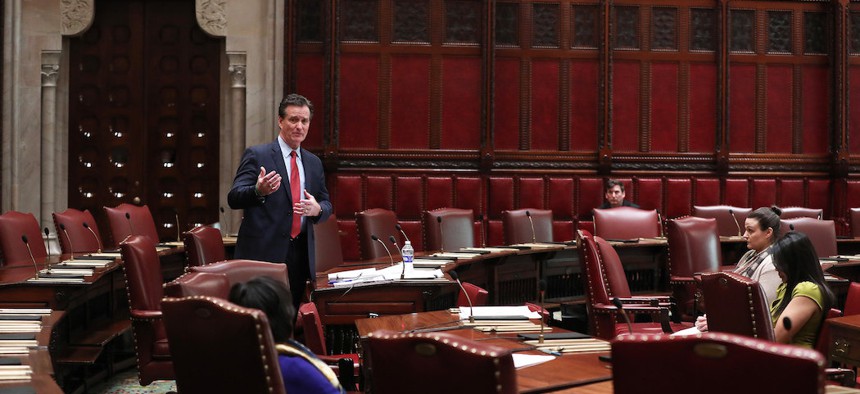 Three of the past four state Senate Republican leaders have been Long Islanders, a history that underscores just how much its power depended on holding key swing districts in the New York City suburbs. But that era has been on borrowed time ever since Democrats seized control of the chamber in 2018, leaving just a handful of downstate Republicans in a diminished 22-member Senate conference.
The official transfer of power from downstate to upstate appears to be coming this Friday, when Republican senators vote via Zoom on a new minority leader to replace John Flanagan. The longtime Long Island legislator announced Tuesday that he would vacate his position on June 28, reportedly to take a position as Northwell Health's vice president of regional government affairs in Suffolk and eastern Nassau counties.
State Sens. Robert Ortt and Pat Gallivan have emerged as the leading candidates to replace Flanagan. Deputy Minority Leader Joe Griffo announced on Tuesday that he would not seek the position leading a conference that has seen ten members announce their retirements in recent months. 
The election of either Ortt or Gallivan – both Western New York conservatives – would not only give the conference their first upstate Senate leader since Hudson Valley lawmaker Joe Bruno was ousted in 2008. It also one the latest sign that state Republicans are heading in a more pro-Trump direction. 
"Flanagan is well respected for his ability to cross Republican lines," said Democratic consultant Evan Stavisky. "It seems like most of the major candidates who are running for leader represent districts that are far more pro-Trump than anything else." 
Gallivan, a former state trooper, was crediting Trump for fostering an "awakening" against political elites before the 2016 election. When Ortt, a former soldier, launched his unsuccessful bid to replace Rep. Chris Collins last year, the state senator described himself as a "battle-tested patriot" for the MAGA cause. By contrast, Flanagan only endorsed Trump after he became the Republican Party's presidential nominee in 2016, and at times distanced himself from the White House. 
And like other Republicans across the country, Ortt, Gallivan and other members of their conference are defining their political struggles as a fight against big-city liberals. "Our upstate community needs to counter the current One-Party-Rule of New York, which has successfully funneled state government's power, attention and resources directly into the five boroughs," state Sen. Fred Akshar, who is supporting Gallivan for minority leader, said in a statement on Tuesday. 
If 2016 voting patterns hold true, Trump would be favored to win most parts of upstate this year, outside of big cities like Rochester, Buffalo and Syracuse. The president still has a 71% approval rating among state Republicans overall, a number that reflects how popular he still is with Senate Republicans' constituents despite the hit Trump has taken in recent months. 
Defining everything happening in Albany as the work of downstate Democrats undermining upstate residents is well in line with the president's brand of politics. What that means for the party's political fortunes in New York remains to be seen. 
"It won't be about John Flanagan," Bruce Gyory, an adjunct professor of political science at the University at Albany, said when asked how the recent legacy of Long Island leadership will define the New York GOP moving forward. "It will be about how the Republican Party in New York deals with the Trump brand." 
Powered By
NEXT STORY: 5 things we'll never do again