New York City
Congress is getting more diverse. Now its caucuses could too.
Why Ritchie Torres wants to be the first member of both the Congressional Black Caucus and the Congressional Hispanic Caucus.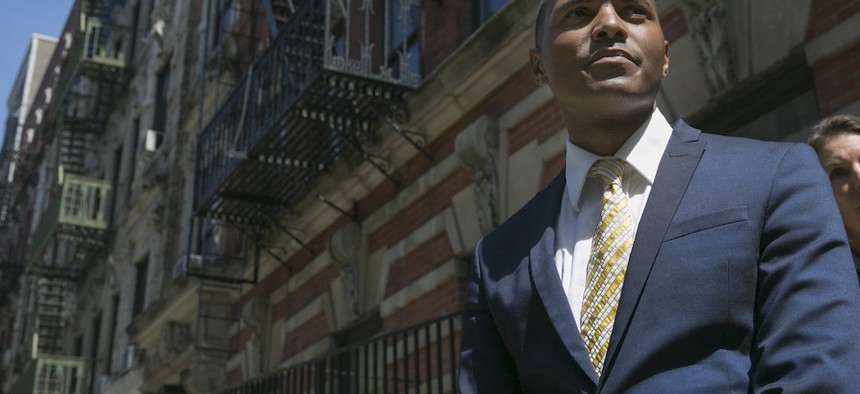 Ritchie Torres has not yet been elected to Congress, nor has he – at the time of writing – officially been declared the winner of the Democratic primary in New York's 15th Congressional District (though his chances look good). But already, the Bronx politician is ruffling some feathers on Capitol Hill.
Torres, a Bronx native who identifies as Afro-Latino, wrote an op-ed for The Washington Post on Sunday arguing that if elected to Congress, he should be allowed to join both the Congressional Black Caucus and the Congressional Hispanic Caucus. "There is an antiquated rule that prohibits members of Congress from joining both the Congressional Black Caucus and the Congressional Hispanic Caucus," Torres wrote. "You have to pick a side, so to speak. You can be either Black or Latino, but never both. In real life, however, I am both."
Rep. Karen Bass of California, chair of the Congressional Black Caucus, later clarified that there's no official written rule preventing members of the caucus from also joining the Congressional Hispanic Caucus, but acknowledged that it has been their tradition, mainly because the issue hasn't come up often. As Politico reported, four members of the Congressional Black Caucus are also members of the Congressional Asian Pacific American Caucus.
Bass, too, appeared slightly irked with Torres, saying that the potential new congressman didn't reach out to the caucus about whether he would be welcomed in. "We will have to have a discussion about the article that Ritchie Torres wrote about the Black Caucus, because I'm sure it was not perceived well by members of the caucus," Bass told Politico.
Still, with Torres applying public pressure before he even makes it to Washington, an unofficial tradition could fall by the wayside. As Congress becomes more diverse, some of its most powerful caucuses could too. "It is absolutely something we are going to take up and figure out how we deal with," Bass said this week.
Torres, however, is not the first person to be in this position. In fact, New York alone has a handful of members identifying as Black and Latino. Rep. Antonio Delgado, who was elected in 2018, is a member of the Congressional Black Caucus, while Rep. Adriano Espaillat is a member of the Congressional Hispanic Caucus. Delgado did not respond to a request for comment and Espaillat declined to be interviewed for this article.
But Espaillat actually raised this same issue in 2017, when he wanted to join both the Black and Hispanic caucuses. The first Dominican American elected to Congress, Espaillat first joined the Congressional Hispanic Caucus and later tried to join the Congressional Black Caucus as well. He was ultimately not let in. Bass told Politico it was because of a "specific situation" unrelated to Espaillat's ethnic background, but wouldn't go into detail about it. Politico reported in 2017 that some members of the caucus were angry that Espaillat had challenged former Rep. Charles Rangel, one of the caucus's founding members.
But the question of who should be allowed to join the Congressional Black Caucus goes back to its founding in 1971, Domingo Morel, an assistant professor of political science at Rutgers University, Newark, told City & State. "From its very founding, there were debates about how inclusive the body should be. For instance, you had Shirley Chisholm – from New York, from Brooklyn – who had a significant Puerto Rican constituency, and she was advocating for a more inclusive body," Morel said.
While Bass said that it's not in the caucus's bylaws to keep members from joining other racial and ethnic caucuses, some said there are clear historical reasons for keeping the Congressional Black Caucus distinct from the Congressional Hispanic Caucus. "Members decided that for various reasons, it makes sense to be specifically the Congressional Black Caucus, because the Black community needed a body in Congress that spoke to the challenges of Black America, of Black citizens," Morel said.
Today, Congress is more racially and ethnically diverse than it has ever been. Black, Hispanic, Asian, Pacific Islander and Native American members make up 22% of Congress, so those hard lines could blur in the future. "You're going to see that I think a little bit more as Congress begins to reflect the country at large, increasingly," said Carlos Algara, an incoming assistant professor of political science at the University of Texas at El Paso. "I think Ritchie Torres is going to be the beginning of a trend – particularly in these more diverse communities where progressive challengers are really taking hold."
Robert Preuhs, a professor of political science at Metropolitan State University of Denver, said that one of the goals of both the Black and Hispanic caucuses has been to increase the representation of their communities in elected office. As diversity improves, part of the impetus to keep the bodies distinct could fade. "Some of the critical mass that each group was aiming to achieve in terms of membership in Congress is getting close to being met," Preuhs said. Still, racial and ethnic diversity in Congress lags behind the general U.S. population.
But while Preuhs said that the Black and Hispanic caucuses overwhelmingly agree on the issues and vote together on legislation, it's possible that their campaign or election wings could come into conflict. "Those are the groups that probably have the strongest desire to maintain those distinctions, as they try to advocate for either African American or Latino candidates – particularly in districts where there are large populations of both African Americans and Latinos, and there's one seat to compete over," Preuhs said.
Torres noted in his Washington Post op-ed that his experience and perspective is inseparable from his identity as a Black and Latino man. "Expecting Afro-Latinos like myself to be politically alienated from our own blackness – at a time when Black Lives Matter has become the rallying cry of a racially awakened nation – is the cruelest of ironies," he wrote. Asking someone to choose one community to identify with formally is a kind of fracturing of their identity, Morel said. "This is part of their identity, and then asking them to only pick one – it's part of an experience that they are rejecting," he said.
Along with preventing Torres and others in his position from having to reject part of their identity, joining both caucuses also comes with practical advantages – especially if he is elected this year and faces primary challengers in the heavily Democratic district in 2022. "It makes perfect sense why he would want to join both caucuses," Algara said. "He can go back to his different constituencies and say to the African American constituency, 'I'm working on these issues that are important to your community,' and then he can go back to the Hispanic constituencies and say, 'I'm working on these issues that are important to your communities.'"
Joining any caucus at all, Algara added, allows new members to rise in ranks, move up in Democratic circles and have an avenue to advocate for one's own interests. That may be especially true of the Congressional Black Caucus. "I would argue the Congressional Black Caucus is perhaps the most prominent caucus on the Hill," Algara said. "This caucus protects its members, they have access to caucus-based donor networks and they're able to collaborate on legislation."
Though Torres still has a few steps before his potential caucus membership becomes a reality, he could end up being the first member of both the Congressional Black Caucus and the Congressional Hispanic Caucus – yet another barrier he'd be smashing. "I'm happy to see that Rep. Bass is bringing this to the body to have a conversation about it, and I think it's only a matter of time before they decide to change this tradition," Morel said. "Whether it's now or in the near future, it's probably inevitable in my view."
Powered By
NEXT STORY: DSA candidates get out the stay-at-home votes