Campaigns & Elections
Democratic momentum building in Western New York
Assembly Member Sean Ryan, seeking to flip Buffalo-area state Senate seat, enjoys fundraising advantage.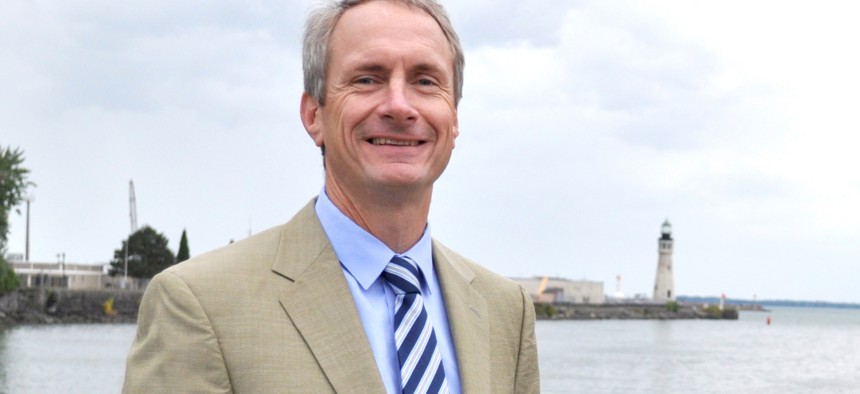 For Democrats, the road to a supermajority in the state Senate goes through Buffalo. 
City & State has exclusively learned that five-term Democratic Assembly Member Sean Ryan will declare more than $415,000 in cash on hand as of the July 15 filing deadline in the race for the Buffalo-area state Senate seat vacated by Republican Chris Jacobs, who recently won election to Congress. Republican nominee Joshua Mertzlufft's campaign has raised less than $20,000. "We have the resources to compete and run an effective campaign over the next 111 days," Ryan – who has raised nearly $600,000 overall for the race, including $212,000 transferred from his Assembly campaign committee – said in a statement first obtained by City & State. These are large sums for a state legislative race. In a mid-sized media market like Buffalo, that signals Ryan can dominate the airwaves without having to worry about a lack of resources for campaign organizers on the ground. 
If that spending advantage proves decisive, it could put Democrats over the top in their quest to secure a veto-proof majority in the upper chamber of the state Legislature. They already enjoy a more than 2-1 advantage in the Assembly, and the party needs just two more seats in the state Senate to reach that same threshold. In addition to Ryan's fundraising, Democrats already look likely to flip the seat in Buffalo and some of its surrounding suburbs, because the district has a Democratic registration advantage and Ryan has greater name recognition than his opponent.
Ryan appears to be benefiting from his longtime political ties to the area, the support of the Democratic establishment and an ability to get contributions in three and four-figure increments, according to his financial disclosures with the state Board of Elections. Avoiding a contentious primary fight for the Democratic nomination for the state Senate also allowed him to conserve resources for the general election. 
Mertzlufft also got his party's nomination without a primary battle, but that still leaves him with significant disadvantages against Ryan. The 28-year-old attorney has never run for office before and his reliance on the standard GOP playbook is notable, considering Jacobs won the district by moving towards the political center. Mertzlufft's campaign website, for example, boasts opposition to bail reform, single-payer health care and other issues that have been more of the hallmark of downstate progressives than Ryan's relatively moderate views. 
Mertzlufft's effort to link Ryan in voters' minds to New York City appears to be a key part of the GOP's increasing reliance on the politics of regional division between upstate and downstate New York. "I believe no amount of money is going to overcome the district's disagreement with my opponent's votes for single-payer healthcare, Bail reform, and a litany of other causes not supported by the people of the 60th," Mertzlufft said in an email, referring to the 60th state Senate District. "We believe we will be able to raise the money we need to get the message out, which is simple: I want to go to Albany to fight for our families, our economy, and our Western New York values."
This fundraising gap is just one of several signs that the state GOP is struggling to avoid a nightmare scenario in upstate New York. If Democrats expand their seats beyond the two they have in the entire western half of the state, Republicans would lose their very identity as the state-level vanguards against New York City liberals. "We need to make them play defense down there," newly-installed state Senate Minority Leader Robert Ortt of Western New York told reporters this week of Long Island and the Hudson Valley. "Otherwise, they're going to be throwing big money into districts upstate or districts that have historically not had money being spent."
Yet, voters appear to be leaning left like never before and that suggests Republicans are facing increasingly long odds to hold to what little leverage they still have in New York politics. Jacobs' five-point margin of victory in a congressional district – the one vacated by former Rep. Chris Collins, who resigned after pleading guilty last year to federal insider trading charges – was surprisingly close considering the Republican's big advantage in party registrations. That hardly bodes well for his party's chances in holding his former district and three nearby districts currently held by retiring GOP state Sens. Rich Funke, Michael Ranzenhofer and Joseph Robach. Democrats have registration advantages in all three, as well as fundraising advantages at the candidate and party campaign committee levels. If Ryan and just one of those other Democratic candidates win, Western New York could deliver the Democrats a state Senate supermajority. 
Of course, the next three months will likely include a number of political surprises. President Donald Trump is running for reelection and while Mertzlufft declined to characterize his level of support for the president, Republicans are likely to turn out at higher numbers this year than they did in 2018 when the president was not up for reelection and a blue wave swept the Democrats into power in the state Senate. Just because the president's popularity has gone down in recent weeks does not mean that it could not improve in the upcoming months enough to help down ballot candidates in Western New York. 
A lot would have to change, however, to save the Republicans from losing the state Senate seat vacated by Jacobs, whose 2016 election once represented the GOP's potential for winning in Democratic-leaning districts in the Trump era. 
Republican state Chair Nick Langworthy, who is leading the party's efforts to rebuild, did not respond to a request for comment, but he has said that Republicans face some simple truths as they seek to hold onto at least 21 seats in the chamber. "We're not going to match them (Democrats) with money,"Langworthy told reporters. "We don't have the loads of people from the union hall … we're reliant, just like our forefathers who founded this country, on people patriotically getting involved." 
Since retaking the chamber appears to be highly unlikely at this point, keeping a third of the state Senate in Republicans hands appears to be the GOP's best chance at keeping the Democrats from dominating the redistricting process or overriding gubernatorial vetoes. A big fundraising disadvantage in the Buffalo area is going to make it even harder for the party to avoid what is increasingly looking to be an impending electoral disaster. 
Powered By
NEXT STORY: Who's driving the Black Lives Matter discussion?