Coronavirus
Mutual aid networks deliver groceries with a side of social change
Neighbors organized to help those impacted by COVID-19 and the recession.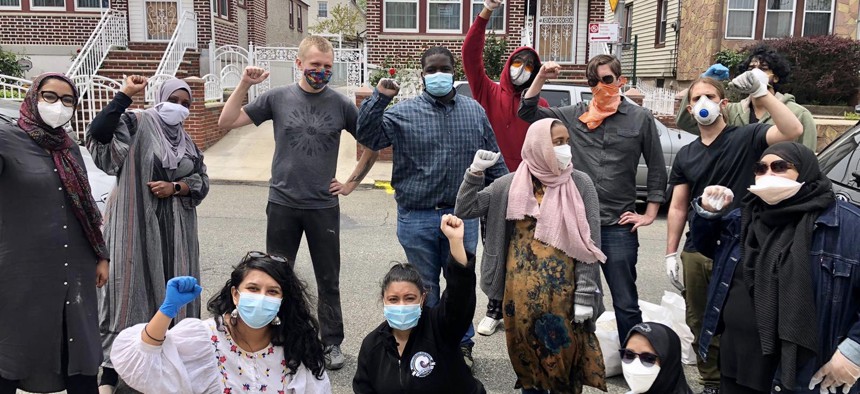 Fawzia Syed never planned to create a network to help hungry New Yorkers. The Long Island resident and nonprofit worker, and a friend, Misha Khan, had volunteered with People in Need, a Brooklyn-based nonprofit working with immigrant communities in Coney Island, for the past year. Because of the COVID-19 pandemic, they decided to raise money for the organization in mid-March. 
But that soon spiraled into requests from more and more organizations delivering food to people in need of help. "My family owns restaurants in the city, Indian restaurants," Syed said. "So I kind of understand food and buying groceries. So I was like, 'Why don't we buy in bulk and see how many people we can help?'"
What has since emerged is LI Helpers, an organized but informal network of volunteers that have delivered meals largely across Queens and Long Island, with goal of supplying primarily undocumented families, single mothers, domestic violence survivors and shelter residents with groceries.
And it's just one of dozens of informal volunteer groups that have been set up to help neighbors in need since the onset of the COVID-19 pandemic. With lockdowns in place, spiking unemployment and widespread coronavirus outbreaks in low-income neighborhoods, many vulnerable New Yorkers were left scrambling for support. 
Early on, several mutual aid organizers said the government response for residents suddenly facing hunger and financial insecurity felt lackluster. "It's very direct-action oriented, versus having some of this red tape that might exist in some nonprofits or city government," said Thahitun Mariam, a community organizer who founded the Bronx Mutual Aid Network. Where her mutual aid group could give direct grants to undocumented families with no questions asked, New York City's $20 million program to give cash assistance to undocumented New Yorkers took three months to rollout. 
Most have organized along geographic lines, whether borough-wide or in specific neighborhoods. These mutual aid networks became a resource for many in their communities, offering grocery deliveries, help with applying for unemployment benefits and even direct cash assistance. 
While that work may seem like straightforward charity, mutual aid volunteers and organizers view it as intrinsically political.Many have been active in protests against systemic racism and police brutality, giving supplies to protesters and calling for the NYPD to be defunded on social media. 
Mutual aid groups that have emerged in the pandemic draw inspiration from similar organizing efforts in marginalized communities throughout history. Recent immigrants to the United States often collaborated in similar ways to support one another during the 19th and 20th centuries. The Black Panther Party, for example, has largely been thought about in terms of its political goals supporting Black power and opposing police brutality, but it often paired that work with social services such as offering free breakfast to children in school and sponsoring health clinics.
When New York was particularly hard hit by COVID-19, many mutual aid groups proliferated in New York City and the rest of the state. They formed through Facebook or shared Google documents and other social media platforms to connect people in need with volunteers who could readily help. 
But as the outbreak has slowed in New York and people found an easier time accessing unemployment insurance and other government resources, many mutual aid networks have tried to prioritize more explicit advocacy and political education into their efforts. 
That became more pronounced after George Floyd's death led to protests against police brutality. The Astoria Mutual Aid Network in Queens offered supplies such as water and hand sanitizer to protesters and passed out legal information. Mutual Aid NYC, a citywide mutual aid group that directs volunteers and people in need to more local groups, criticized New York City's recently passed budget for not sufficiently defunding the police, according to a post in its online newsletter. 
For the Bronx Mutual Aid Network, doing more work on rent cancellation will be a priority moving forward. "A lot of the approach we've been taking is educating the community while also doing these grocery deliveries, while checking in with people, while picking up medicine for folks," said Thahitun Mariam, a community organizer who founded the network. 
The new form of organizing has also presented opportunities for existing left-wing advocacy groups, such as the Democratic Socialists of America, to expand their reach. The Queens DSA chapter launched the Queens DSA Mutual Aid in March, which primarily does grocery and food deliveries. "Mutual aid is allowing us to do more political organizing in spaces where we've never really spoken with people before," said Hinde Sahmoud, co-chair of Queens DSA. 
Sahmoud said the Queens DSA was looking into possibly incorporating the mutual aid initiative into a full-fledged nonprofit. "It's hard to operate for that long without having some kind of relationship to the state," she said, noting that they were still figuring out how to translate the work into a more formalized structure while retaining a less hierarchical organization.
Not all informal structures created to help people through the pandemic are necessarily aligned with the concept of mutual aid. LI Helpers hasn't associated with mutual aid as a term, though it does similar work. "Mutual aids are very political and very vocal. … For ourselves, I think that's not the core part of our identity," Syed said, though she noted that she and most of the volunteers personally hold progressive beliefs. And similar to the Queens DSA Mutual Aid, LI Helpers is also looking to a long-term future as a nonprofit.
Several elected officials and political candidates have taken on the mutual aid label to describe charitable efforts that they've taken on since the COVID-19 outbreak. State Sen. Robert Jackson's office used the term to describe the principles of an initiative connecting district residents to services, volunteer opportunities or organizing "to coordinate relief efforts." State Sen. Jessica Ramos referred to food relief efforts she led as mutual aid in conversation with City & State. 
But State Sen. Julia Salazar tweeted recently that legislators and political candidates shouldn't label work they do as part of constituent services or campaigning as mutual aid. "Lawfully using campaign resources or public funds to provide meals and material support for people is good and we should all keep doing it!" she wrote. "But that's not mutual aid."