New York City
New York City elects its first trans district leaders
Melissa Sklarz and Emilia Decaudin made history in Queens.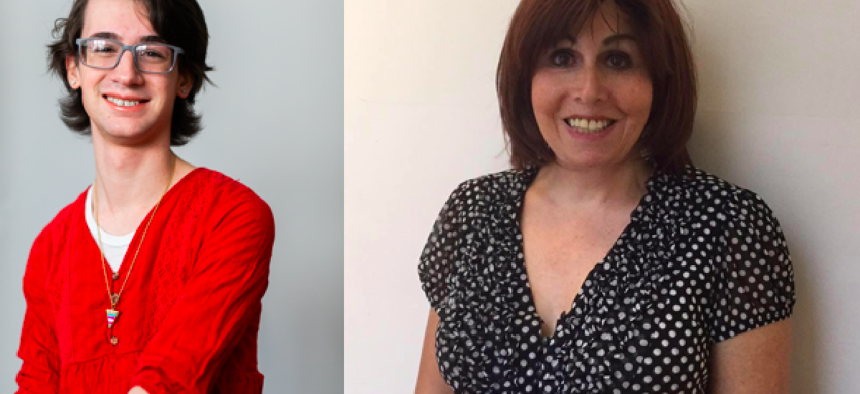 As vote totals were finalized about a month after the June 23 primary, two women in Queens made history: Melissa Sklarz and Emilia Decaudin became the first openly trans people to become Democratic district leaders in New York City. 
District leader positions are unpaid members of a political party's county organization who help to participate in political decision-making, including which candidates receive party support in elections. Sklarz and Decaudin are both Democrats. The positions are split up by Assembly district, often split even further into different lettered parts, and each district must have one male and one female leader. In this case, Sklarz won the election for Assembly District 30, Part B, representing northern Woodside. Decaudin won in Assembly District 37, Part A, representing Sunnyside.
There are still few trans people who have won any elections anywhere in the United States. While, to the best of activists' knowledge, New York still has never elected an openly trans person to any level of government, Sklarz and Decaudin's victories are still significant milestones in the city and state's LGBTQ history. In many cases, political party positions help serve as stepping stones to elected office. Regardless, theirs will be voices never before represented in Democratic leadership positions in New York City. Kristen Browde, a trans woman from Westcher who ran for Assembly and lost in the primary, currently serves as a Democratic district leader in the town of New Castle.
Both Sklarz and Decaudin had previously made history. Sklarz, a long time trans and LGBTQ advocate with a history in Democratic Party politics, became the first openly trans person to win an election in New York, when voters chose her as a delegate to the Democratic Party's Manhattan Judicial Convention in 1999. "I would like to think that the work that we started doing in the political arena in the 1990s continues to create the idea that trans people belong in any place where people belong," Sklarz told City & State. She hopes to promote progressive reform and transparency in the Queens County Party. 
Sklarz also ran for Assembly last year against Assembly Member Brian Barnwell, but she came up short in the Democratic primary. She said she doesn't have any plans to run again, saying that the people of the district spoke two years ago, and that she's focused on her work in the county party and on defeating President Donald Trump in November.
Decaudin became the first openly trans, and the youngest, member of the state Democratic Committee, representing the 94th Assembly District in Westchester. (She won the position in 2018 at the age of 19 and came out in the summer of 2019). 
She grew up in Yorktown, but attends City College of New York and moved to Queens in February.
She is still a member of the state committee, although she no longer lives in Westchester and was therefore unable to run for reelection for that seat. State and county committee positions are up for election every two years, on the same schedule as the state Legislature.
Now, Decaudin hopes to continue the work she started in the state Democratic Committee in her new district leader role, working to help nonbinary New Yorkers enter politics and pushing for trans issues. "I hope that I can serve as an inspiration for other trans people hoping to get involved in their communities and party," Decaudin told City & State. "And (people) don't have to be afraid that being trans means that… they'll be passed up for these opportunities (and) that people around them will believe in them and put their faith in them." 
Decaudin also plans to work with other new Queens district leaders who, like her, ran as part of the New Reformers group to make the county party more transparent and shift it more to the left. Sklarz defeated a New Reformers candidate, Melissa Bair, but said she knows Bair and plans to work with her to achieve their shared reform goals. "There is a fast movement of change happening in the Democratic Party in New York City and the country," said Sklarz. 
Decaudin made waves in the state Democratic Committee for other reasons aside from being its first openly trans member. In October 2019, she successfully proposed to remove binary gendered language from the committee rules. Most significantly, this included eliminating the one male/one female per district requirement for committee members. Instead, each district would have two committee members of different genders, as a means to open the door to people who identify as nonbinary. 
The change at the time was lauded as a progressive victory. Decaudin, who is a trans woman and does not identify as nonbinary, said the change is not meant to take away positions from women, but simply to create an evenue for those outside the gender binary to comfortably enter the political arena. The change does not apply to district leaders except in Brooklyn, where state committee members and district leader positions are merged into one. However, Decaudin would like to see binary gendered language removed from district leader positions as well and will work to do so in Queens. Such a change, at both the state and city level, will ultimately require state legislation facilitating the change at boards of elections, which run state committee and district leader races. 
The male/female rule for district leaders dates back about 100 years and was implemented as a way to give women an avenue to politics and ensure gender parity. It was, in other words, a progressive, feminist reform at the time of its adoption. Election lawyer Sarah Steiner discussed the importance of the rule for women in a 2018 interview with WNYC, before the state committee rule change. In a comment to City & State, Steiner agreed that nonbinary people have to right to run and should have a pathway, but cautioned that removing the requirement to elect women could lead to women being under-represented on the county committees. "I have a feeling that anything that changes these rules will eventually take a toll on the number of women in office," Steiner told City & State.
Decaudin said she carefully considered the language to ensure that it was not eliminating the gendered requirement on the state committee. Under the change, one still can't elect two men to the committee from a single district, because the two members must be of different genders. "It still maintains that kind of parity that mandates diversity within party committees, while not very clearly preventing nonbinary people from participating," Decaudin said. She added that the only way the change will significantly take seats away from women is if a man and a nonbinary person regularly get elected, which she doesn't believe will happen.
Decaudin also won a race for state Democatic Committee member in the 37th Assembly District in the recent primary, defeating Queensbridge Houses resident and long-time community leader Corinne Haynes-Wood. Claudia Coger, president of the Astoria Houses Tenant Association, where Wood-Haynes' running mate Andre Stith lives, lamented the fact that people new to Queens were running against and beating residents with deep roots in the neighborhood. Both Haynes-Wood and Stith are African American. "That bothers me," Coger told City & State. "How are you supposed to represent me if you don't know anything about me?" She laid some of the blame on those who don't come out to vote.
Decaudin, who is white, said she regrets having run against a Black public housing resident, saying it was not her intention to take power away from anyone from an underrepresented community in Queens. Unlike the district leader race, where she challenged an incumbent who held the seat for years, the state committee seat was open. Decaudin said she didn't know until after she had filed her petition signatures that Haynes-Wood was running, having thought that the current member from the 37th District intended to run for reelection. 
Despite having not actively campaigned for the position, Decaudin easily won nonetheless. She said she has reached out to Haynes-Wood and Stith, who ran unopposed and won, to ensure that she can help represent the needs of those living in public housing. "I definitely regret (missing) the opportunity to have worked with rather than run against someone from NYCHA in this district, which is, across the city, definitely an underserved demographic," Decaudin said. 
Powered By
NEXT STORY: Meet the insurgents who are likely future Assembly members