New York State
State Legislature considers additional whistleblower protections
Front-line workers have few safeguards when speaking out about unsafe conditions during the pandemic.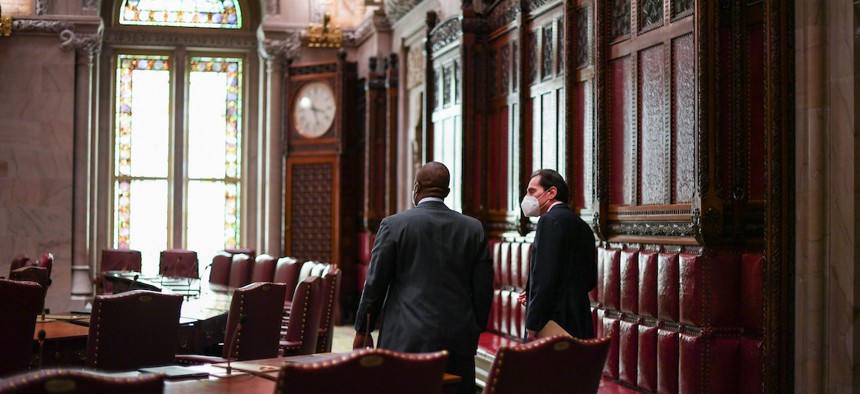 The safety of essential workers has never been more important as they continue to work on the front lines during the coronavirus pandemic. While unions have fought to ensure their members have personal protective equipment and for employers to implement safety guidelines, employees still have very narrow protections under state law from retaliation if they speak out against unsafe working conditions.
Two pieces of legislation would change that by expanding state protections for whistleblowers. Although both bills predate the coronavirus crisis, they now carry a new sense of urgency as workers face unique challenges during the pandemic.
Right now, private employees are not protected under state law from retaliation unless the issue they raised to their employer, or an activity they refuse to take part in, is both illegal and a public health or safety risk. This means that people can be legally fired for bringing to light issues that don't fit both criteria. "Almost nothing fits into those two categories," labor and employment lawyer Miriam Clark said. And if a particular activity turns out not to be illegal, or an employee cannot prove with evidence that the activity presents a public health risk, an employer can legally fire that person in retaliation.
This presents something of a bind for workers during the pandemic. Most safety regulations are not imposed through legal statute or well-defined regulations, but through recommendations and guidelines. There is no law that states the amount of personal protective equipment that must be made available to employees, for example, so a worker who says they are not being provided with the proper equipment is not protected under the law. Clark said her firm has spoken to a number of employees who have been fired or faced other retaliation for complaining about COVID-19 safety measures or refusing to work in unsafe conditions.
Either of two bills in the state Legislature, one sponsored by state Sen. Jessica Ramos and Assembly Member Helene Weinstein and the other by state Sen. Brad Hoylman and Assembly Member Michael Benedetto, would offer greater worker protections. Although they differ in several aspects, both bills would decouple the two criteria, so an activity could either be illegal or a public health risk. They both would also create a new lower standard for employees to prove they made a valid complaint that could not be used as a reason to fire them. Rather than needing to definitively prove something was illegal or unsafe, employees would be protected if they make a good faith complaint they reasonably believe is true.
In June, the governor signed into law new whistleblower protections for health care workers because of reports of inefficient personal protective equipment being provided during the pandemic. The new law added a protected category known as "improper quality of workplace safety" and included news and social media outlets as a protected channels to make complaints. However, the amendments did not apply to other front-line workers like grocery store employees or the janitors who work at health care facilities. "That was the beginning of the change, and this is what will complete those protections to make sure we're protecting everyone," Ramos said. Her legislation would also include independent contractors as well.
Ramos' bill passed in the state Senate last year, but died in the Assembly. It once again passed on Tuesday in her chamber, when the state Legislature passed a flurry of bills during a rare summer session. However, it again faces an uncertain future in the Assembly, where Benedetto's bill recently passed through both the Labor and Codes committees, and is now in the Rules Committee, a sign the full chamber may be preparing to vote on it. 
It's unclear now which, if either, will pass both chambers. Weinstein's bill, the companion to Ramos' bill, still sits in the Labor Committee. In a statement, Hoylman did not indicate whether he would push to have his bill, the companion to Benedetto's bill, passed in his chamber, where it also still sits in the Labor Committee. However, legislators plan to meet again on Wednesday and possibly Thursday to pass more legislation. Clark said it would be "a tragedy" if the two chambers can't agree before adjourning again, potentially tabling the issue until January. "This law was necessary before COVID, but now in the time of COVID, it becomes incredibly urgent," she said.