Suburban NY backs Black congressional candidates
Jamaal Bowman, Mondaire Jones and Jackie Gordon could win in largely white districts.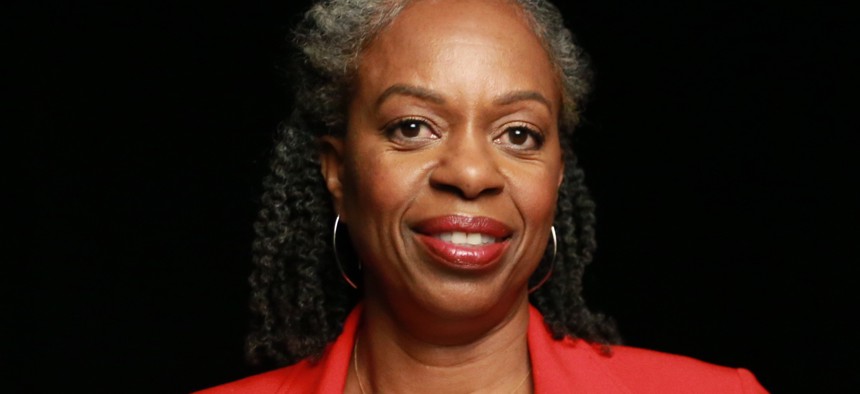 On Tuesday, Mondaire Jones was certified as the winner of the Democratic primary in New York's 17th Congressional District, taking him one step closer to being among the first Black and openly gay members in Congress – a widely noted marker of social progress. But if Jones wins in November, replacing retiring Rep. Nita Lowey in her Westchester County district, he will also be among a small number of lawmakers steadily breaking down yet another barrier: that of electing Black candidates in suburban, and largely white, districts. 
In three New York congressional races this year, Black candidates have won – or look likely to win – the Democratic nomination in heavily suburban districts. There's Jones, who just beat out a crowded field of contenders in the 17th Congressional District, which is 70% white and covers much of Westchester and Rockland Counties. There's Jackie Gordon, Democrat on Long Island who this fall will attempt to flip retiring Rep. Pete King's seat. That Nassau County district is 78% white. And then there's Jamaal Bowman, a progressive challenger in New York's 16th Congressional District in the North Bronx and southern Westchester, who leads 16-term incumbent Rep. Eliot Engel by 25 points. The 16th is 34% Black, 24% Latino and 32% white.
Bowman and Jones are likely to wind up in Congress, as both of those districts are heavily Democratic. And while Gordon seeks to replace a Republican, she is running in a swing district that could go blue in what may be a Democratic wave election this November. If those three candidates joined Rep. Antonio Delgado, who is also Black and was elected to a Hudson Valley and Catskills district in 2018, it would represent a dramatic shift in support for Black candidates among suburban and rural white voters. 
Historically, majority-minority districts are where Black candidates have typically succeeded. "In the past, Black candidates have generally won in these heavily minority, safe Democratic districts," David Lublin, a professor of government at American University told City & State. Research conducted by Lublin and others showed that as of 2015, 88% of African-Americans in the House of Representatives were elected majority-minority districts – a pattern that held steady in state legislatures too.
But that has recently shifted a bit, including in 2018, when Congress gained eight new African-American members who represented majority non-Hispanic white districts. "We saw quite a few minorities win in districts that are neither safe nor dominated by minorities," Lublin said. One of those candidates was Delgado, a Democrat who represents New York's 19th Congressional District, which, according to the 2018 American Community Survey, is over 80% white. 
While Lublin said Bowman's likely success in the primary is less surprising than Jones' or Gordon's – because Bowman's district, which straddles the urban-suburban boundary, is heavily Black and Latino – it's still indicative that Black candidates can succeed in more than one kind of district. "What we're seeing is that, in a lot of America, it seems like if you're a Democrat and your party is well-positioned to win, it doesn't necessarily matter what your ethnic or racial origin is," Lublin said.
Jones, too, notes the significance of possibly being elected to represent a majority-white, suburban district. "I think generally what we're seeing is that candidates of color, when able to raise the financial resources required to get their message out to the electorate, are thriving," Jones told City & State. "What we're also seeing right now is that, what The New York Times described as 'the institutional left,' is taking a more vigorous interest in supporting candidates of color who the left recognizes have historically had difficulty winning elections because of their challenges in fundraising, and have really been trying to prop up those candidates," he said, mentioning support for his candidacy from progressives like Sen. Bernie Sanders.
Gordon, who handily won the Democratic primary on Long Island, faces a steeper challenge than Jones or Bowman in November, as she aims to flip the 2nd Congressional District seat held by King. But the significance of possibly representing a largely white suburban district doesn't escape her – nor is the concept of breaking barriers a first for her. "This won't be the first time I'm the first; I was the first Black woman to serve on the (Babylon) Town Board, and many young people have told me they're inspired by that and interested in going into government," Gordon said in an email statement. "Now as I move into the next level of government, Congress, it will give young people another example of who they can be." 
As Lublin's research demonstrated, it's not just in Congress that Black politicians have historically been most successful in majority-minority districts. Jason Richberg, one of just a few Black legislators in the Suffolk County Legislature, said that having more Black elected officials representing the suburbs is a sign of progress. 
But, echoing Gordon, Richberg noted that candidates like Gordon are not successful because of their race or ethnicity alone. "I'm not going to go into the whole 'it's a post-racial society,'" Richberg told City & State, noting that his predecessor in the county legislature, DuWayne Gregory, is a Black politician who failed to unseat Pete King in 2016 when he was the Democratic nominee, and again in 2018 when he lost the Democratic nomination to Liuba Grechen Shirely. "But I think Jackie has a wealth of background. She's an immigrant, she's a veteran, she's a single mother, she's an educator, she's a community leader," Richberg said. "It's not that she's a woman color – she's a woman of color and she knows what's going on."
Richberg happens to be speaking from experience. Gordon was Richberg's guidance counselor while he was in high school, enrolled in the aviation program at Wilson Tech BOCES on Long Island. "Nothing ever surprises me about Jackie Gordon," Richberg said, when asked whether he was surprised to see Gordon win the Democratic nomination for the Long Island congressional seat. 
Traditionally, Black candidates who have had to rely on the support of white voters to win an election have tended to run "deracialized" campaigns, said Ernest McGowen, a professor of political science at the University of Richmond, and author of "African Americans in White Suburbia: Social Networks & Political Behavior." "There's this idea that for an African-American to be palatable to a white audience, they need to run on racial reconciliation, run on an idea that we are post-racial," McGowen said. "So therefore, they cannot come out and express views that may be super-palatable to a Black audience or an audience of color, but are not palatable to a white party. Barack Obama is just the clearest example." 
But today, that may be changing. "There's a question as to how much deracialization is actually necessary in this current time," McGowen said. Jones, Bowman and Gordon certainly haven't painted a rosy-picture of a post-racial Ameican in their campaigns, addressing the ways systemic racism rears its head – especially during the ongoing protests against police brutality. Jones and Bowman in particular have run as part of the party's progressive wing, endorsing policies such as the Green New Deal and Medicare for All. 
While Bowman, Gordon and Jones were all mounting strong campaigns before the coronavirus pandemic, the combination of flawed government responses to that, the virus' disproportionate impact on communities of color, and the recent weeks of protest against racism following the death of George Floyd, may have helped put some of them over the top. Lessie Branch, an associate professor in the School for Business at Metropolitan College of New York and a senior research fellow at the DuBois Bunche Center for Public Policy at Medgar Evers College, said the "perfect storm" of recent events is showing voters that the establishment isn't working. "Jamaal (Bowman) isn't seen as establishment, and establishment is equated with untrustworthy and broken," Branch told City & State. "And it doesn't matter what color you are, you want your government to be trustworthy and to work for you when you need it to."
While Jones said the success of Black candidates running for Congress in suburban and white districts is promising, he notes that their success comes with double the effort. "People like myself and Antonio Delgado grew up being told that we had to work twice as hard to be to be taken as seriously as white people," Jones said, mentioning that both he and Delgado – currently New York's only Black Congress member in a majority-white district – are graduates of Harvard Law School; Delgado is a Rhodes Scholar and Jones worked in the Obama administration. "It is still the case that Black candidates in our society are held to a higher standard."
Still, that doesn't mean Jones won't have a great deal to celebrate if elected in November. "I am really encouraged by the progress that we're seeing," he said. Referring to himself, Bowman and Rep. Sean Patrick Maloney, Jones added, "of the three representatives from Westchester County, two will be Black and two will be gay."
Correction: An earlier version of this story provided an incorrect title for Lessie Branch.