Donald Trump
Supreme Court tells Trump to turn over his taxes
New York is just one step closer to seeing President Donald Trump's personal finances.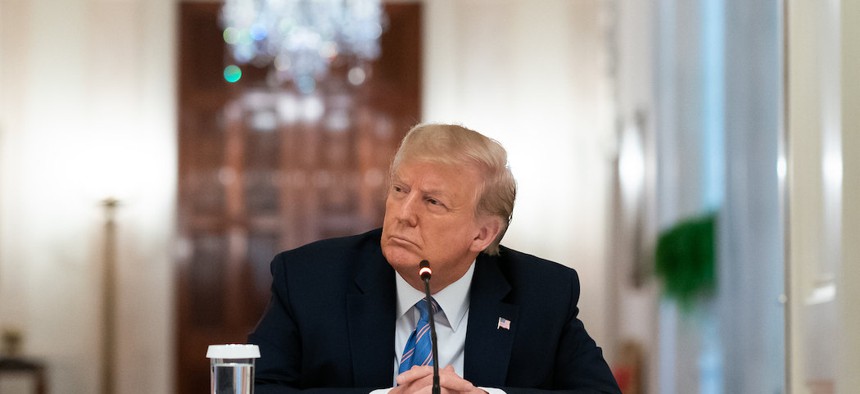 On Thursday morning, in a 7-2 decision authored by Chief Justice John Roberts, the U.S. Supreme Court rejected President Donald Trump's claim that he is exempt from sharing his tax returns and other financial information that has been requested by a New York County grand jury. 
New York will now be granted access to eight years of Trump's personal and corporate tax returns, requested by Manhattan District Attorney Cyrus Vance Jr, according to the Supreme Court's ruling. It's very possible that the ruling could eventually lead to Trump's taxes becoming public, though it's unclear if that could happen prior to the presidential election in November. Trump is the first president in recent decades who has not shared his taxes with the general public. 
It's a much-needed victory for Vance, who has been criticized for failing to effectively prosecute some allegations of sexual assault and giving special treatment to rich men such as Harvey Weinstein. Vance also reportedly decided not to press fraud charges against Ivanka Trump Donald Trump Jr., related to deceptive marketing practices, after meeting with a Trump family lawyer who also happened to be one of Vance's biggest donors. "This is a tremendous victory for our nation's system of justice and its founding principle that no one – not even a president – is above the law," Cy Vance said in a written statement. "Our investigation, which was delayed for almost a year by this lawsuit, will resume, guided as always by the grand jury's solemn obligation to follow the law and the facts, wherever they may lead." 
If Vance runs for reelection in 2021, he is already facing several progressive challengers, and having taken on Trump and won would be sure to figure heavily in his campaign messaging. 
Vance served Trump's accounting firm, Mazars USA, with a subpoena for his tax filings, dating from 2011 to present, in 2019. The president's tax returns and other financial information were requested after Vance's office launched an investigation into payouts given to two women Trump allegedly had affairs with, in an effort to silence them ahead of the 2016 election. The president has denied engaging in these affairs but admitted to the payments. The president's former fixer Michael Cohen is currently serving out a prison sentence for his involvement in the hush money plot, which violated campaign finance laws.
In May, Jay Sekulow, an attorney for Trump, told the Supreme Court that he is "asking for temporary presidential immunity" while Trump remains in office, regarding subpoena requests from Congress and state grand juries. "You are asking for a broader immunity than anyone else gets," Justice Sonia Sotomayor said in response to the request.
Thursday also contained bad news for Democrats and advocates of governmental transparency, due to a Supreme Court ruling issued simultaneously taking a different approach to congressional requests for Trump's tax returns. Congress has been blocked from seeing those records for now, as the Justices have sent its case, which sought to investigate the president's businesses, back to lower courts for further examination. 
"While the New York prosecutor's investigation could be considered more urgent legally, since it involves a criminal investigation, the House inquiries may pack more of a political punch," Politico noted. "That's because while records turned over under a grand jury subpoena are required to be kept secret at least until charges are filed, lawmakers are under no such obligation and could release the Trump financial files in the lead-up to the election."