Donald Trump
NYC leaders slammed in RNC speeches
Republican speakers blamed Mayor Bill de Blasio for the recent uptick in violence and the city's general unrest.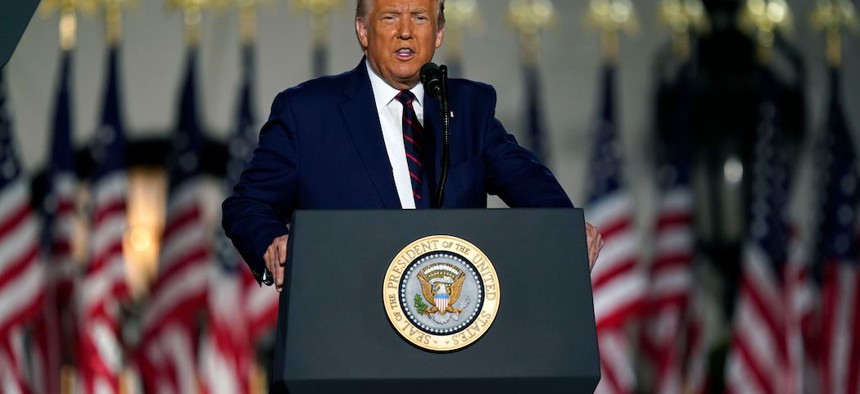 During the final night of the Republican National Convention on Thursday, several speakers excoriated New York City's Democratic leaders, blaming them for a rise in violence and civil unrest.
Former New York City Mayor Rudy Giuliani and New York City Police Benevolent Association President Patrick Lynch each said Democrats and Mayor Bill de Blasio were responsible for the city's recent woes. A short video featuring New York City Housing Authority residents criticizing de Blasio was also aired.
During Giuliani's speech, the former mayor exclaimed that voting for Joe Biden and the Democrats "creates the risk that you will bring this lawlessness to your city, town or suburb," referring to New York City.
"We're seeing the return of rioting and looting. During riots, this Democrat mayor, like others, has often prevented the police from making arrests. And even when arrests are made, liberal progressive DAs released the rioters so as not to disrupt the rioting," he said, talking about de Blasio.
While there has been a recent surge in violence – particularly in shootings and murders – across the city, Giuliani has certainly seen more dire times. There were 649 homicides during Giuliani's final year as mayor, while there were 319 homicides last year and 280 so far this year. A variety of factors have been linked by politicians to the increase in shootings, including a backlog in the state court system, a rumored NYPD work slowdown, the economic fallout from the coronavirus, and the tumult caused by recent police killings and the subsequent protests.
Lynch similarly commented on the state of the city and expressed fear over the recent rise in crime, which he blamed on police budget cuts and recent criminal justice reforms. "Wherever Democrats are in power, the radical left is getting exactly what they want. And our country is suffering for it," Lynch said. "I have been a New York City police officer for 36 years. I've never seen our streets go this bad so quickly."
The video featuring NYCHA residents took a slightly different path, though it still managed to get in a few good jabs on de Blasio. The handful of residents highlighted in the clip praised President Donald Trump for providing the housing agency with more funding while lambasting de Blasio for making residents' lives "uncomfortable." One resident also complained that "illegal immigrants" were being selected for public housing over Black residents who had been waiting years for an apartment.
August 28, 2020

However, Trump has consistently proposed and made massive cuts to the U.S. Department of Housing and Urban Development's budget. Meanwhile the city and state have tried to look for ways to provide much-needed funding for NYCHA while the federal government's funding has dwindled over the years.